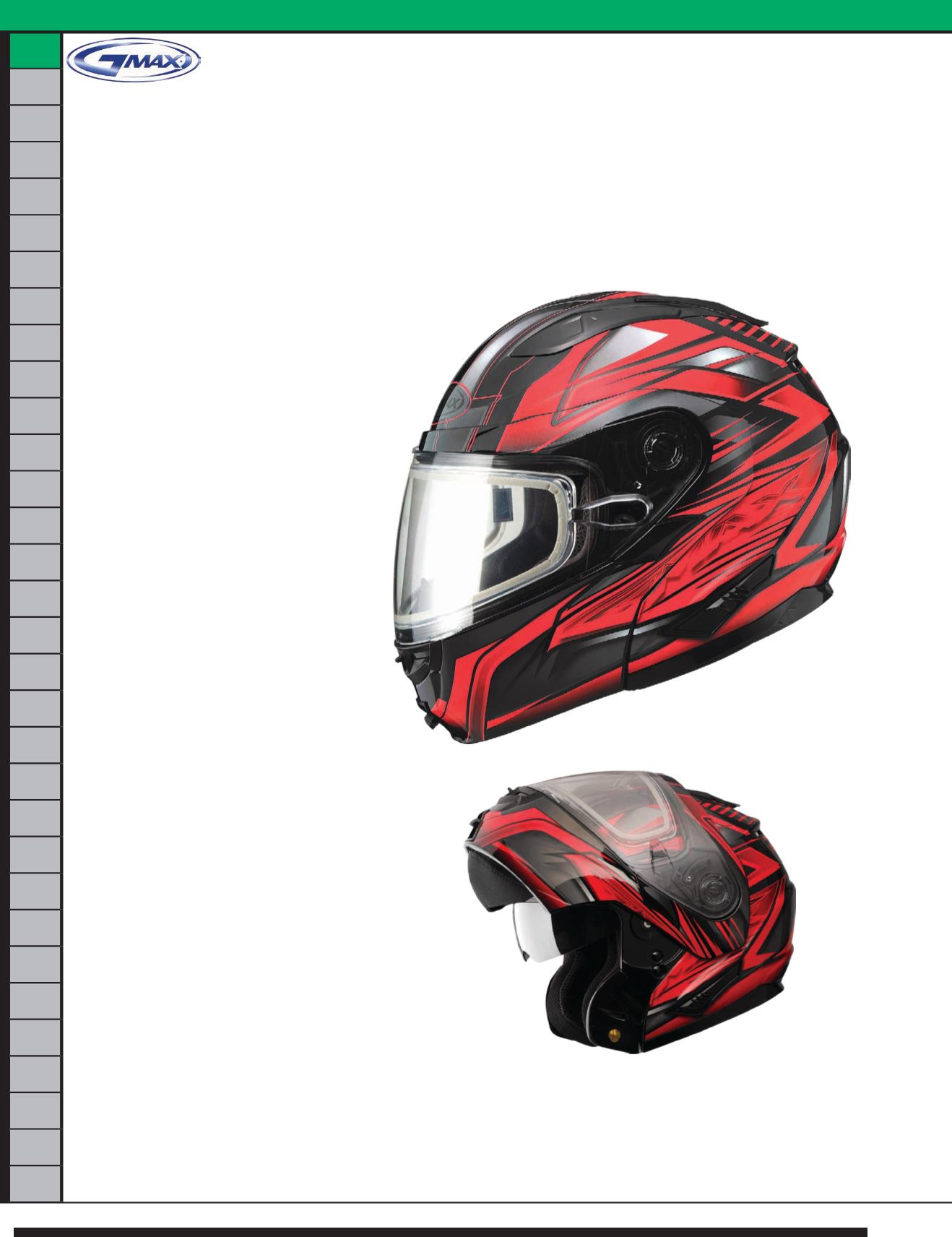 x
X X
X
X
6
HELMETS
HELMET
ACCESSORIES
EYEWEAR
APPAREL
PROTECTIVE
BAGS /SURVIVAL
VIDEOS
SNOWMOBILE
ACCESSORIES
SNOWBIKE
SLEDS /
TRAILERS
ELECTRICAL
EXHAUST
ENGINE
STEERING /
CONTROLS
AIR / FUEL
WINDSHIELDS
BODY
TUNNEL /RAIL
ACCESSORIES
TRACKS /STUDS /
SPROCKETS
REAR
SUSPENSION
SHOCKS
FRONT
SUSPENSION
SKIS /RUNNERS
BRAKES
CHAIN /
SPROCKETS
BELTS
CLUTCHING
CHEMICALS
TOOLS /
FASTENERS
PROMOTIONAL
REFERENCE
INDEX
GM64S MODULAR
D.O.T. APPROVED
Gmax is excited to introduce the newest addition to the extensive snowmobile line-up, the all NEW GMAX
GM64 Modular Snow Helmet. This helmet is built from the ground up to meet the needs of today snowmobiler.
• Lightweight D.O.T. approved thermo plastic
poly alloy shell.
• Features an all new "Perimeter-Frame-
Design" that provides unequaled wind
and cold protection that today's new rider
forward snowmobile designs subject the
riders to. The perimeter frame design allows
for one constant sealing surface for the
shield and jaw to help keep the cold and
snow out.
• "Dual Pivot" modular jaw design allows the
flip jaw to rotate further back and low on
the crown of the helmet. This increases the
line of sight when in the raised position and
it lessens fatigue by maintaining an even
distribution of weight across the helmet.
• The "squeeze & lift" jaw release design is
easy to operate with a gloved hand.
• Features a metal to metal jaw closure.
• Quick detach inner sun shield that is UV400
coated.
• Controls for the inner sun shield are located
on the left side and is easily operated by a
gloved hand.
• Traditional side chin and forehead vents
have been removed. Low profile forehead
vents are in place that can be opened and
closed easily with a gloved hand to allow
individual comfort needs. This helps in
keeping snow dust and wind from entering
the helmet.
• State of the Art anti-fog coated, maximum
seal double lens shield comes with anti-
scratch hard coated outer lens for a longer
lasting clear view and is UV400 coated.
• Removable snap in deluxe breath guard
is adjustable and stays with the jaw when
raised.
• The deluxe snow chin curtain helps reduce
wind and cold air from coming up into
the helmet keeping the rider warm and
comfortable.
• Removable/washable interior and adjustable
cheek pads allow for a comfortable and
customizable fit.
• Coolmax® comfort liner and cheek
pads move the moisture away from your
body and the fabric dries quickly. This
added performance keeps you dry and
comfortable.
• The included interior vent plugs allows the
rider to plug off the vent channels located in
the styro of the helmet, customizing the air
flow for what the conditions may call for.
• Padded D-Ring chin strap with a retention.
• Helmet bag included
Continued on the next page
• Optional electric shield available P/N - 72-3610 (clear), 72-3611 (smoke)
HELMETS