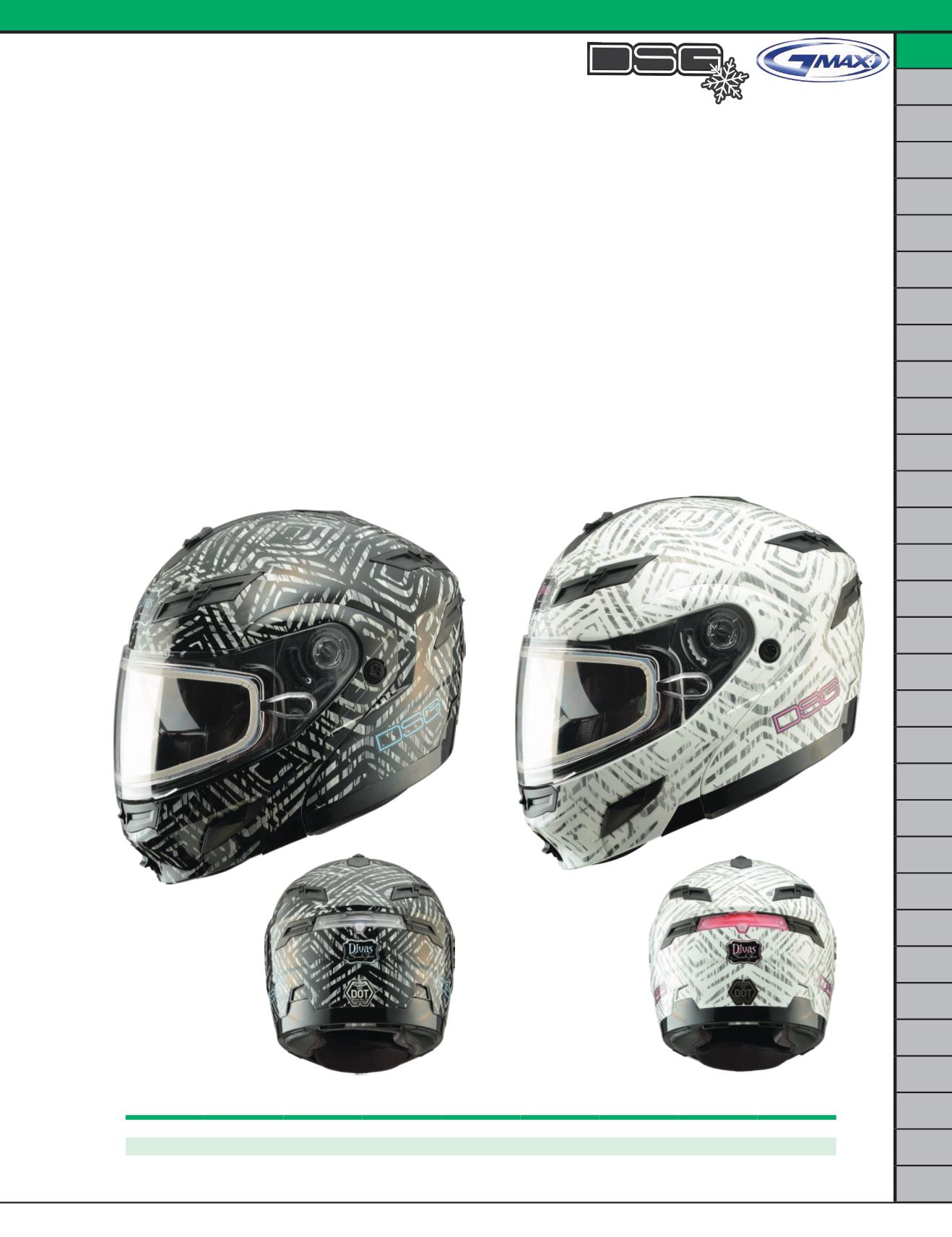 HELMETS
HELMET
ACCESSORIES
EYEWEAR
APPAREL
PROTECTIVE
BAGS /SURVIVAL
VIDEOS
SNOWMOBILE
ACCESSORIES
SNOWBIKE
SLEDS /
TRAILERS
ELECTRICAL
EXHAUST
ENGINE
STEERING /
CONTROLS
AIR / FUEL
WINDSHIELDS
BODY
TUNNEL /RAIL
ACCESSORIES
TRACKS /STUDS /
SPROCKETS
REAR
SUSPENSION
SHOCKS
FRONT
SUSPENSION
SKIS /RUNNERS
BRAKES
CHAIN /
SPROCKETS
BELTS
CLUTCHING
CHEMICALS
TOOLS /
FASTENERS
PROMOTIONAL
REFERENCE
INDEX
x
X X
X
X
9
DSG GM54S HELMET
• One hand easy to use chin bar push to open mechanism
• Lightweight DOT approved Thermo-Plastic Alloy shell
• New inner flip lid lens to block the sun with the best anti-
fogging coating available today
• Inner flip shield is easily raised or lowered with a lever
located on the exterior of the helmet
• State of the art anti-fog, maximum seal double lens shield
comes with anti-scratch hard coated outer lens for a
longer lasting clear view
• SPC top front vents/interior and styro designed for
controlled air flow
• GMAX D.E.V.S. (Dual Exhaust Venting System)
adjustable top, side and rear venting reduces fogging and
sweating by allowing hot air to escape from the mouth
area and top of head
• Adjustable chin vent directs air upward across the inside
of the shield to help reduce fogging
• DuPont Coolmax comfort liner and cheek pads move the
moisture away from your body and the fabric dries quickly.
The added performance keeps you dry and comfortable
• Removable/washable interior and adjustable cheek pads
allow for more comfortable sizing
• Deluxe ear pockets for better fit and comfort
• Built in speaker pockets for communication systems
• Snap-in snowmobile chin curtain for added warmth and
quietness
• Snap-in maximum seal breath guard reduces fogging
• Painted shell with high-tech water decals and high quality
clear coat finish
• Helmet bag included
• Optional electric shield available (Includes cord)
The DSG GMAX 54S uses the GMAX Ultimate Flip-Up Jaw Breath Guard System. This system allows the snap in breath
guard to remain in the jaw when the jaw section is lifted, thus eliminating the additional hassle of removing your gloves.
Description
XS
S
M
L
XL
2X
3X
List
Aztec Black
462-9100XS 462-9100S 462-9100M 462-9100L 462-9100X 462-91002X 462-91003X
$244.95
Aztec White
462-9104XS 462-9104S 462-9104M 462-9104L 462-9104X 462-91042X 462-91043X
244.95
HELMETS