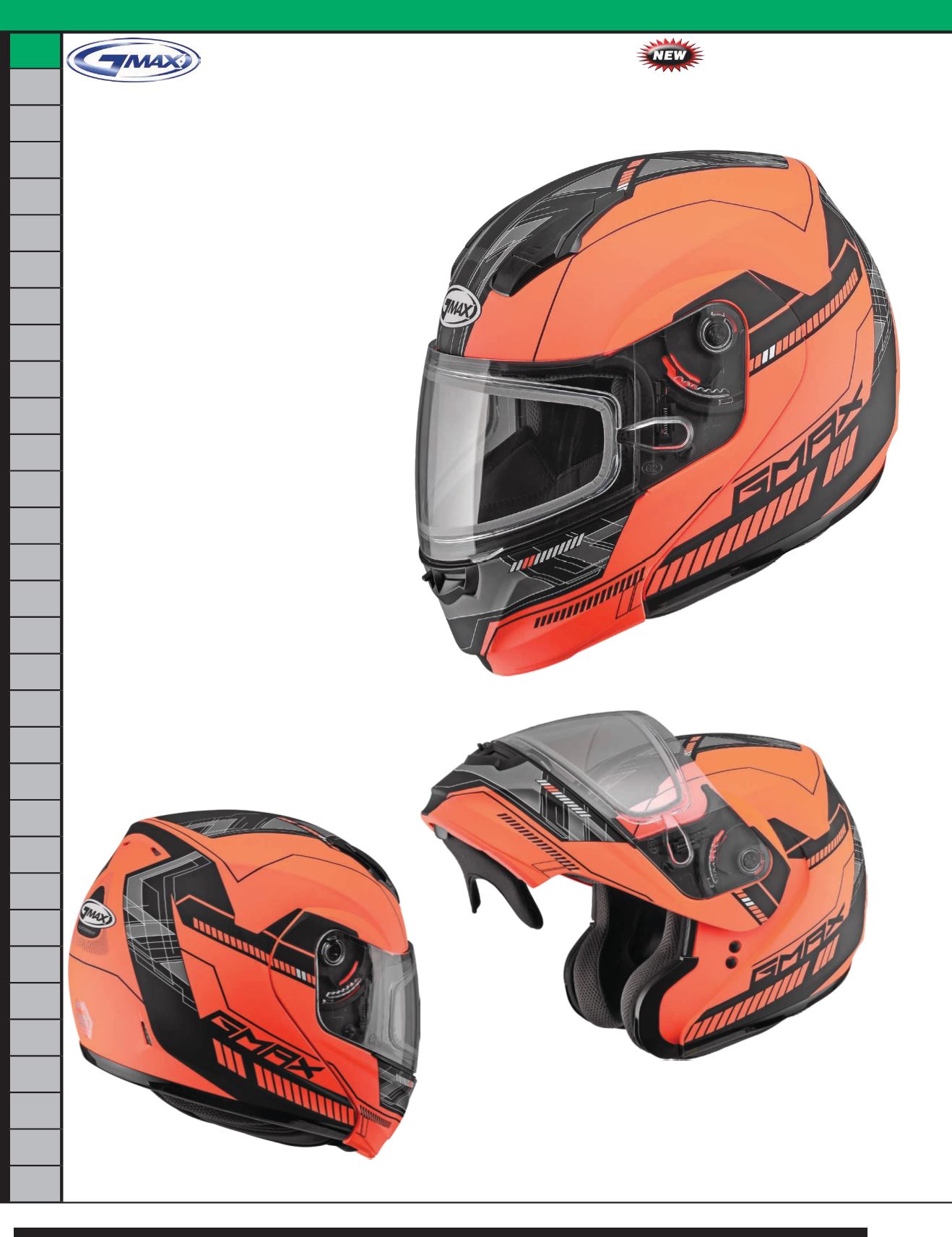 x
X X
X
X
10
HELMETS
HELMET
ACCESSORIES
EYEWEAR
APPAREL
PROTECTIVE
BAGS /SURVIVAL
VIDEOS
SNOWMOBILE
ACCESSORIES
SNOWBIKE
SLEDS /
TRAILERS
ELECTRICAL
EXHAUST
ENGINE
STEERING /
CONTROLS
AIR / FUEL
WINDSHIELDS
BODY
TUNNEL /RAIL
ACCESSORIES
TRACKS /STUDS /
SPROCKETS
REAR
SUSPENSION
SHOCKS
FRONT
SUSPENSION
SKIS /RUNNERS
BRAKES
CHAIN /
SPROCKETS
BELTS
CLUTCHING
CHEMICALS
TOOLS /
FASTENERS
PROMOTIONAL
REFERENCE
INDEX
MD04 MODULAR HELMET
• DOT approved.
• Lightweight polycarbonate shell.
• Dupont Coolmax interior for added
performance keeps you dry and
comfortable. Coolmax wicks moisture away
from your body and dries quickly.
• Removable, adjustable, washable Coolmax
interior and cheek pads allow for custom
fitting and easy cleaning.
• One hand easy to use chin bar push to open
mechanism designed for easy use with any
gloves.
• UV400 (100% UV protected) state of the art
anti-fog, maximum seal double lens shield
comes anti-scratched hard coated outer lens
for a longer lasting clear view.
• GMAX D.E.V.S (dual exhaust venting
system) top and rear vents reduce fogging
and swearing by allowing hot air to escape
from the mouth area and the top of the
head.
• Adjustable mouth vent directs air upward
across the inside the shield to help reduce
fogging.
• SPC top vents, interior and styro designed
for controlled air flow.
• Deluxe eat pockets with built in speaker
pockets for better fit and comfort.
• Snap-in removable chin curtain.
• Padded chin strap.
• Helmet bad included.
All New MD04 is based off of the very popular GM44 modular helmet.
The MD04 sports a redesigned jaw and shell for 2017 while still featuring
great functions found on the original GM44.
H
HELMETS