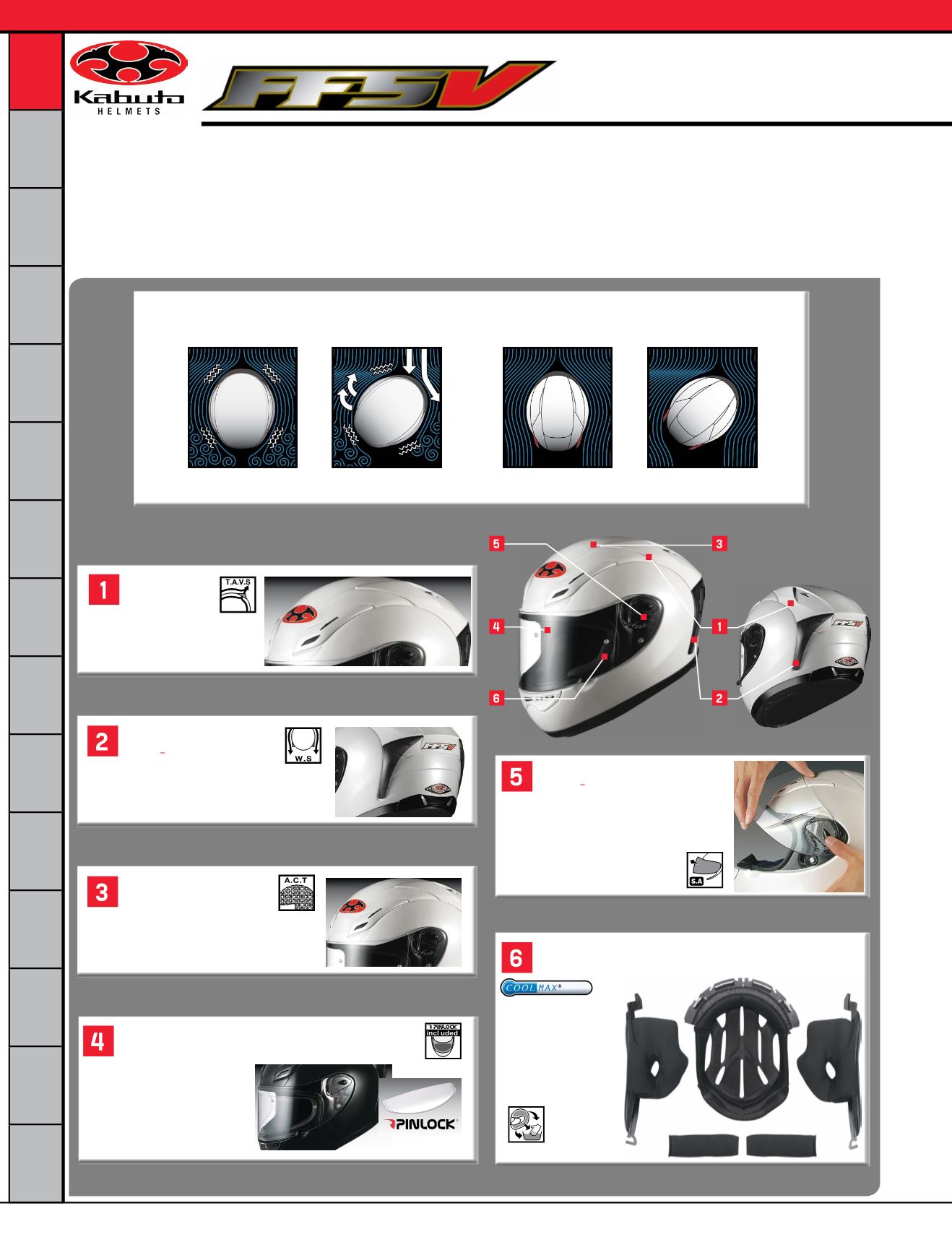 STREET
HELMETS
OFFROAD
HELMETS
HELMET
ACCESSORIES
COMMUNICATION /
ELECTRONICS
EYEWEAR
STREET
APPAREL
OFFROAD
APPAREL
GLOVES
FOOTWEAR
PROTECTIVE
GEARBAGS /
BACKPACKS
CASUAL
ACCESSORIES
PROMOTIONAL
INDEX
x
X
X
X
X
2
Kabuto's outstanding achievement, the FF-5V combines lightweight, high strength advanced composite technology with an
aerodynamically superior design to create the ultimate in "safety performance". Add to that, Top Aero Ventilation, SAF quick
change shield system with an included PINLOCK anti-fog lens insert, a fully removable COOLMAX interior, and you have all
the elements of what an exceptional helmet should be.
TECHNOLOGY
Extensive Wind-Tunnel Development & Innovative Technology
Other Brands
Helmets with Wake Stabilizer
Disturbed flow occurs at the front and rear, and
makes the helmet unstable.
Wake Stabilizer controls the disturbed airflow and
makes the helmet stable.
Top Air
Ventilation
Top Air Ventilation system takes
in high velocity air in the front and
pushes hot inner air to the outside.
Wake Stabilizer
PAT. N
o
4311691)
Extensive wind tunnel studies have led to
Kabuto's patented system that controls airflow
around the helmet.
Advanced Composite
Technology
Combination of hyper glass fibre and
high-strength organic fibre provides a light weight
shell with increased strength. SNELL 2010
certified.
Anti-Fog Pinlock
®
Original Insert Lens is included
Pinlock
®
Original Insert Lens is
created from a moisture absorbing
plastic. Silicone seal on lens
creates an airtight pocket between
the shield and lens. Lens is placed
between two adjustable eccentric
pins making it easy to install.
COOLMAX
®
Fully detachable, washable and customizable
interior pads (Chooose from 6 different cheek pad sizes)
COOLMAX
®
material
is used for all the
areas where your
skin touches. It wicks
moisture away from the
skin keeping you cool
and dry.
SAF Shield System
(PAT. N
o
4839373)
(Includes pins corresponding to the
Pinlock
®
Original Insert Lens)
Coverless shield changing system.
SAF-P shield for the Pinlock
®
Original Insert Lens is attached at
the factory.
Meets and exceeds – SNELL 2010 / D. O. T.
kabutousa.com
STREET HELMETS