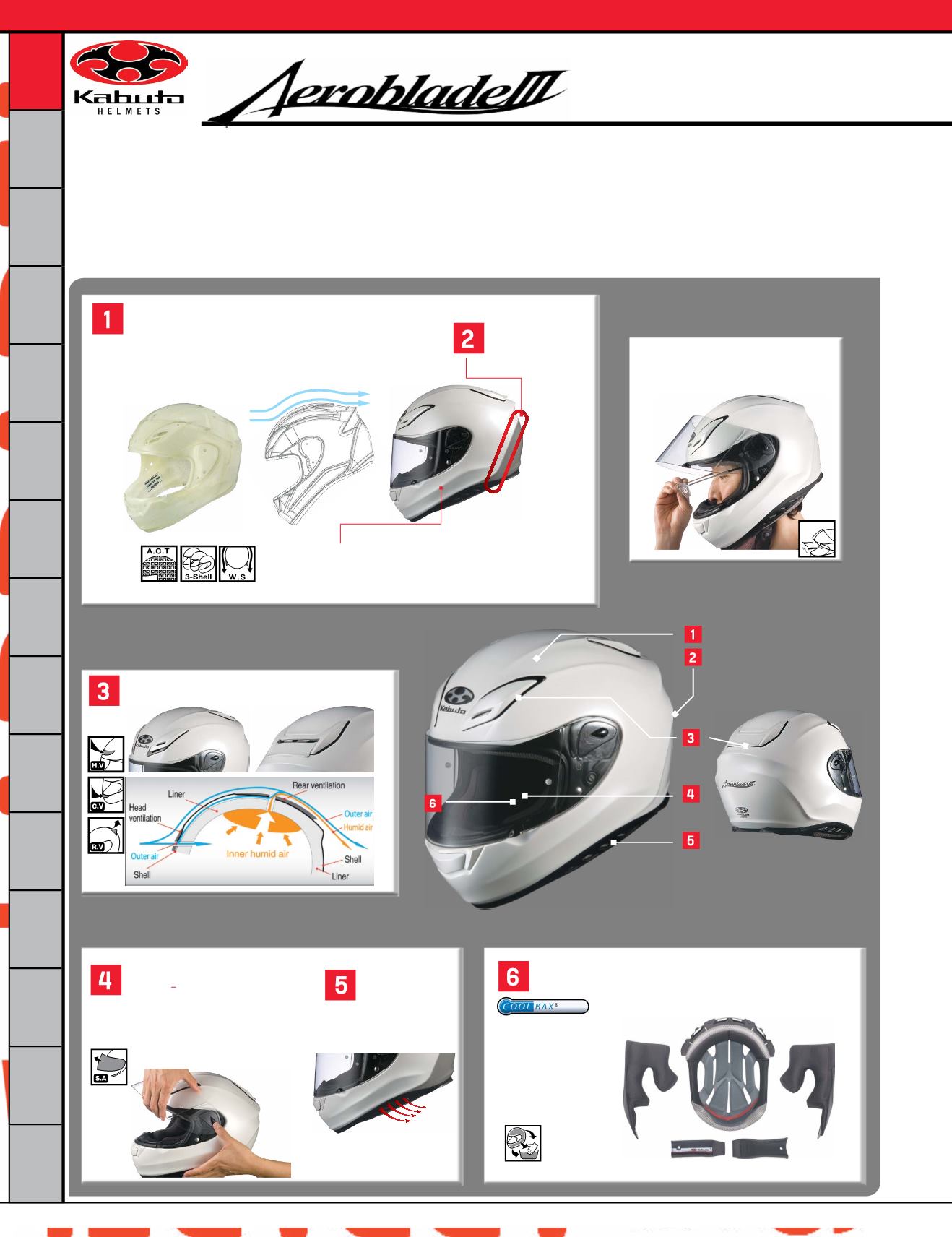 STREET
HELMETS
OFFROAD
HELMETS
HELMET
ACCESSORIES
COMMUNICATION /
ELECTRONICS
EYEWEAR
STREET
APPAREL
OFFROAD
APPAREL
GLOVES
FOOTWEAR
PROTECTIVE
GEARBAGS /
BACKPACKS
CASUAL
ACCESSORIES
PROMOTIONAL
INDEX
x
X
X
X
X
8
kabutousa.com
Developed in a wind tunnel, lightweight composite construction, and designed for all day comfort, the Aeroblade III is loaded
with features. Sharing the same SAF quick change shield from the FF-5V with an included PINLOCK anti-fog lens insert makes
riding in any weather as close to fog free as it gets. When the temperature rises, a COOLMAX interior and adjustable ventilation
with side outlet trim will keep you cool and is easily removed for cleaning. Patented Wake Stabilizer anti buffeting technology
allows high speed and long distance riding without the fatigue of fighting the wind.
Eyeglass friendly cheek pads
Wind Tunnel Developed, Lightweight Advanced
Composite Technology (A.C.T.) with a Unique
Aerodynamic Design and Wake Stabilizer
(PAT. No 4311691)
Newly designed rib-formed on its shell
enhances strength while reducing weight
Adjustable Top and Rear Air Vents
SAF Quick Change Shield System
(PAT. N
o
4839373)
TECHNOLOGY
Meets and exceeds – SNELL 2010 / D.O.T.
COOLMAX
®
Fully detachable, washable a customizable interior
pads (Chooose from 6 different cheek pad sizes)
COOLMAX
®
material
is used for all the
areas where your
skin touches. It wicks
moisture away from the
skin keeping you cool
and dry.
Patent Pending Side
Outlet Trim Vents
(Includes pins corresponding to the
Pinlock
®
Original Insert Lens)
Coverless shield changing system.
SAF-P shield for the Pinlock
®
Original
Insert Lens is attached at the factory.
STREET HELMETS