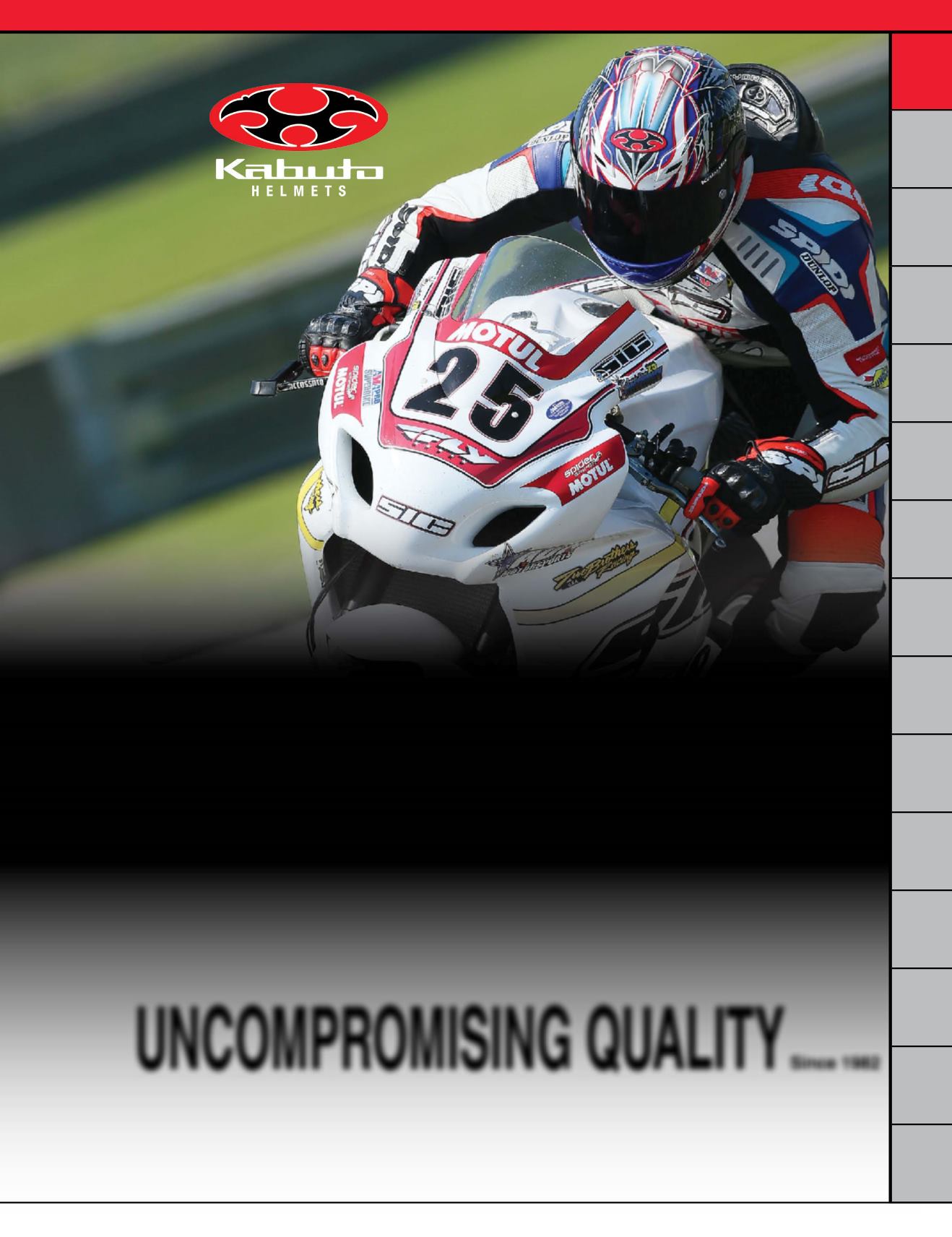 x
X
X
X
X
STREET
HELMETS
OFFROAD
HELMETS
HELMET
ACCESSORIES
COMMUNICATION /
ELECTRONICS
EYEWEAR
STREET
APPAREL
OFFROAD
APPAREL
GLOVES
FOOTWEAR
PROTECTIVE
GEARBAGS /
BACKPACKS
CASUAL
ACCESSORIES
PROMOTIONAL
INDEX
1
About Kabuto
OGK Kabuto (pronounced Ka-boo-tow) was founded in 1982 and is one of the leading Japanese
helmet manufacturers.
Originally a "Kabuto" was a helmet used by the well-known and respected elite class of Samurai
fighters. Today Kabuto still stands for the same core values that applied in the past, strength,
skills, and quality.
As one of the leading helmet manufacturers in Japan, these important values can be found in all
our products today, although we believe that even the best can always be improved. This is the
unwavering "Quality of Heart" in Kabuto craftsmanship.
Skilled and experienced people are involved and are also part of our family tradition which made
us an independent and leading Japanese helmet manufacturer.
"Safety performance" is the ultimate objective of our helmets and our infinite theme. KABUTO utilizes technical strength and feedback from
laboratory experimentation to creating new products. By repeating severe tests, Kabuto has been tirelessly working on developing high-
tech safety products.
With the impact absorption test we seek safety to the extreme by using different kind of dummy head forms. Also penetration tests and
retention system tests are carried out repeatedly to exceed homologation standards, as ECE, SNELL and DOT.
Mission
Our Mission is to put maximum energy into Safety, High Performance, and Design of our products.
With remarkable technology and uncompromising quality, Kabuto helmets are created and innovated embracing two fundamental beliefs,
to protect life and to create a distinctive design. Kabuto develops unique products based on safety, offering a wide range of helmets ideal
for meeting the demands of professionals, as well as recreational riders. Kabuto embraces safety as the universal value, and style as the
complementary one. "Safety Meets Style" This is the essence of every Kabuto helmet.
We at Kabuto believe that the continuous challenge to create the best products will never fade away.
"Striving for the best products and producing ones that satisfies professionals, Kabuto continuously retains the objective;
"the best can always be improved". This challenging spirit has been motivating us to develop more than 100 different types
of helmets. "The Quality of Heart" encapsulates the principal spirit of Kabuto. For safety and trust, Kabuto as a manufacturer
progresses with you."
Hidehito Kimura
Founder and owner
UNCOMPROMISING QUALITY
Since 1982
Safety Performance
kabutousa.com
Research and development is a
constant process at Kabuto. New
prototypes are created on the
basis of design studies that utilize
advanced digital technology.
The Wake Stabilizer (pat. in Japan)
and the world's first "Aero Top
Ventilation System" was invented,
developed and designed by Kabuto.
This unique feature is a result of
Kabuto's intensive research based
on air flow and aerodynamics.
In one of the most advanced air
tunnels in Japan that is designed for
testing aerodynamics for airplanes,
we analyze the air flow created on
the surface of a helmet. Many hours
of research and development have
been invested in visualizing invisible
airflow and quantifying aerodynamic
lift, wake and drag created by the
airflow.
Specialists from various fields,
such as Mr. Akira Azuma, emeritus
professor at Tokyo University,
invented and designed unique
aerodynamics into Kabuto's
masterpiece and top of the product
range, the FF-5V. The best is made
even better without compromise on
safety and comfort for the rider.
Research & Development
STREET HELMETS