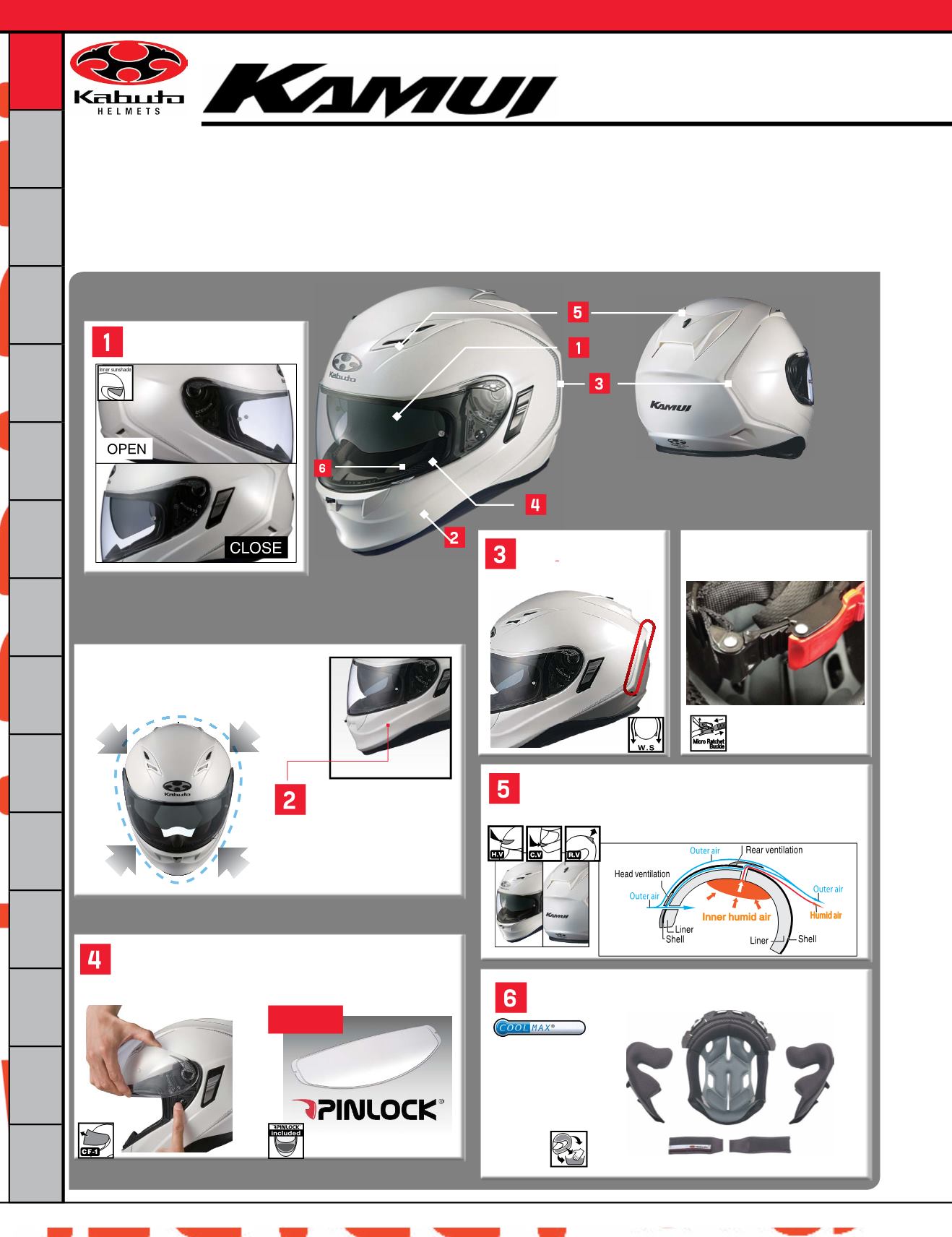 STREET
HELMETS
OFFROAD
HELMETS
HELMET
ACCESSORIES
COMMUNICATION /
ELECTRONICS
EYEWEAR
STREET
APPAREL
OFFROAD
APPAREL
GLOVES
FOOTWEAR
PROTECTIVE
GEARBAGS /
BACKPACKS
CASUAL
ACCESSORIES
PROMOTIONAL
INDEX
x
X
X
X
X
10
kabutousa.com
Sport touring full face with an integrated inner sun shade, the Kamui is compact and lightweight. And because it shares its
DNA with the FF-5V, the Wake Stabilizer and fully removable and washable COOLMAX interior is standard. Other features
are an included PINLOCK anti-fog lens insert, quick release retention buckle, and trim that allows for smooth removal of the
helmet.
Compact and Lightweight T.P.S. Thermo
Plastic Shell
Newly designed
rib-formed on its shell
enhances strength while
reducing weight
Wake Stabilizer
(PAT. N
o
4311691)
CF-1 Quick Change
Shield System
Anti-Fog Pinlock
®
Original Insert Lens
Included
Kamui Ventilation System. Vents are equipped with shutters to
keep cold air and water out while venting hot humid air.
Inner Flip Sunshield
Micro Ratchet Buckle System
TECHNOLOGY
Meets and exceeds – ECE-P / D.O.T. (2XL is D.O.T. certified only)
COOLMAX
®
Fully detachable,washable and customizable interior
pads (Chooose from 6 different cheek pad sizes)
COOLMAX
®
material
is used for all the
areas where your
skin touches. It wicks
moisture away from the
skin keeping you cool
and dry.
STREET HELMETS