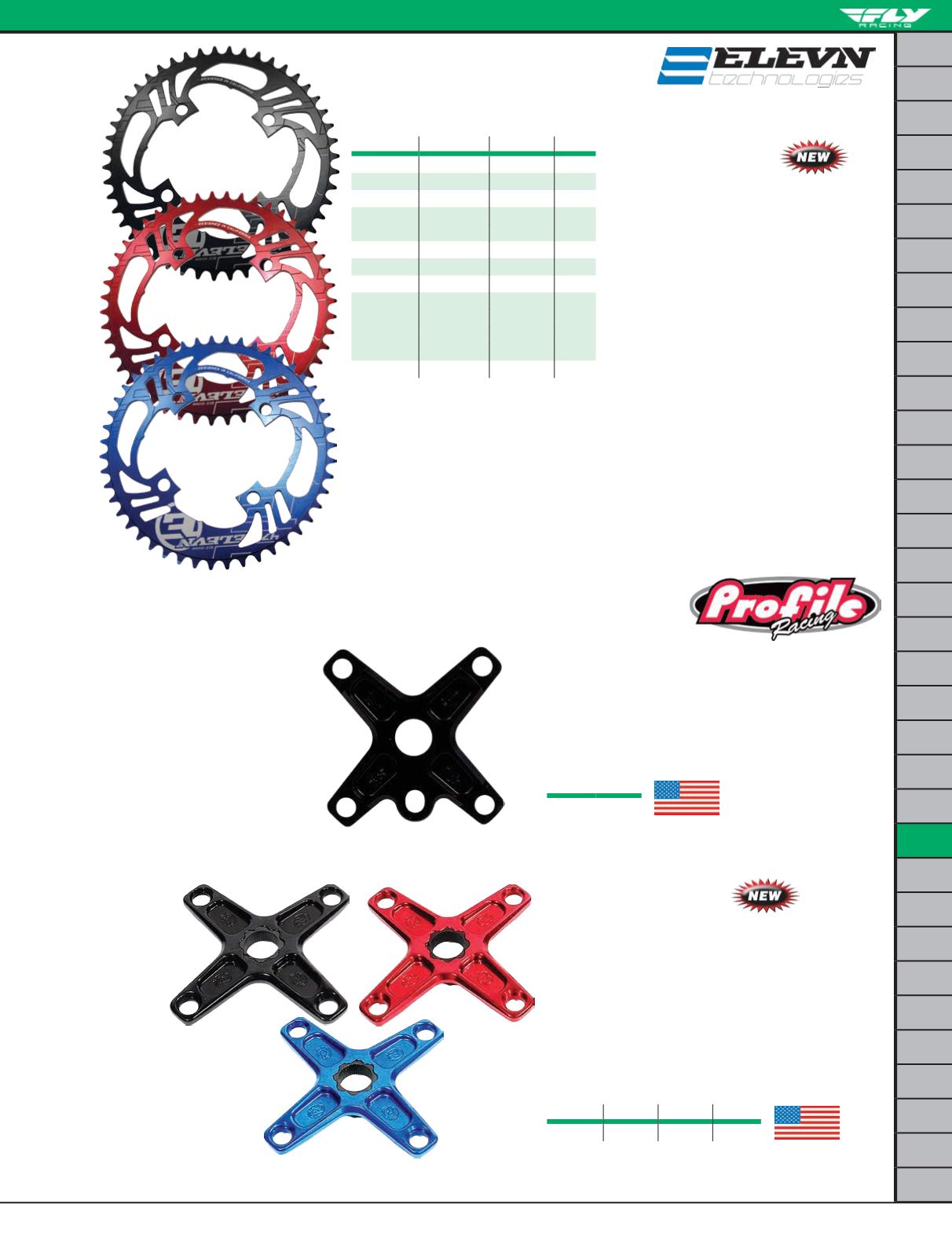 x
X X
X
X
325
FLOW 4-BOLT
CHAINRING
Black
Red
Blue
List
91-5125 36 91-5126 36 91-5127 36
$39.99
91-5125 37 91-5126 37 91-5127 37
39.99
91-5125 38 91-5126 38 91-5127 38
39.99
91-5125 39 91-5126 39 91-5127 39
39.99
91-5125 40 91-5126 40 91-5127 40
39.99
91-5125 41 91-5126 41 91-5127 41
39.99
91-5125 42 91-5126 42 91-5127 42
39.99
91-5125 43 91-5126 43 91-5127 43
39.99
91-5125 44 91-5126 44 91-5127 44
39.99
91-5125 45 91-5126 45 91-5127 45
39.99
91-5125 46 91-5126 46 91-5127 46
39.99
91-5125 47 91-5126 47 91-5127 47
45.99
91-5125 50 91-5126 50 91-5127 50
49.99
WPS# List
91-518 $30.95
• For use with 3-Piece Race Chromoly Cranksets
and 19mm (.75") BB spindles
• 104bcd 4-bolt
• Made in the USA from CNC machined aluminum
CHAIN RING SPIDER
SPLINED SPIDER
New from Elevn, the Flow chainring. When
things go just as you planned, you gain
confidence, with confidence good results
will follow, and when you are moving in
the right direction and feel good, you are
in the flow. With Joris Daudet winning
the USA BMX #1 Pro title & UCI World
Championship, as well as Connor Fields
winning the Olympics, and Romain
Mahieu winning they had the ultimate flow.
Want to be a champion too? Well you'll
need to do a lot of hard work, but the
easy part is to get the Flow chainring from
Elevn.
Features:
6061-T6 Full CNC with laser
etching, 4.4mm Thickness, BCD 104mm.
Chainrings are CNC'ed then Laser
etched, anodized then Laser etched a
second time.
Sizes:
36T to 47T and new 50T
Colors:
Blue, Red, White, Black &
Polished.
Black
Red
Blue
List
91-518K 91-518R 91-518B
$74.95
• Designed to provide optimal chainline when
using a Profile Euro Outboard bottom bracket.
• Places the single chainring over the external
bearing cup.
• Machined from billet aluminum plate.
• Supplied with a CrMo Steel adapter insert
already pressed in.
• 4 Bolt (104MM BCD) for 19mm splined axle
• 4-Bolt: 74g/2.6oz
CHAIN RINGS & PARTS
RACEWEAR
GLOVES
FOOTWEAR
HELMETS
HELMETACC.
EYEWEAR
PROTECTIVE
WEAR
CASUALWEAR
GEARBAGS
HYDRATION
ACCESSORIES
FRAMES&BIKES
FORKS
HEADSETS
STEMS
HANDLEBARS
GRIPS
SHIFTING
BRAKING
LIGHTING
TIRES&TUBES
WHEELS&RIMS
HUBS/CHAINS&
PARTS
CHAINRINGS&
PARTS
PEDALS
CRANKSETS
BOTTOM
BRACKETS
SEATS/POSTS&
CLAMPS
PLATES&
NUMBERS
SECURITY
CHEMICALS
TOOLS
PROMOTIONAL
INDEX
Phone: 1-800-999-3388 / 1-877-359-2946