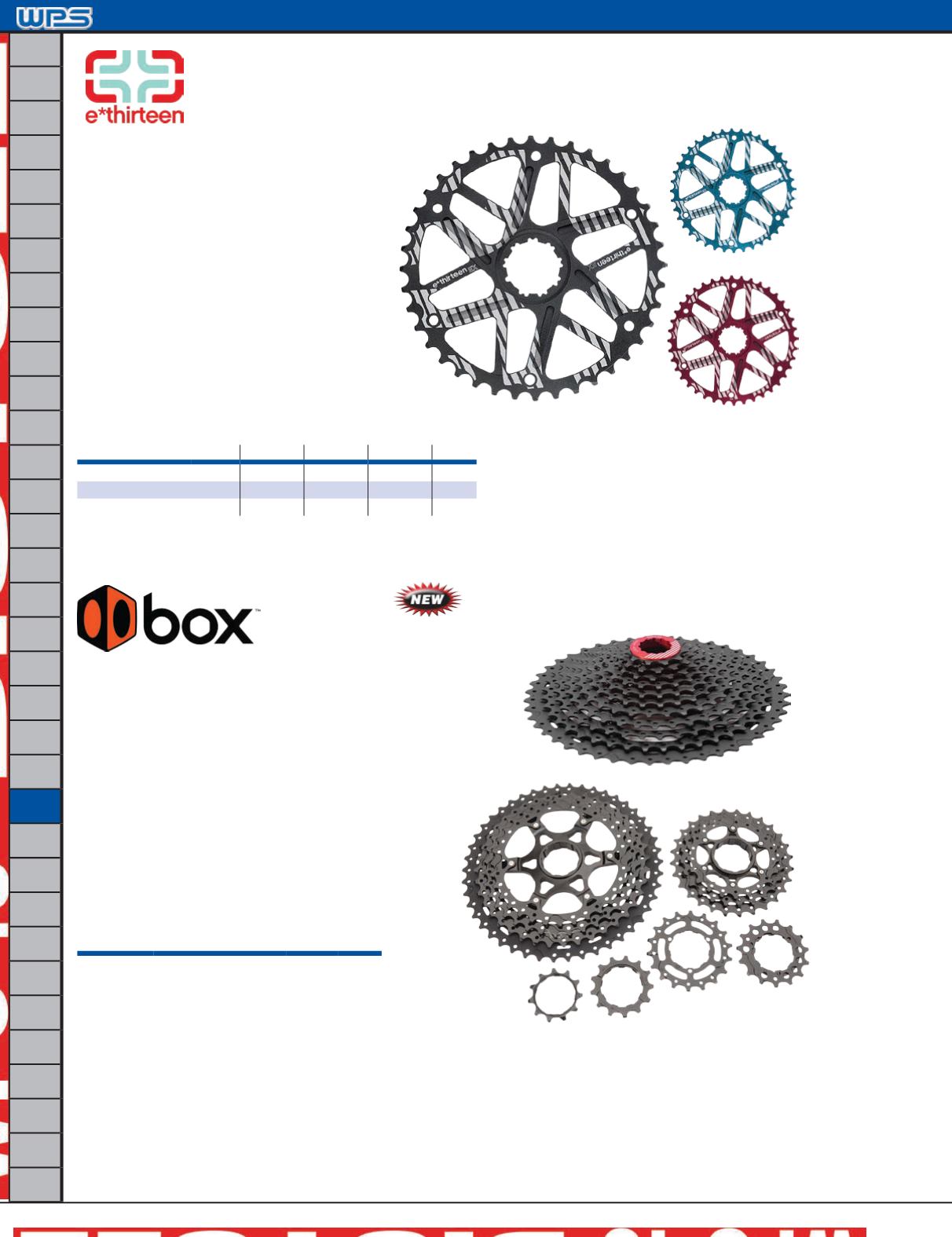 x
X X
X
X
320
Description
Style
Black
Red
Blue
List
E13 Extended Cog 40T Shimano
91-9600K 91-9600R 91-9600B $69.95
E13 Extended Cog 42T Shimano
91-9601K 91-9601R 91-9601B 69.95
E13 Extended Cog 42T Sram
91-9602K 91-9602R 91-9602B 69.95
EXTENDED RANGE COGS
• Make your move to 1X and crush
the steepest climbs with the EX cog.
• Shifts stay crisp thanks to e*thirteen
shift know-how and the anodized
aluminum resists flex under heavy
power. Pair with a dual width
Guidering M and you are ready
to go. Replaces 15t or 17t cog on
existing cassette. Extra strong at
base to prevent flex, stand-offs
brace EX cog against cassette rings
or carrier. Includes longer B-limit
screw for proper adjustment.
• Material: Aluminum
• Thickness: 5mm
• Compatibility: 10 speed
• Weight: 70g (40t) / 77g (42t)
Made of hi-tensile steel and 7075-T6 aluminum, the Box
Two™ 11-46 cassette helps bring the steepest climbs within
reach by providing a massive gear range of 418 percent.
Two aluminum carriers hold the largest seven cogs while four
individual cogs are separated with aluminum spacers. Each
cog features ramped teeth for improved shifting. Box cassettes
are compatible with all major 11 speed chains and traditional
MTB freehubs but do not work with XD™ Drivers.
• Shimano Hub Compatibility
• Steel & 7075-T6 Aluminum
• 480 grams
• Covered by Limited Lifetime
Warranty Against Breakage.
BOX TWO
CASSETTE
Description
Speed
Weight
Black List
Cassette 11-46T 11 Speed Shimano 480G
91-9331
$99.99
RACEWEAR
GLOVES
FOOTWEAR
HELMETS
HELMETACC.
EYEWEAR
PROTECTIVE
WEAR
CASUALWEAR
GEARBAGS
HYDRATION
ACCESSORIES
FRAMES&
BIKES
FORKS
HEADSETS
STEMS
HANDLEBARS
GRIPS
SHIFTING
BRAKING
LIGHTING
TIRES&TUBES
WHEELS&RIMS
HUBS/CHAINS
&PARTS
CHAINRINGS&
PARTS
PEDALS
CRANKSETS
BOTTOM
BRACKETS
SEATS/POSTS&
CLAMPS
PLATES&
NUMBERS
SECURITY
CHEMICALS
TOOLS
PROMOTIONAL
INDEX
HUBS / CHAINS & PARTS
FAX: 24 hours a day 1-800-326-3813