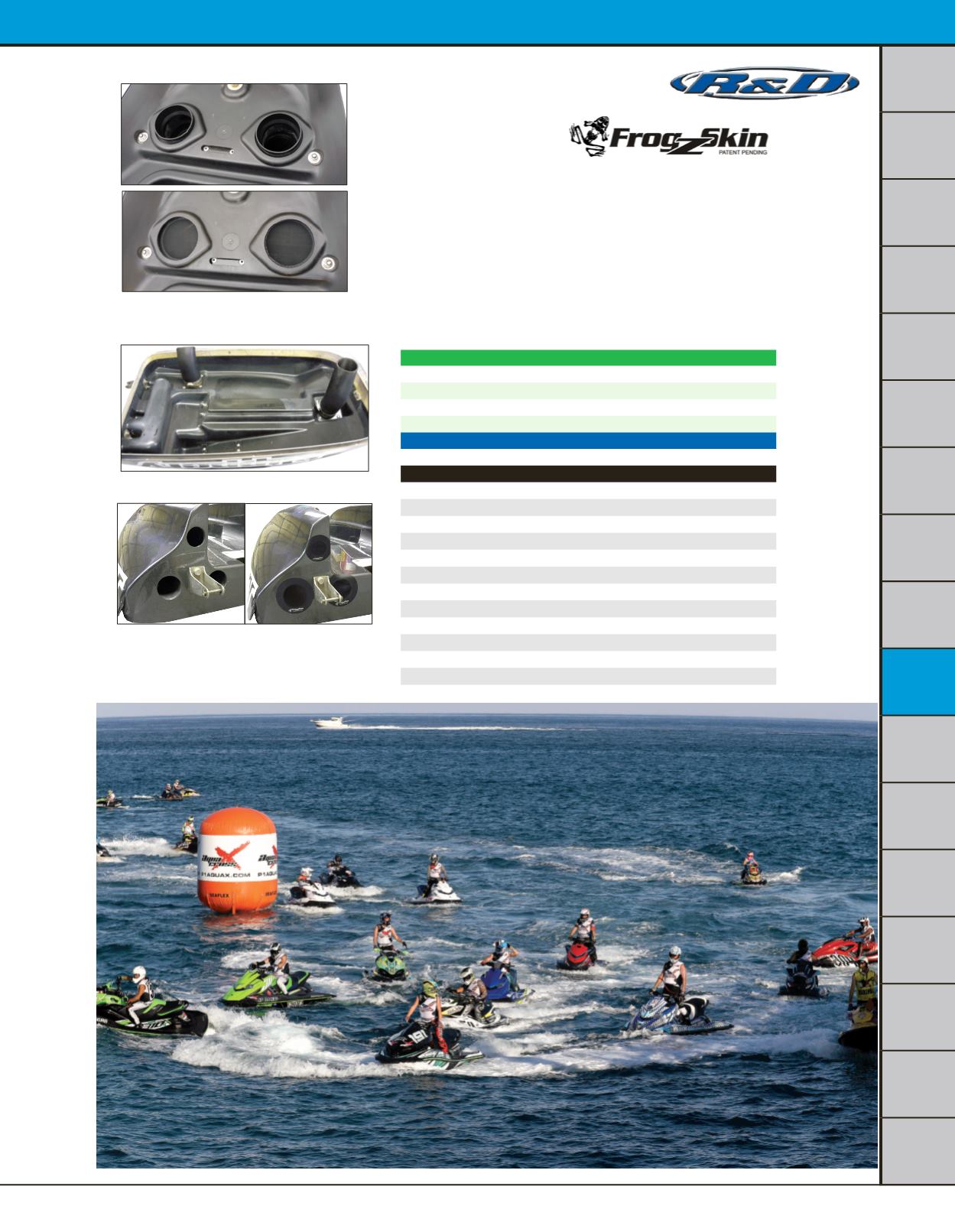 x
X X
X
X
RIDER
ACCESSORIES
EYEWEAR
APPAREL
WATERCRAFT
ACCESSORIES
CARTS /
TRAILER PARTS
BODY / HULL
STEERING /
CONTROLS
PUMP /
DRIVELINE
IMPELLERS
CARBS /
INTAKE
ENGINE /
PISTONS
EXHAUST
ELECTRICAL
CHEMICALS
TOOLS
PROMOTIONAL
INDEX
181
PWC FROGZSKINS HULL VENT KIT
Frogzskins is the solution for restricted airflow on your personal watercraft. 
Frogzskins ad more air to your engine compartment to reduce under
hood temps.   Lower water, dust, and debris ingestion along with simple
installation are just a few benefits to the Frogzskins PWC venting systems.  
Model specific kits available for specific machines.  Universal Frogzskins
can be used on any other machine by simply choosing the shape and sizes
required. Super Jet kits include 2 vents that replace intake tubes making for
easy hood installation.
Description
Sold WPS#
List
KAWASAKI
SX-R 800 '03-10
3pc kit
241-29970 $39.95
A Ultra 250 '07-08
4pc kit
241-29971 49.95
A Ultra 260 '09-10
4pc kit
241-29971 49.95
A Ultra LX '07-10
4pc kit
241-29971 49.95
YAMAHA
B Super Jet
5pc kit
241-29972 $49.95
UNIVERSAL
Circle 1.75" OD x 1" ID
4/PK
241-2988 $12.95
Circle 1.5" OD x .75" ID
6/ pk
241-2989 12.95
Circle 3"OD x 2" ID
Pair
241-2990 12.95
Circle 4"OD x 2.5" ID
Each
241-2991 12.95
Circle 2.5" OD x 1.5" ID
3/PK
241-2992 12.95
Circle 4.5" OD x 3" ID
Each
241-2993 12.95
Circle 5" OD x 4" ID works well in speedo/tach Each
241-29935 19.95
Rectangle 1.625" x 5"OD/ 1.125" x 4.5"ID Pair
241-2994 12.95
Rectangle 3" x 5" OD/ 2.25" x 4.25"ID
Each
241-2995 12.95
Rectangle 3" x 7.2" OD/ 1.5" x 5.7" ID
Each
241-2996 16.95
Rectangle 5.5" x 6" OD/ 3.5" x 4" ID
Each
241-29965 19.95
Rectangle 6" x 3.25" OD/ 4.5" x 2" ID
Each
241-29966 16.95
VENTS
by
Before
After
A
B
Before
After
Removes intake tubes
B
CARBS / INTAKE