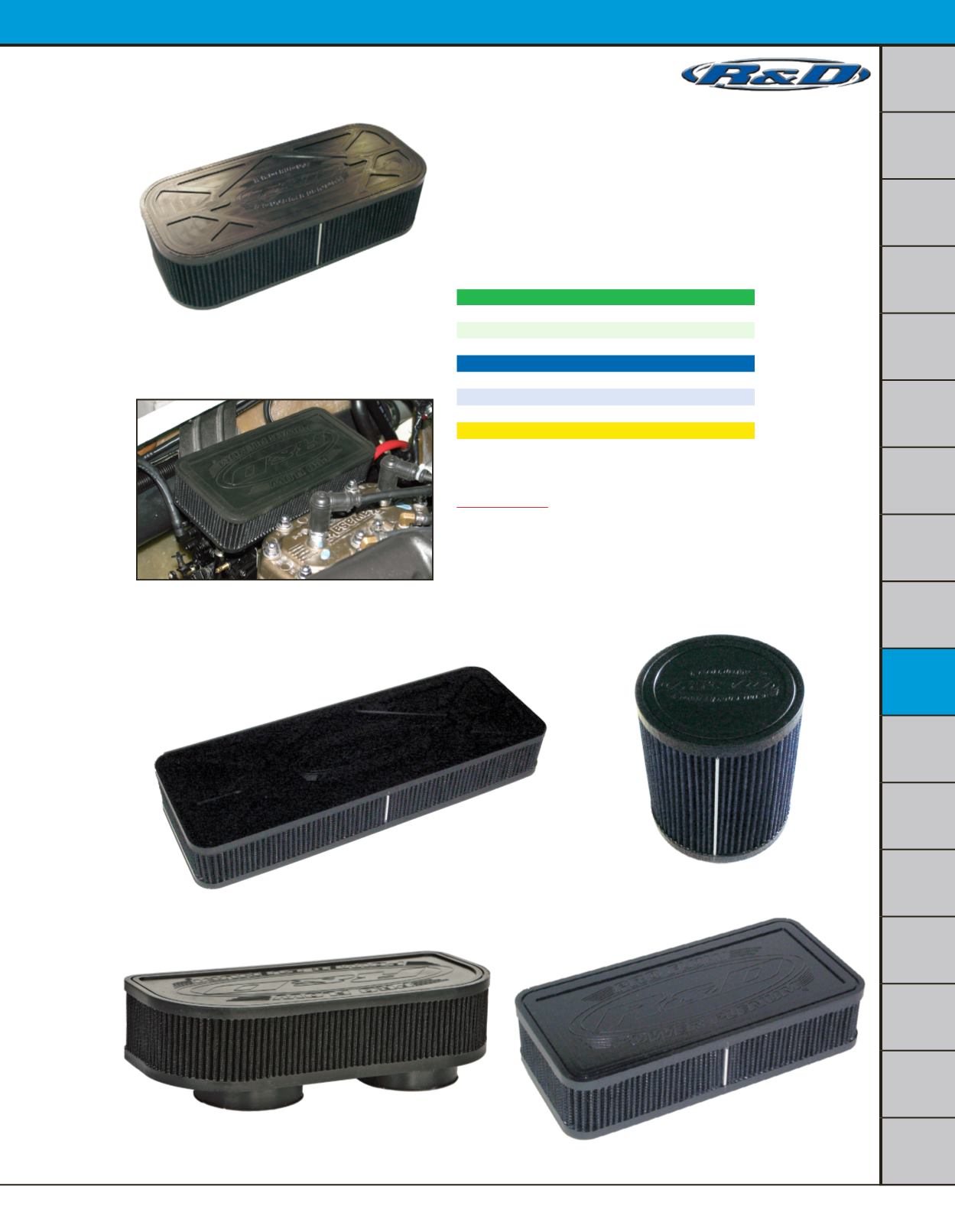 x
X X
X
X
RIDER
ACCESSORIES
EYEWEAR
APPAREL
WATERCRAFT
ACCESSORIES
CARTS /
TRAILER PARTS
BODY / HULL
STEERING /
CONTROLS
PUMP /
DRIVELINE
IMPELLERS
CARBS /
INTAKE
ENGINE /
PISTONS
EXHAUST
ELECTRICAL
CHEMICALS
TOOLS
PROMOTIONAL
INDEX
177
*
Pro-Lock adapters required - sold each
See Page
184
for adapter part numbers
*
See next page for 4-stroke applications
More air means more horsepower, increased throttle response,
acceleration and top speed. R&D has done extensive dyno
and race testing to ensure maximum airflow and horsepower
gains. New four stroke applications have been proven to add 3-5
horsepower with quick and easy installation. The unique Pro-
Lock base allows for rapid removal for carb adjustments whether
you are in the shop or on the water. These filters are totally
maintenance free, bolt them on and hit the water.
POWER PLENUM PRO-LOCK FILTERS
PRO-LOCK ADAPTER
Required to use PRO-LOCK FILTER
unless noted as not needed.
Adapters sold separately unless noted
800 SXR
GP1300R
Application
WPS#
List
KAWASAKI
800 SXR Filter w/Pro lock adapters included
59-2215 $145.95
900/1100 All except CV carbs
59-2223
*
174.95
Ultra 150 1200cc for Mikuni/Keihin carbs
59-2237
*
143.95
YAMAHA
Superjet Power Plenum kit
59-2226 $145.95
1200 XLL, GPR OEM carbs
59-2227
183.95
GP1300R Powerstack for OEM air box
59-2210
86.95
SEA-DOO
951 OEM manifold
59-2219 $123.95
900/1100
951 OEM manifold
Superjet
These items are designed exclusively for closed
course competition use ONLY. Use on public lands
and/ or waterways in the state of California is illegal.
CARBS / INTAKE