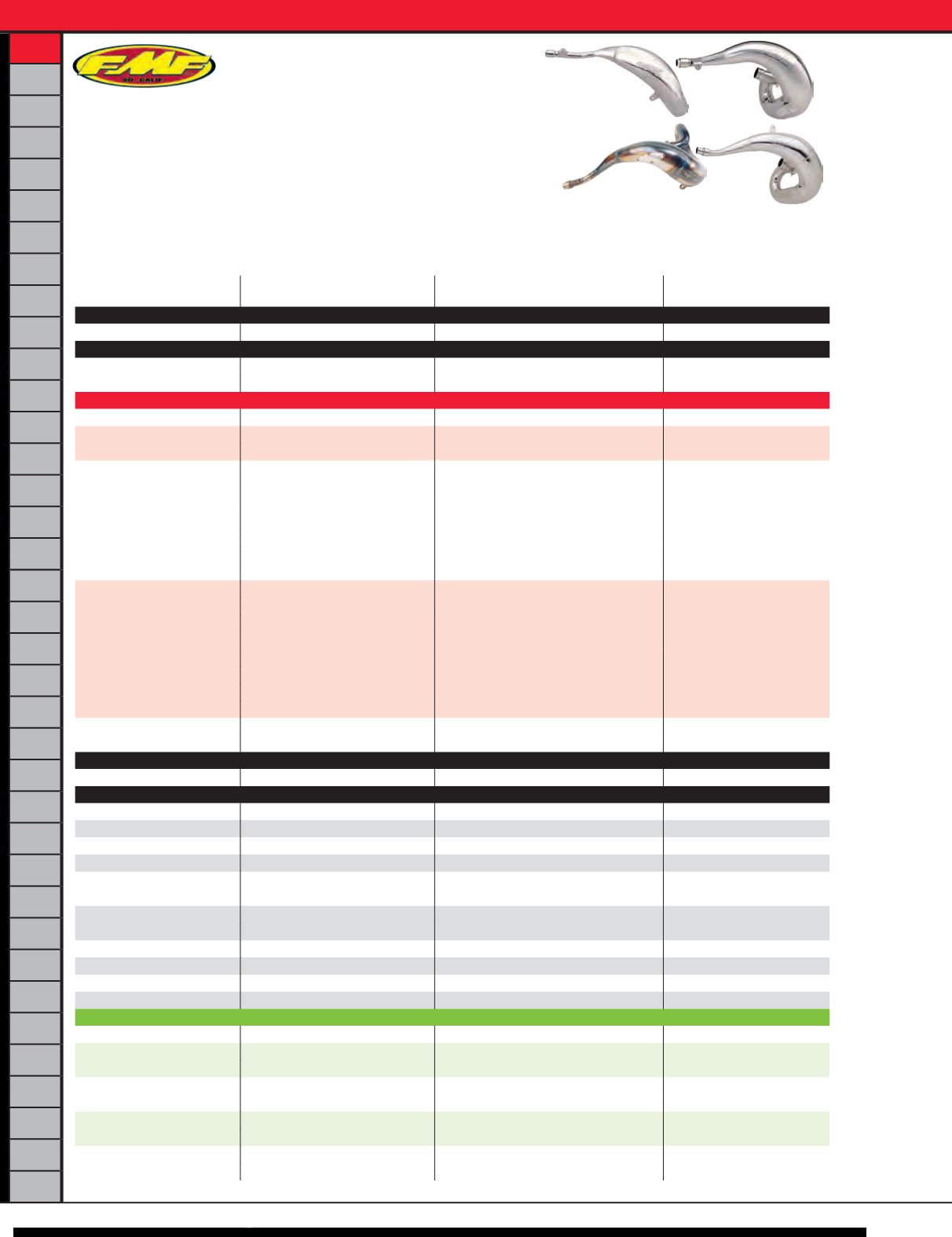 x
X X
X
X
EXHAUST
TIRES
TUBES
TIRE
ACCESSORIES
BIKE
ACCESSORIES
SNOW BIKE
PIT BIKE
GRAPHICS / SEAT
BODY
CONTROLS
BARS / GRIPS
LEVERS
CABLES
INTAKE
FUEL SYSTEMS
AIR FILTERS
OIL FILTERS
ELECTRICAL
SPARK PLUGS
BATTERIES
CHARGERS
ENGINE
PISTONS
SUSPENSION
DRIVE
CHAIN
SPROCKETS
BRAKES
CHEMICALS
GAS CANS
TOOLS
LOCKS
RAMPS / STRAPS
TRAILERS
PROMOTIONAL
REFERENCE
INDEX
6
Application
Year
FMF # Pipe #
List
FMF #
Fatty Pipe
WPS #
List
FMF #
Factory
Pipe #
List
BETA
250/300
'13-16 (G) 025156
78-1145
$249.99
025157
78-1146F $249.99
GAS GAS
250/300
'12-14 (G) 025152
78-1527
$249.99
'15-16 (G) 025172
78-1531
249.99
HONDA
CR80
'96-02
021000
78-1164 $229.99
CR85
'03-04
021031
78-1115 229.99
'05-07
021044
78-1117 229.99
021047
78-1117F $229.99
CR125
'90-97
020015
78-1123 239.99
'98-99
020018
78-1170 239.99
'00-01
020375
78-1174 239.99
'02
021021
78-1151 239.99
'03
021021
78-1151 239.99
'04
021036
78-1022 239.99
'05-07
021048
78-1128 239.99
021051
78-1128F $249.99
CR250
'88-91 (G) 020025
78-1109
$249.99
'92-94 (G) 020027
78-1111
249.99
'95-96 (G) 020027
78-1111
249.99
'97-99 (G) 020028
78-1173
249.99
020020
78-1172 $249.99
'00-01 (G) 020379
78-1186
249.99
020378
78-1185 249.99
'02
(G) 021007
78-1178
249.99
021006
78-1177 249.99
'03-04 (G) 021041
78-1025
249.99
021040
78-1024 249.99
021043
78-1024F $249.99
'05-07 (G) 021053
78-1120
249.99
021052
78-1119 249.99
021055
78-1119F 249.99
CR500
'85-88 (G) 020024
78-1110
279.99
'89-01 (G) 020026
78-1125
279.99
HUSABERG
TE250/300
'11-13 (G) 025131
78-1521
$249.99
025130
78-1511 $249.99
025133
78-1518F $249.99
HUSQVARNA
TC85
'14-17
025088
78-1516 $229.99
025090
78-1516F $229.99
TC/TE125
'14-15
025119
78-1510 239.99
025121
78-1510F 249.99
TC125
'16-17
025182
78-1519 239.99
025183
78-1519F 249.99
WR125
'09
025115
78-1607 239.99
CR/WR125
'10-12
025145
78-1608 239.99
'13
025163
78-1603 239.99
WR150
'11-12
025145
78-1608 239.99
'13
025163
78-1603 239.99
WR250
'00-06
025010
79-2561 249.99
WR250/300
'09-12 (G) 025148
78-1522
$249.99
TC/TE250/300
'14-16 (G) 025131
78-1521
249.99
025130
78-1511 $249.99
025133
78-1518F $249.99
TC/TX250/300
'17
(G) 025203
78-1535
249.99
KAWASAKI
KDX50
'03-06
023049
78-1450 $219.99
KX65
'03-17
022034
78-1216* 229.99
KX80
'91-97
(T)
020031
78-1205 $229.99
'98-00
020050
78-1273 229.99
KX85
'02-13
022000
78-1243 229.99
'14-17 (R) 022064
78-1222FR
$229.99
022060
78-1222 229.99
022062
79-1222F $229.99
KX100
'98-13
020050
78-1273 229.99
'14-17
022060
78-1222 229.99
022062
79-1222F $229.99
• All pipes are electro-nickel plated for
a non-chip finish that will not discolor
except the Factory pipe which has
hand pounded welds and no coating—
just like the works bikes
• Available in Fatty for an all-around
power increase throughout the power
range, Gnarly for max low end boost,
and Rev for blinding top end power
• Gnarly pipes are a heavy-duty Torque
pipe for late model 200cc and up and
uses a heavy duty 18 gauge steel
body to hold up to the rigors of off-
road riding
GOLD SERIES PIPES
*
For use with FMF Silencer
Continued on the next page
Some offroad models may contain emission control devices. Some aftermarket
parts may remove these devices. Removal or modification of such devices is illegal
in the State of California unless used exclusively for closed course competition use
ONLY, never to be used on public lands or highways.
Torque (T) Rev (R) Gnarly (G)
EXHAUST