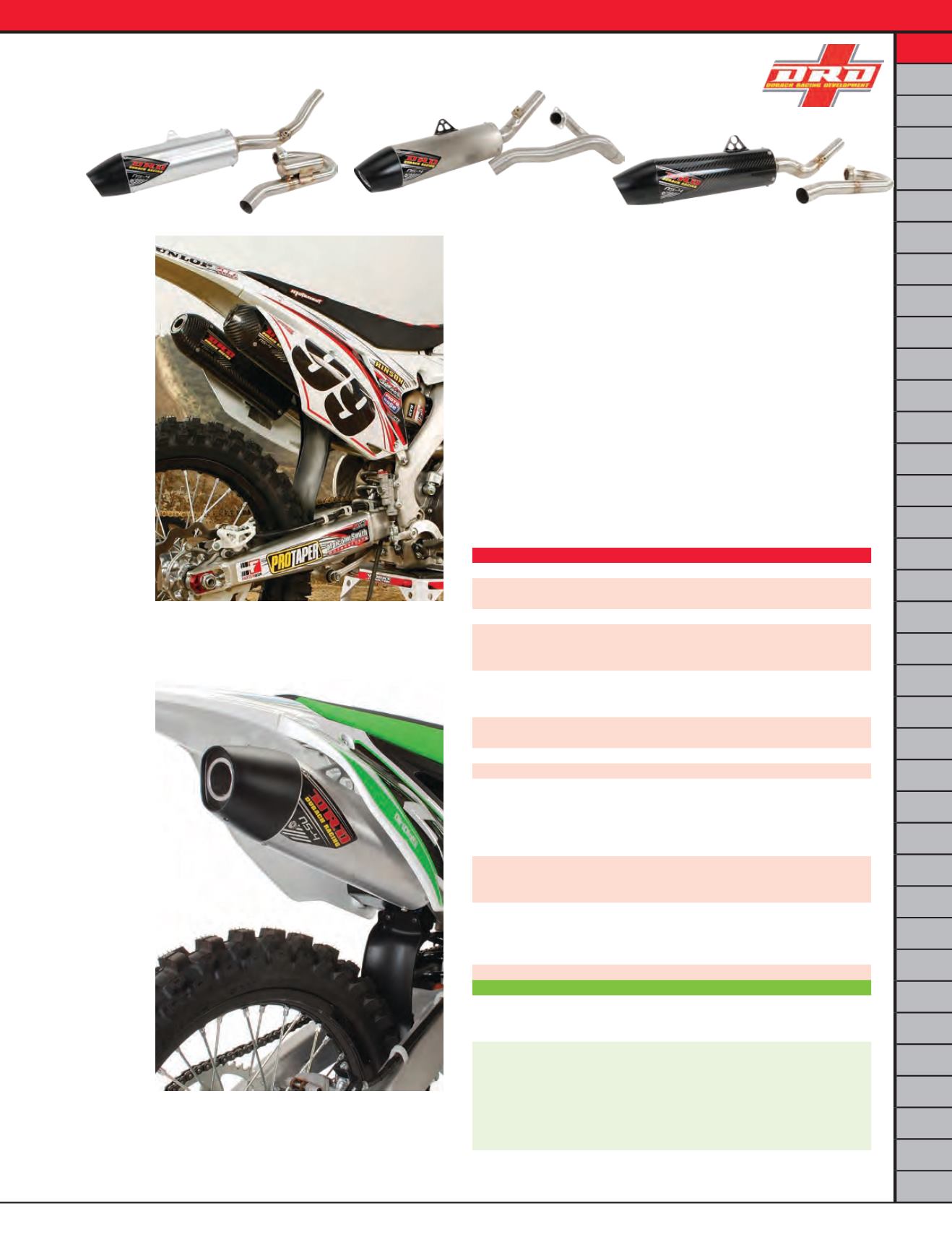 EXHAUST
TIRES
TUBES
TIRE
ACCESSORIES
BIKE
ACCESSORIES
SNOW BIKE
PIT BIKE
GRAPHICS / SEAT
BODY
CONTROLS
BARS / GRIPS
LEVERS
CABLES
INTAKE
FUEL SYSTEMS
AIR FILTERS
OIL FILTERS
ELECTRICAL
SPARK PLUGS
BATTERIES
CHARGERS
ENGINE
PISTONS
SUSPENSION
DRIVE
CHAIN
SPROCKETS
BRAKES
CHEMICALS
GAS CANS
TOOLS
LOCKS
RAMPS / STRAPS
TRAILERS
PROMOTIONAL
REFERENCE
INDEX
x
X X
X
X
1
KX250F
NS-4 FULL EXHAUST SYSTEMS
Application Year
Header
Material
Silencer
WPS# List
HONDA
CRF150
'03-05 Stainless Steel
Aluminum S/A
78-07619
$349.95
CRF150R
'07-13 Stainless Steel
Aluminum S/A
78-07454 579.95
Stainless Steel
Carbon Fiber
78-07455 799.95
CRF230F
'03-13 Stainless Steel
Aluminum S/A
78-07512 579.95
CRF250
'06-09 Stainless Steel
Aluminum S/A
78-07581 579.95
'10 Stainless Steel
Aluminum S/A
78-07525 579.95
Stainless Steel
Carbon Fiber
78-07527 799.95
CRF250
'11-13 Stainless Steel
Aluminum S/A
78-07316 579.95
Stainless Steel
Carbon Fiber
78-07317 799.95
Titanium
Titanium S/A
78-07318 979.95
Single
'14-15 Stainless Steel
Aluminum S/A
78-07614 579.95
Stainless Steel
Carbon Fiber
78-07615 799.95
CRF250X
'04-10 Stainless Steel
Aluminum S/A
78-07589 579.95
CRF450X
'05-12 Stainless Steel
Aluminum S/A
78-07516 579.95
CRF450
'03-04 Stainless Steel
Aluminum S/A
78-07587 579.95
'05 Stainless Steel
Aluminum S/A
78-07537 579.95
'06-08 Stainless Steel
Aluminum S/A
78-07590 579.95
'09-10 Stainless Steel
Aluminum S/A
78-07396 579.95
Stainless Steel
Carbon Fiber
78-07397 799.95
CRF450
'11-12 Stainless Steel
Aluminum S/A
78-07388 579.95
Stainless Steel
Carbon Fiber
78-07389 799.95
Titanium
Carbon Fiber
78-07391 979.95
CRF450 (single) '13-14 Stainless Steel
Aluminum S/A
78-07324 579.95
Stainless Steel
Carbon Fiber
78-07325 799.95
Titanium
Titanium S/A
78-07326 979.95
'15-16 Stainless Steel
Aluminum S/A
78-07623
579.95
CRF450 (dual)
'13-14 Stainless Steel
Carbon Fiber
78-07447 949.95
KAWASAKI
KX250F
'06-08 Stainless Steel
Aluminum S/A
78-07513 $579.95
'09-16 Stainless Steel
Aluminum S/A
78-07334 579.95
Stainless Steel
Carbon Fiber
78-07335 799.95
KX450F
'06-08 Stainless Steel
Aluminum S/A
78-07594 579.95
'09-15 Stainless Steel
Aluminum S/A
78-07342 579.95
Stainless Steel
Carbon Fiber
78-07343 799.95
Titanium
Titanium S/A
78-07344 979.95
Titanium
Carbon Fiber
78-07345 979.95
'16-17 Stainless Steel
Aluminum S/A
78-07636 579.95
'16-17 Stainless Steel
CARBON FIBER
78-07637 799.95
SS / AL
Ti / Ti
Ti / CAR
CRF450
Every DR.D exhaust is built, developed, and tested
by Doug Dubach. DR.D pours more time into track
testing, with more experience, than any other company.
DR.D exhausts are not mass produced, each exhaust
is unique and each has been developed on the track
to best improve the bikes power character. You won't
find 'universal' components, such as heavy springs and
gaskets, in our construction because cutting corners, on
the track or in production, is never beneficial. Take it from
the man who has spent more testing time on a Honda,
Suzuki, KTM, Kawasaki, and Yamaha than all others
combined. If it passes Dubach's test, it will pass yours.
*Carbon end caps are exclusive to the CRF Dual systems
PRODUCT DISPLAYED IS FOR REPRESENTATION ONLY.
EACH MODEL IS DIFFERENT AND UNIQUE AND MAY VARY
SLIGHTLY FROM THE IMAGE SHOWN.
Some offroad models may contain emission control devices. Some
aftermarket parts may remove these devices. Removal or modification of
such devices is illegal in the State of California unless used exclusively
for closed course competition use ONLY, never to be used on public lands
or highways.
EXHAUST