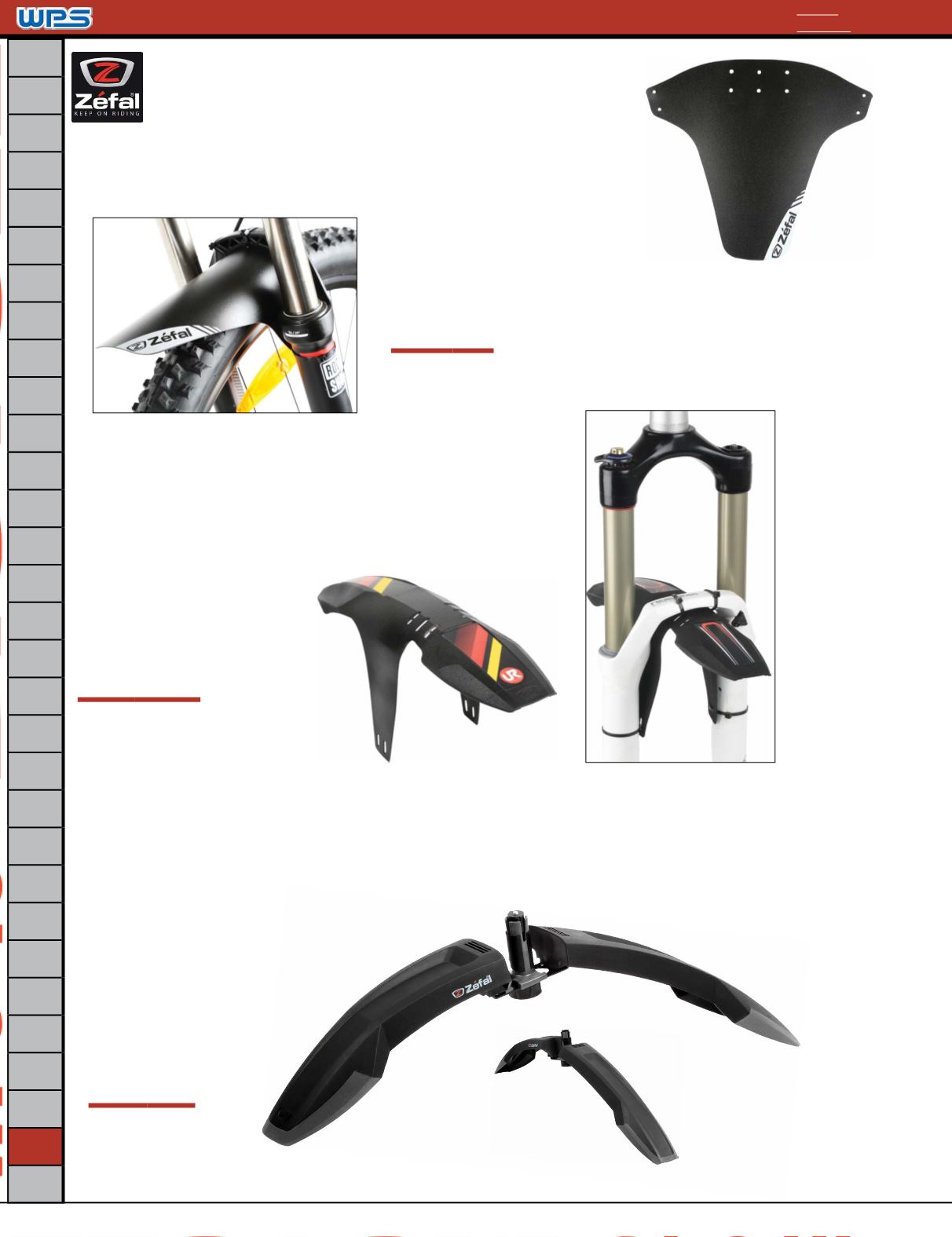 RACEWEAR
GLOVES
FOOTWEAR
HELMETS
HELMET
ACCESSORIES
EYEWEAR
PROTECTIVE
WEAR
CASUAL
WEAR
GEARBAGS
HYDRATION
FRAMES
FORKS
HEADSETS
&STEMS
HANDLEBARS
GRIPS
SHIFTING
BRAKING
TIRES&TUBES
WHEELS&RIMS
HUBS/CHAINS&
PARTS
CHAINRINGS&
PARTS
CRANKSETS&
PEDALS
BOTTOM
BRACKETS
SEATS/POSTS&
CLAMPS
PLATES&
NUMBERS
SECURITY
CHEMICALS
TOOLS
PROMOTIONAL
ACCESSORIES
INDEX
x
X X
X
X
414
WPS # List
57-0730 $9.95
WPS #
List
57-0729
$19.95
WPS #
List
57-0733 $19.95
LIGHT MUD GUARD
The Deflector Light has been made for enthusiastic mountain bikers looking for a light
and discreet mudguard (only 28 grams). Tested by many professional riders, it protects
the rider though the front-mounting and the shock mounting. We combine a stylish look,
protection, and a secure and firm grip on the bike.
DEFLECTOR RM 20 MUD GUARD
Developed with professional riders, the Deflector FM20 front mudguard
is adapted for DH, Enduro, or XC use. Both discreet and efficient, it is
made from technopolymer resign. It holds securely on the bike even on
extreme conditions. It can be customized with the 3 sticker packs that
are included.
FM60 MUD GUARD
The Deflector FM60 Mudguard ensures great protection even on rough
terrain. Specially designed for mountain biking, they are easy to install
and fit perfectly on your bike.
• Material: Polypropylene
• Mounting: 5 zip ties
• Wheel: 26", 27.5", 29"
• Weight 28 grams
• Material: Technopolymer resin
• Mounting: Fork only - 7 zip ties or
4 velcro
• Wheel: 26", 27.5", 29"
• Weight 80 grams
• Material: Technopolymer resin
with dual material spoiler
• Mounting: Into Steerer Tube -
adjustable from 20 to 33.7mm
• Wheel: 26", 27.5", 29"
• Weight 45 grams
• Blade Width: 60mm-73mm
ACCESSORIES
FAX: 24 hours a day 1-800-326-3813
INDEX>>
<<TOC