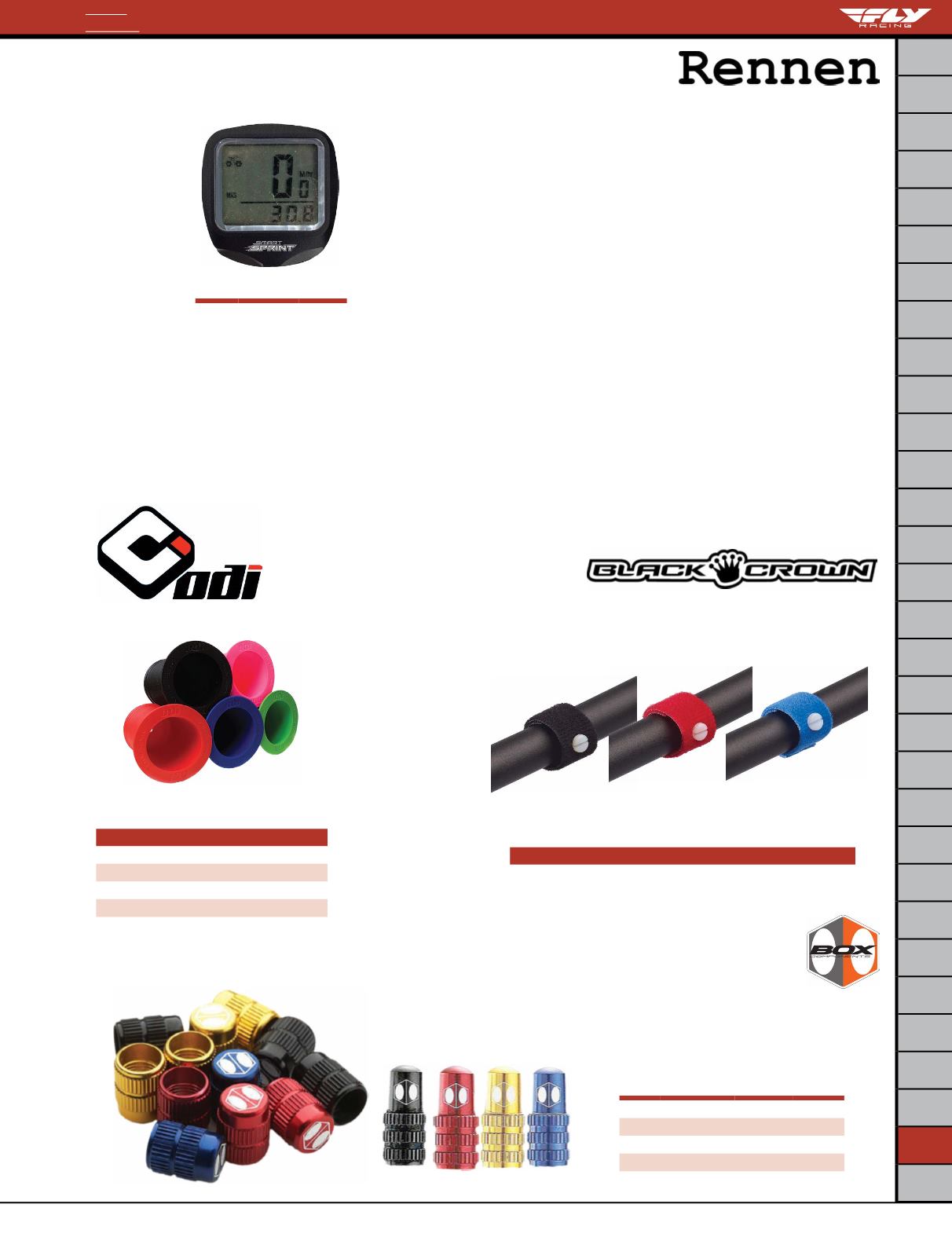 RACEWEAR
GLOVES
FOOTWEAR
HELMETS
HELMET
ACCESSORIES
EYEWEAR
PROTECTIVE
WEAR
CASUAL
WEAR
GEARBAGS
HYDRATION
FRAMES
FORKS
HEADSETS
&STEMS
HANDLEBARS
GRIPS
SHIFTING
BRAKING
TIRES&TUBES
WHEELS&RIMS
HUBS/CHAINS&
PARTS
CHAINRINGS&
PARTS
CRANKSETS&
PEDALS
BOTTOM
BRACKETS
SEATS/POSTS&
CLAMPS
PLATES&
NUMBERS
SECURITY
CHEMICALS
TOOLS
PROMOTIONAL
ACCESSORIES
INDEX
x
X
X
X
X
409
SMART SPRINT
WPS#
List
Black
91-0005 $89.95
COOZIES
Description Color
WPS #
List
ODI DRINK COOZIES
Drink Coozie Black
91-0003K $4.95
Drink Coozie Red
91-0003R 4.95
Drink Coozie Blue
91-0003B 4.95
Drink Coozie Green
91-0003G 4.95
Drink Coozie Pink
91-0003P
4.95
Color
Black
Red
Blue
List
NUMBER PLATE VELCRO KITS
Velcro Kit
92-1357K 92-1357R 92-1357B
$5.95
VELCRO PLATE KITS
VALVE CAPS
Schrader
Presta
List
Black
91-0009K 91-0008K $5.95
Red
91-0009R 91-0008R 5.95
Blue
91-0009B 91-0008B 5.95
Gold
91-0009G 91-0008G 5.95
Rennen Smart Sprint is a first of its
kind BMX specific speedometer.Smart
Sprint was designed and built for the
BMX racer. Whether your evaluating
your performance on the track or dur-
ing your sprint session Smart Sprint
has you covered.
Check out the following features of
Rennen's latest creation:
0-20mph:
Measure how long it takes
for you to get up to 20mph. Perfect for
evaluating if your training is working.
The smaller the time the faster your
getting
Distance timer:
Measure the time
it takes for you to travel the preset
distance. Range that you can select
is between 10-1500ft. Stop messing
around with marking off Distances
and using timer pods or gates this is
the first on the bike timing system that
is affordable to the masses.
Max Speed:
Record and view the
maximum speed you hit while training.
This is very useful to see if your get-
ting faster or evaluating your top end
spin.
Odometer:
Keep track of the total
number of miles you ride.
Trip Distance:
You can track and
clear the total miles accumulated on a
given riding session. Similar to Odom-
eter function but you have the ability
to clear this measurement.
Trip time:
Record the time it takes to
cover the trip distance.
12/24hr Clock:
Convenient display of
the current time of the day.
ACCESSORIES
Phone: 1-800-999-3388 / 1-877-359-2946
INDEX>>
<<TOC