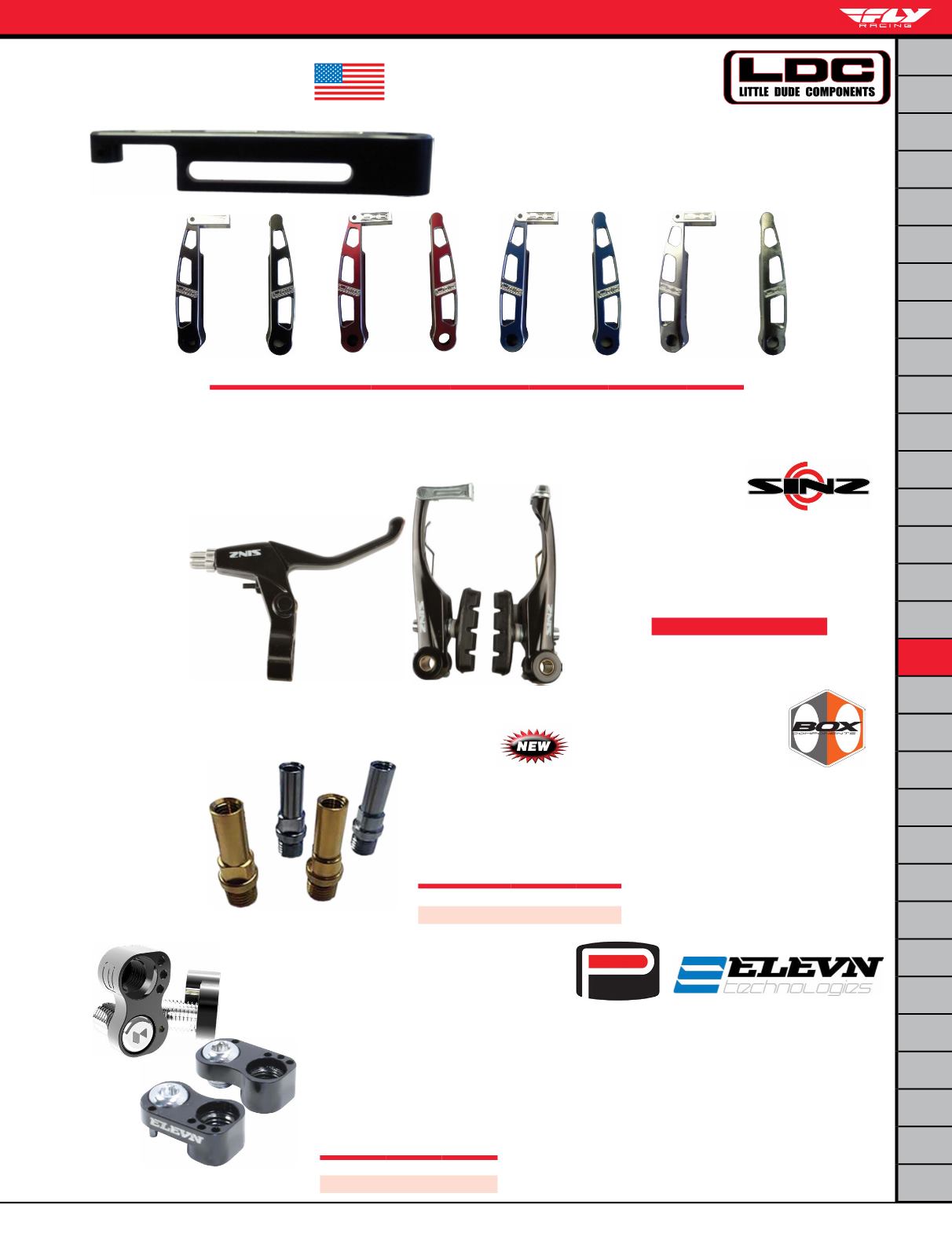 RACEWEAR
GLOVES
FOOTWEAR
HELMETS
HELMET
ACCESSORIES
EYEWEAR
PROTECTIVE
WEAR
CASUAL
WEAR
GEARBAGS
HYDRATION
FRAMES
FORKS
HEADSETS
&STEMS
HANDLEBARS
GRIPS
SHIFTING
BRAKING
TIRES&TUBES
WHEELS&RIMS
HUBS/CHAINS&
PARTS
CHAINRINGS&
PARTS
CRANKSETS&
PEDALS
BOTTOM
BRACKETS
SEATS/POSTS&
CLAMPS
PLATES&
NUMBERS
SECURITY
CHEMICALS
TOOLS
PROMOTIONAL
ACCESSORIES
INDEX
x
X X
X
x
259
V-BRAKES
Description
Black
Red
Blue
Machined
White
List
LDC Brakes
91-9361K 91-9361R 91-9361B 91-9361S 91-9361W $84.95
Description WPS#
List
Elevn
91-9386 $29.95
Promax
91-9387 29.95
• Allows the use of a 20" x 1-1/8" or 1-3/8 wheel to be used in a pro sized frame.
• Can be used to accept a 20" x 1.50" or 1.75" wheel in an expert or smaller size frame.
• CNC Machined from high strength 6061-T6 for flex free braking
• Easily installed by simply removing your existing brake post and installing the included
low profile securing bolt then reinstalling the brake post into the VPS mount.
• Can be mounted in either direction for the needed 19mm offset
LDC CNC'd Brakes feature an internal spring for better performance
and a cleaner look Brakes have extra long pad adjustment to reach
1-1/8" to 1-13/8" rims on bikes with posts set for 1.50/1.75 rims. Made
in the USA.
Brake Pads not included.
BRAKE POST EXTENSION
Color
WPS#
List
SINZ BRAKE KITS
Black
91-9358
$34.95
BRAKE KITS
• Brake Kit includes Lever, Cable,
and Calipers
• Pro Size
BRAKE POSTS
BOX Ti Brake Posts fit most BMX frame brake boss mounts and weigh
just 11 grams/0.38 ounces per pair. Swapping the original steel bosses
for the titanium is a simple process and will take a skilled mechanic less
than 10 minutes to complete. Each set of two bosses is shipped with a
packet of ti-prep to prevent galling.
Description
WPS#
List
Titanium Finish
91-9389T
$23.95
Titanium Gold Ano
91-9389G
28.95
BRAKING
Phone: 1-800-999-3388 / 1-877-359-2946