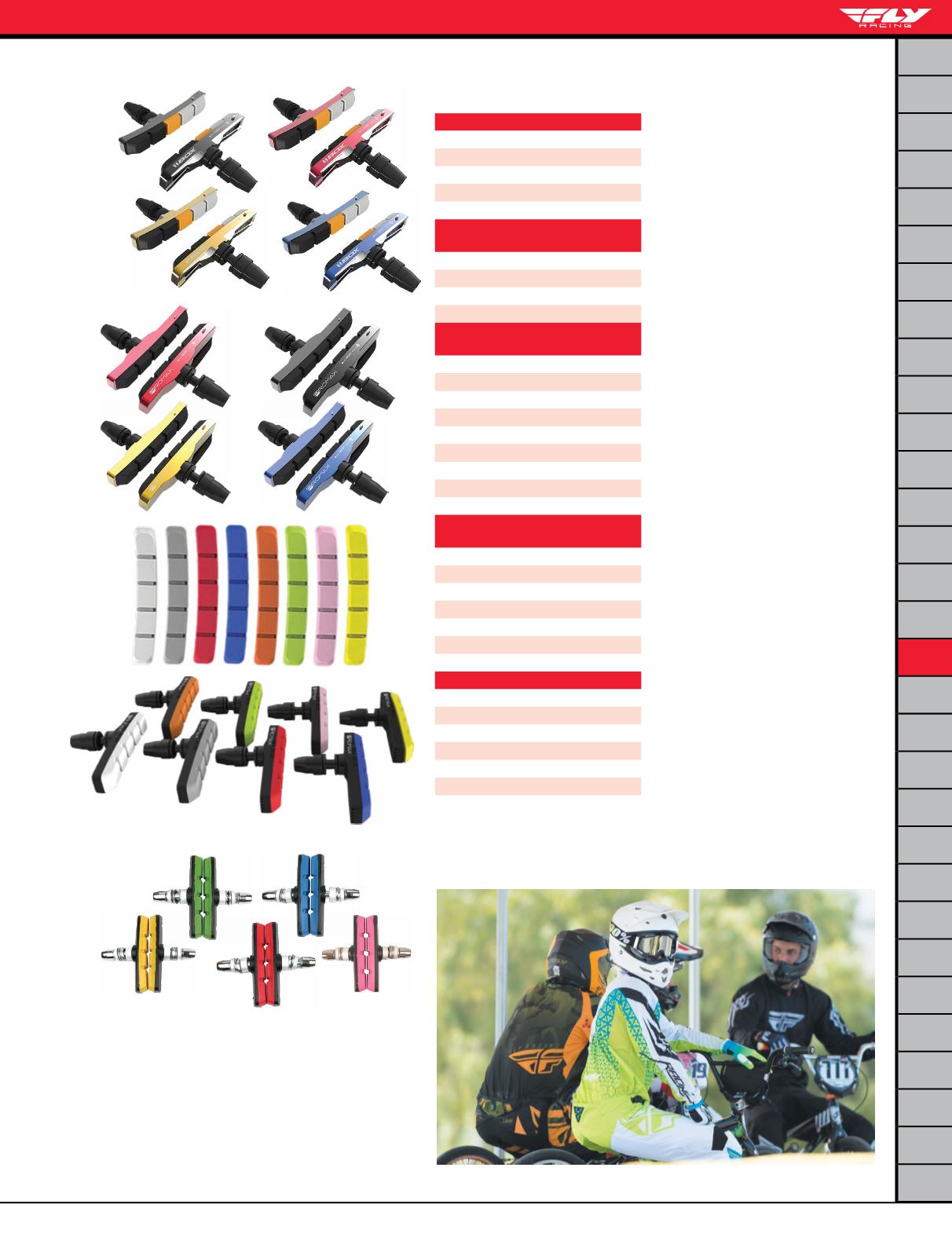 RACEWEAR
GLOVES
FOOTWEAR
HELMETS
HELMET
ACCESSORIES
EYEWEAR
PROTECTIVE
WEAR
CASUAL
WEAR
GEARBAGS
HYDRATION
FRAMES
FORKS
HEADSETS
&STEMS
HANDLEBARS
GRIPS
SHIFTING
BRAKING
TIRES&TUBES
WHEELS&RIMS
HUBS/CHAINS&
PARTS
CHAINRINGS&
PARTS
CRANKSETS&
PEDALS
BOTTOM
BRACKETS
SEATS/POSTS&
CLAMPS
PLATES&
NUMBERS
SECURITY
CHEMICALS
TOOLS
PROMOTIONAL
ACCESSORIES
INDEX
x
X X
X
x
255
BRAKE PADS
Color
WPS#
List
A. BOX X RAY BRAKE PADS
Black
91-9351K $23.95
Gold
91-9351G 23.95
Red
91-9351R 23.95
Blue
91-9351B 23.95
Replacement Pad
91-9357K
9.95
B. PROMAX B-1 CARTRIDGE
BRAKE PADS
Black
91-9353K $14.95
Gold
91-9353G 14.95
Red
91-9353R 14.95
Blue
91-9353B 14.95
C. PROMAX B-1
REPLACEMENT BRAKE PADS
Black
91-9354K $5.95
Grey
91-9354G 5.95
White
91-9354W 5.95
Blue
91-9354B 5.95
Red
91-9354R 5.95
Pink
91-9354PK 5.95
Orange
91-9354O 5.95
Green
91-9354GN 5.95
Yellow
91-9354Y 5.95
D. PROMAX B-2 AIRFLOW
BRAKE PADS
Grey
91-9352K $7.95
Blue
91-9352B 7.95
Orange
91-9352O 7.95
Green
91-9352GN 7.95
Yellow
91-9352Y 7.95
White
91-9352W 7.95
Pink
91-9352PK 7.95
E. SINZ BRAKE PADS
Red
91-9350R $7.95
Blue
91-9350B 7.95
White
91-9350W 7.95
Green
91-9350G 7.95
Yellow
91-9350Y 7.95
Pink
91-9350P
7.95
A. XRAY PADS
X-Ray brake shoes feature a stiffer
cold forged and CNC-machined
cartridge body, three-tone/dual-
compound, 70-millimeter pads for
superior braking, pivoting mounting
posts for perfect pad alignment and
all-black hardware.
B-1 PADS
The B-1s have cartridge pad
holders to fit 70-millimeter
replacement pads, making it super
easy to swap out worn pads or,
for the style conscious, to change
pad colors. Just pull out the pin,
slide out the old pad and replace
it with a Promax B-1 pad in one of
eight available colors. Adding to the
function of the B-1s, we spec'd the
shoes with a pivoting post along
with domed hardware, so setting
the toe-in is easy.
B-1 REPLACEMENT PADS
The colorful B-1 replacement
pads fit all Promax B-1 and BOX
Components X-Ray cartridge brake
shoe holders, as well as all other
standard 70-millimeter brake pads
from other manufacturers. Available
in black, white, red, blue, yellow,
lime, orange, grey and pink, these
pads provide sure-stopping power
with lots of style.
B-2 PADS
B-2 Air Flow brake shoes feature
a simple, one-piece, co-molded
pad design that provides loads of
stopping power.
SINZ PADS
Sinz brake pads are whopping
70 millimeters long. A proprietary
soft rubber compound provides
the ultimate stopping power. A
low-profile design makes for easy
adjustments.
A
B
C
D
E
Tommy Zula
BRAKING
Phone: 1-800-999-3388 / 1-877-359-2946