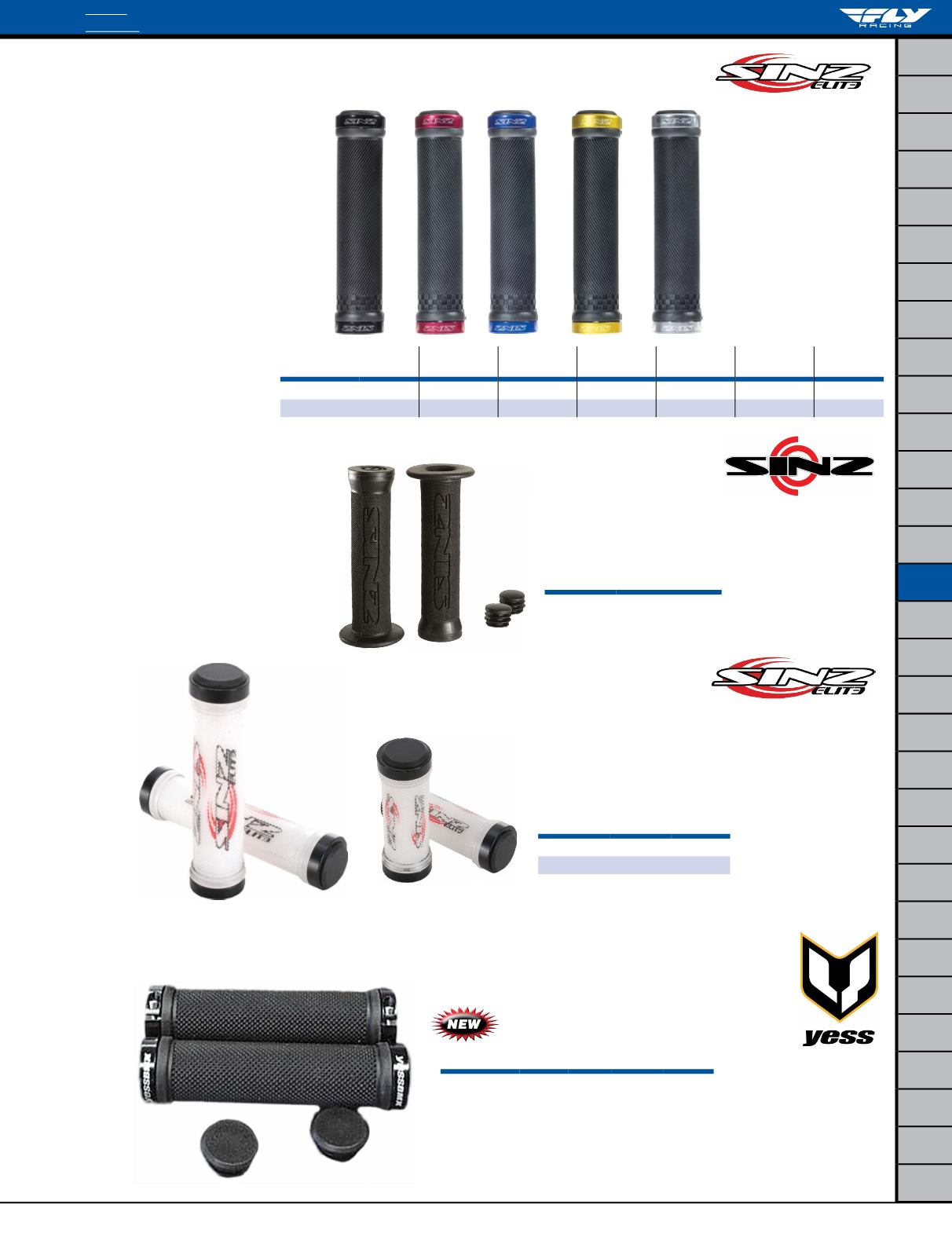 RACEWEAR
GLOVES
FOOTWEAR
HELMETS
HELMET
ACCESSORIES
EYEWEAR
PROTECTIVE
WEAR
CASUAL
WEAR
GEARBAGS
HYDRATION
FRAMES
FORKS
HEADSETS
&STEMS
HANDLEBARS
GRIPS
SHIFTING
BRAKING
TIRES&TUBES
WHEELS&RIMS
HUBS/CHAINS&
PARTS
CHAINRINGS&
PARTS
CRANKSETS&
PEDALS
BOTTOM
BRACKETS
SEATS/POSTS&
CLAMPS
PLATES&
NUMBERS
SECURITY
CHEMICALS
TOOLS
PROMOTIONAL
ACCESSORIES
INDEX
x
X
X
X
x
245
LOCK-ON MAXX GRIP
STICKY GRIPS
Length
Black
List
130mm
91-0389 $8.95
Sticky Grips are one of the best kept secrets of the
Sinz product line. Their simple advanced design and
proprietary rubber compound result in one of the
most comfortable grips sold today.
BOLT ON GRIPS
Sinz Elite Bolt-On Grips have a thin, comfortable gripping
surface covered in a simple yet-functional diamond
pattern. The translucent rubber allows a Sinz Elite logo
silk screened on the plastic inner body show through.
Solid anodized black clamps keep the grips in place
while plastic bar-end caps protect the bars.
Length
White
List
90mm
91-0396W $19.95
130mm
91-0398W 19.95
LOCK-ON GRIPS
Desciption Length Black Clamp Red Clamp Blue Clamp Gold Clamp
Polished
Clamp
List
Black Mini
100mm
91-0370KK 91-0370KR 91-0370KB 91-0370KG 91-0370KS
$21.95
Black Pro
130mm
91-0371KK 91-0371KR 91-0371KB 91-0371KG 91-0371KS
21.95
Description Length Color
WPS#
List
Maxx Grip
130mm Black
91-0401
$19.95
GRIPS
Phone: 1-800-999-3388 / 1-877-359-2946
INDEX>>
<<TOC