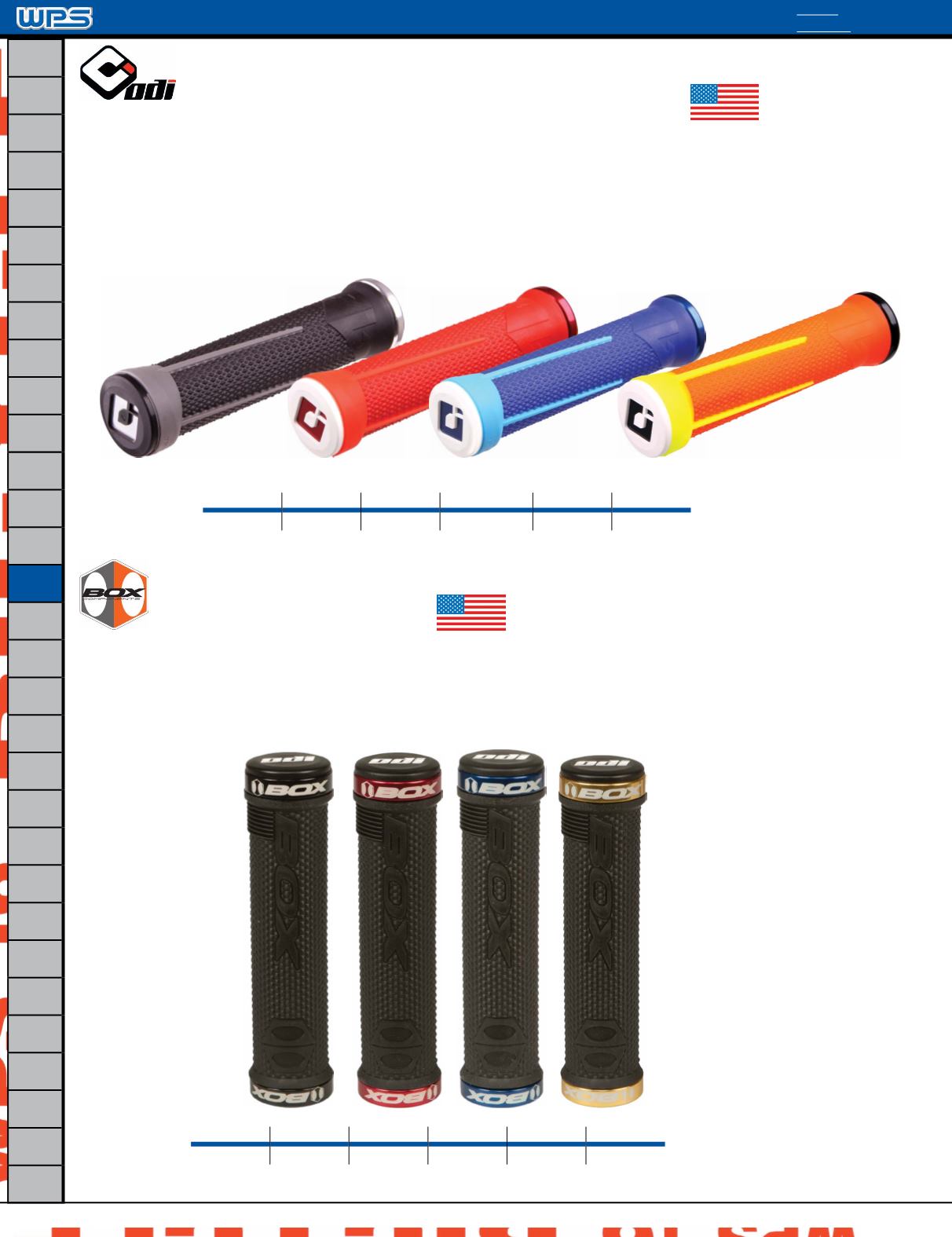 RACEWEAR
GLOVES
FOOTWEAR
HELMETS
HELMET
ACCESSORIES
EYEWEAR
PROTECTIVE
WEAR
CASUAL
WEAR
GEARBAGS
HYDRATION
FRAMES
FORKS
HEADSETS
&STEMS
HANDLEBARS
GRIPS
SHIFTING
BRAKING
TIRES&TUBES
WHEELS&RIMS
HUBS/CHAINS&
PARTS
CHAINRINGS&
PARTS
CRANKSETS&
PEDALS
BOTTOM
BRACKETS
SEATS/POSTS&
CLAMPS
PLATES&
NUMBERS
SECURITY
CHEMICALS
TOOLS
PROMOTIONAL
ACCESSORIES
INDEX
x
X X
X
x
244
AG1 SINGLE CLAMP LOCK-ON GRIPS
When we partnered with Aaron Gwin to develop a grip, we set out to make the most technically advanced
DH grip ever made. We started from the ground up with an entirely new single-clamp locking system which
offers over 10mm of extra grip space and allows for a more ergonomic feel on the either end of the grip. We
topped this off with multiple layers of gripping surface utilizing a unique rib pattern that provides positive
traction without making the grip feel larger. To ensure that the grip would stand up to the abuse of world
class DH courses, we added alloy reinforced ends which combines the strength of aluminum with the for-
giveness of a plastic end. We packed all of this into an ultra slim grip for optimal feedback and split second
decision making. The result of all this hard work is the AG1 Lock-0n Grips: the best DH grips ever made.
Descrition Black/Graphite Red/Fire Red Blue/Bright Blue Orange/Yellow List
AG1 Grips
91-0410K 91-0410R 91-0410B
91-0410O
$34.95
HEX LOCK-ON GRIPS
Manufactured in the U.S. by ODI, BOX Hex grips feature a hexagonal textured pattern over more
than 85 percent of the grip to ensure proper grip and comfort. Comfort ribs support and cushion
the rider's thumbs, while material has been removed from non-contact areas to save weight. The
grips are available in black with include four standard, ODI grip clamps with laser-etched BOX
logos in red, blue gold or black. Of course Hex grips lock into BOX Genius brake levers and the
new Genius grip clamp, which are available separately.
Descrition Black/Black Black/Red Black/Blue
Black/Gold
List
Hex Grips
91-0409KK 91-0409KR 91-0409KB 91-0409KG
$24.95
GRIPS
FAX: 24 hours a day 1-800-326-3813
INDEX>>
<<TOC