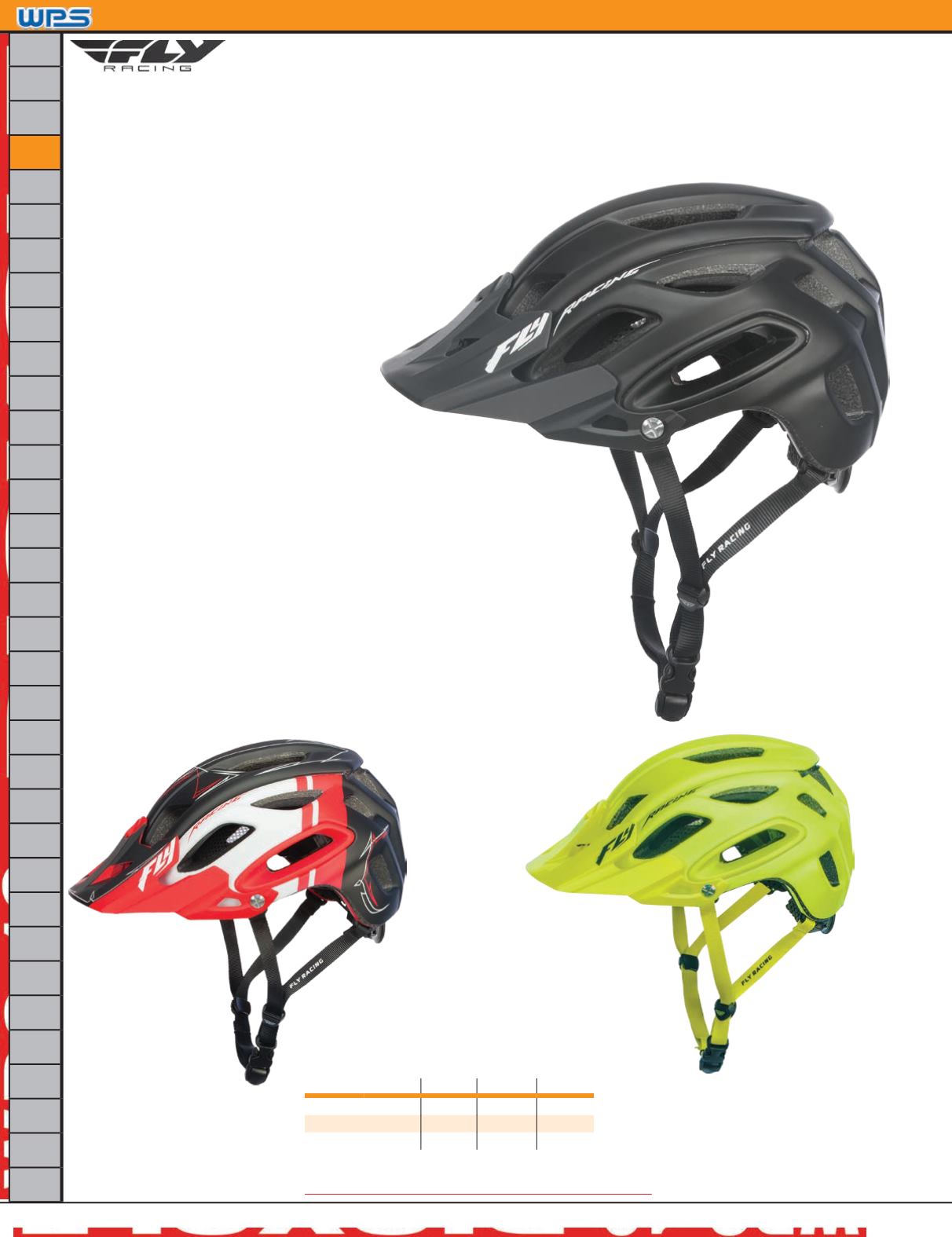 x
X X
X
X
48
FREESTONE HELMETS
Recommended use: Mountain Bike, All mountain, Trail,
MTB Endurance/Marathon
Color
XS - S M - L XL - XXL List
All Black
73-91801 73-91802 73-91803 $109.95
All Hi-Vis
73-91991 73-91992
109.95
SP Edition
73-91921 73-91922 73-91923 114.95
Continued on the next page
See page 74-79 for replacement parts and accessories
SP Edition
All Black
All Hi-Vis
STANDARD
• CPSC 1203 and EN1078:2012+A1:2012
CONSTRUCTION / COMFORT / VENTILATION
• ConeHead™ Technology - ConeHead™ is the
developmental code name for a revolutionary
new way to mold EPS foam for helmets. The
new ConeHead™ acts like a crumple zone
around the head to absorb and dissipate
impact forces more effectively than current
hard foam liners. There are two different
densities of foam as well as two different foams
with their own characteristics of recovery from
impact and inter-foam bond strength.
• Liteweight at 317.5 grams for a Med/Large
Helmet
• 19 vents with ventilated comfort liner with built
in bug screen
• Cushy EVA impact foam on sides and back for
comfort and protection.
• Quick adjust chin/cheek strap
• One hand dial fit adjustment, dial fit on the fly
ACCESSORIES
• Adjustable moto inspired visor
RACEWEAR
GLOVES
FOOTWEAR
HELMETS
HELMETACC.
EYEWEAR
PROTECTIVE
WEAR
CASUALWEAR
GEARBAGS
HYDRATION
ACCESSORIES
FRAMES&
BIKES
FORKS
HEADSETS
STEMS
HANDLEBARS
GRIPS
SHIFTING
BRAKING
LIGHTING
TIRES&TUBES
WHEELS&RIMS
HUBS/CHAINS
&PARTS
CHAINRINGS&
PARTS
PEDALS
CRANKSETS
BOTTOM
BRACKETS
SEATS/POSTS&
CLAMPS
PLATES&
NUMBERS
SECURITY
CHEMICALS
TOOLS
PROMOTIONAL
INDEX
HELMETS
FAX: 24 hours a day 1-800-326-3813