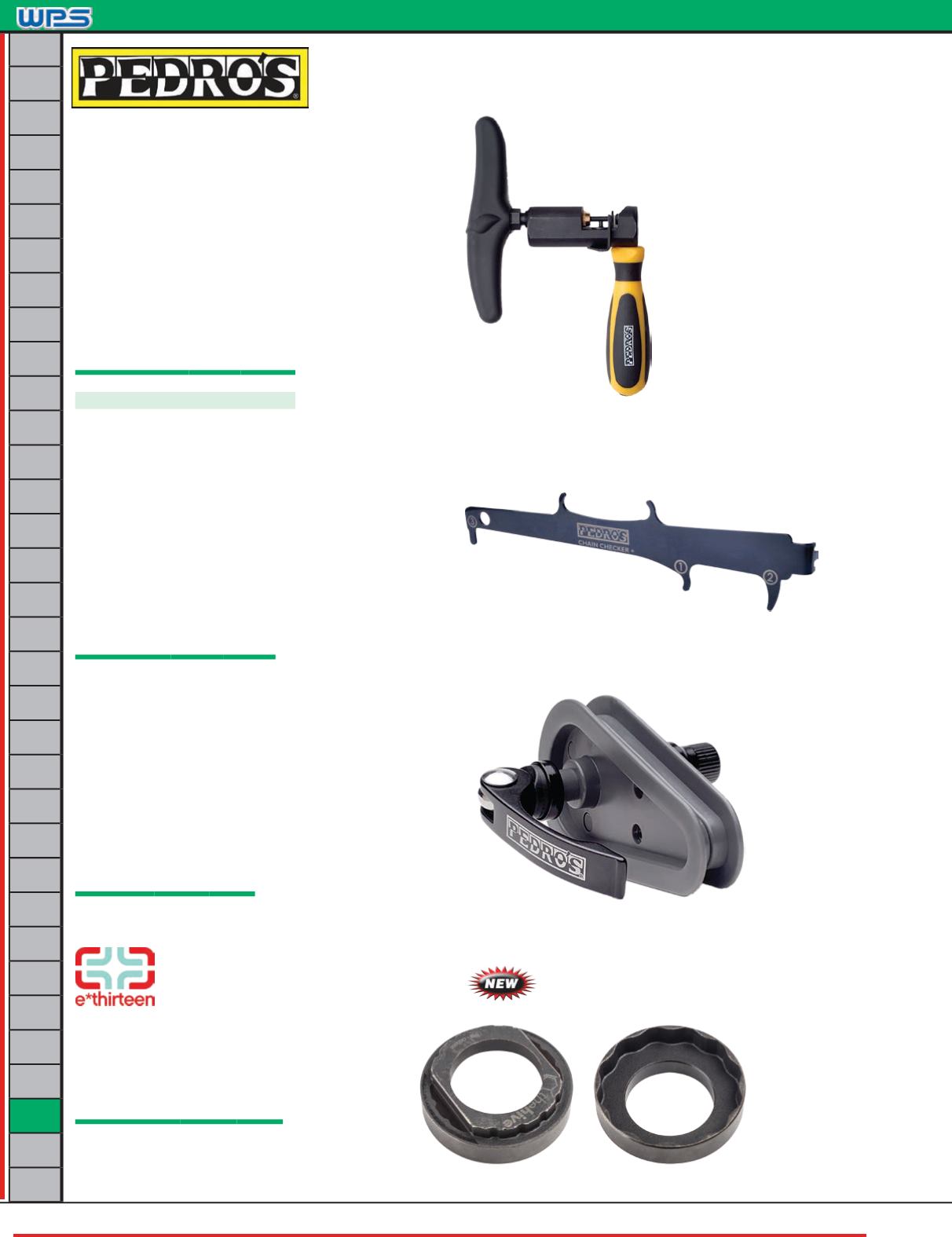 x
X X
X
X
408
Description
WPS# List
Pro Chain Tool 2.0
57-0638 $59.95
Pro Chain Tool 2.0 Pins
57-0639
6.50
PRO CHAIN TOOL 2.0
Description
WPS# List
Chain Checker Plus
57-0637 $15.95
CHAIN CHECKER PLUS
• Precision laser cut design accurately measures 0.75%
chain wear
• Three point chain wear tool design properly isolates pin
wear from roller wear
• Chain hook tool and chainring nut wrench add functional
versatility and value
• Takes place of rear wheel providing tension on
chain to protect chain and frame when rear wheel is
removed
• Allows full forward or backward rotation of drivetrain
making it perfect for cleaning, storage, or transport
Description WPS# List
Chain Keeper
57-0601 $15.95
CHAIN KEEPER
SCREW TYPE CHAIN TOOL
CHAIN WEAR CHECK TOOL, CHAIN HOOK TOOL,
AND CHAINRING NUT WRENCH
WHEEL PLACEHOLDER FOR CLEANING AND TRAVEL
• Ergonomically designed dual-density handles for
comfort, grip, and safety
• Compatible with all single speed through 10 speed
chains plus Shimano® and SRAM® 11 speed chains
• Constructed from heat-treated tool steel for the ultimate
in strength and long-lasting performance
• Includes two replacements pins stored conveniently in
the handle
Description
WPS# List
BB Tool /Spider Tool
91-9049
$16.95
• e*thirteen spider removal tool for removable
spider cranks. Can also be used as BB tool.
• Fits all e*thirteen cranks with a spider lockring.
SPIDER REMOVAL TOOL
RACEWEAR
GLOVES
FOOTWEAR
HELMETS
HELMETACC.
EYEWEAR
PROTECTIVE
WEAR
CASUALWEAR
GEARBAGS
HYDRATION
ACCESSORIES
FRAMES&
BIKES
FORKS
HEADSETS
STEMS
HANDLEBARS
GRIPS
SHIFTING
BRAKING
LIGHTING
TIRES&TUBES
WHEELS&RIMS
HUBS/CHAINS
&PARTS
CHAINRINGS&
PARTS
PEDALS
CRANKSETS
BOTTOM
BRACKETS
SEATS/POSTS&
CLAMPS
PLATES&
NUMBERS
SECURITY
CHEMICALS
TOOLS
PROMOTIONAL
INDEX
TOOLS
FAX: 24 hours a day 1-800-326-3813