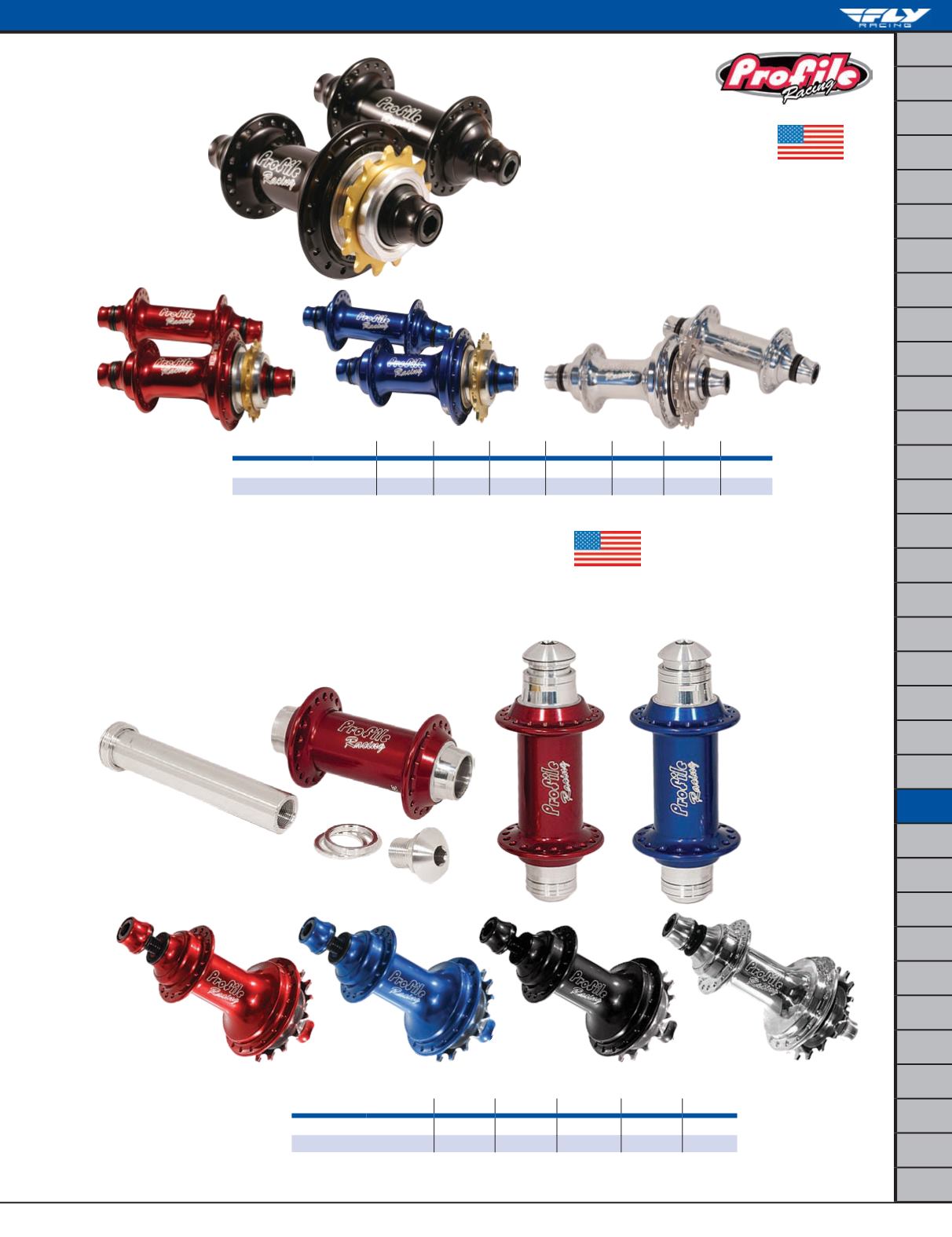 x
X X
X
X
309
ELITE RACE SETS
Description Axle/Spoke Black
Red
Blue Polished Gold White
List
Elite Hubs
10mm/28H
91-706K 91-706R 91-706B 91-706S
$439.95
Elite Hubs
10mm/36H
91-707K 91-707R 91-707B 91-707S 91-707G 91-707W 439.95
Profile Elite Hub feature the Ultradriver, the first
all-new driver design from Profile Racing in years,
with six pawls and springs and 204 points of
engagement. 204 points of engagement means
instant engagement, no-hesitation acceleration, and
a really cool buzz when you do stop pedaling. Hubs
sets come with 16t cr-mo cog.
ELITE HUBS
The Profile Elite 20mm Front Hub is manufactured from a higher grade, aerospace quality, billet aluminum and
includes an alloy 20mm center through axle and high performance bearings. Weight with axle kit: 211g/7.4oz. The
Elite Rear Hub comes with 3/8 CrMo bolts, Alu Driver, 16t Elite CrMo Cog: 14.80oz / 421g
Description Axle/Spoke Black
Red
Blue Polished List
Front Hub
20mm/36H
91-7110R 91-7110B
$134.95
Rear Hub
10mm/36H
91-7115K 91-7115R 91-7115B 91-7115S 350.95
HUBS / CHAINS & PARTS
RACEWEAR
GLOVES
FOOTWEAR
HELMETS
HELMETACC.
EYEWEAR
PROTECTIVE
WEAR
CASUALWEAR
GEARBAGS
HYDRATION
ACCESSORIES
FRAMES&BIKES
FORKS
HEADSETS
STEMS
HANDLEBARS
GRIPS
SHIFTING
BRAKING
LIGHTING
TIRES&TUBES
WHEELS&RIMS
HUBS/CHAINS&
PARTS
CHAINRINGS&
PARTS
PEDALS
CRANKSETS
BOTTOM
BRACKETS
SEATS/POSTS&
CLAMPS
PLATES&
NUMBERS
SECURITY
CHEMICALS
TOOLS
PROMOTIONAL
INDEX
Phone: 1-800-999-3388 / 1-877-359-2946