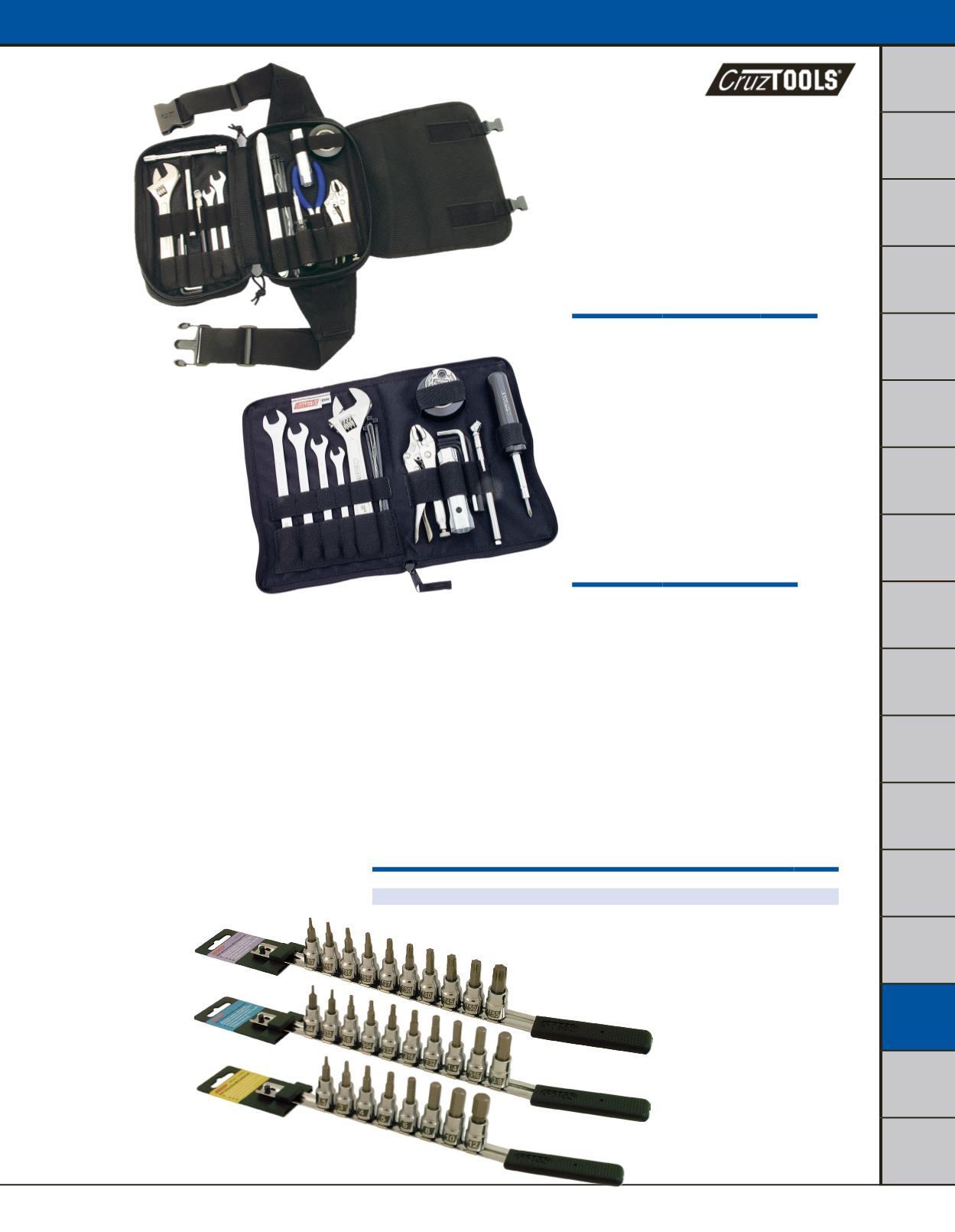 x
X X
X
X
RIDER
ACCESSORIES
EYEWEAR
APPAREL
WATERCRAFT
ACCESSORIES
CARTS /
TRAILER PARTS
BODY / HULL
STEERING /
CONTROLS
PUMP /
DRIVELINE
IMPELLERS
CARBS /
INTAKE
ENGINE /
PISTONS
EXHAUST
ELECTRICAL
CHEMICALS
TOOLS
PROMOTIONAL
INDEX
367
Description
WPS# List
A 10 pc. Torx Bit Set T10,T15,T20,T25,T30,T40,T45,T50,T55
57-0014 $29.95
B 10 pc. Hex Bit Set-Inch 5/64",3/32",1/8",9/64",5/32",3/16",7/32",1/4",5/16",3/8"
57-0015 24.95
C 8pc. Hex Bit Set-Metric 2.5mm,3mm,4mm,5mm,6mm,8mm,10mm,12mm
57-0016 22.95
SOCKET BIT SETS
Motorcycles, ATVs, snowmobiles, and personal watercraft make widespread use of set and cap screws that require hex
("Allen") and Torx
®
wrenches. Such fasteners are very vulnerable to damage from tools with loose tolerances and/or
inferior materials.
Every rider should have a comprehensive set of socket bits for home, pit, or mobile use. Our three new sets are professional
tool quality, yet priced to meet any budget. Socket bodies are polished chrome, and bits made of a heat treated chrome
vanadium alloy that exceed ANSI standards. Unlike most socket bit sets found elsewhere, all sockets are 3/8" drive so you
only need one ratchet or T-handle for all sizes. A reverse laser imprint provides for easy size identification. To help keep
your socket drawer organized, each set ships on a rail with handle. Tools are lifetime guaranteed.
A
B
C
TOOL KITS
Description
WPS#
List
Fanny Pack tool kit
57-00230
$109.95
We did our homework and put together the
ultimate off-road tool kit. Complementing the
long list of tools and other items is a stout and
functional pouch using a super-tough nylon
shell, top grade hardware and zippers, plenty
of storage – including a unique mesh cash and
document pocket – and key clip. With the DMX,
you're ready to roll!
FANNY PACK TOOL KIT
ECONO KIT M1
Seasoned riders know from experience the
importance of carrying a tool kit. OEM tool kits
don't provide effective roadside or trailside relief,
and cobbling together tools from the garage
probably won't cut it. Our metric EconoKITs
provide the items you'll need in the middle of
nowhere, with quality you can depend on. Both
include our exclusive PowerDrive combination
wrenches, plus a host of other essentials. The
M2 is a baseline solution, while the M1 adds
additional content.
Description
WPS#
List
Econo Kit M1
57-00212
$64.95
TOOLS