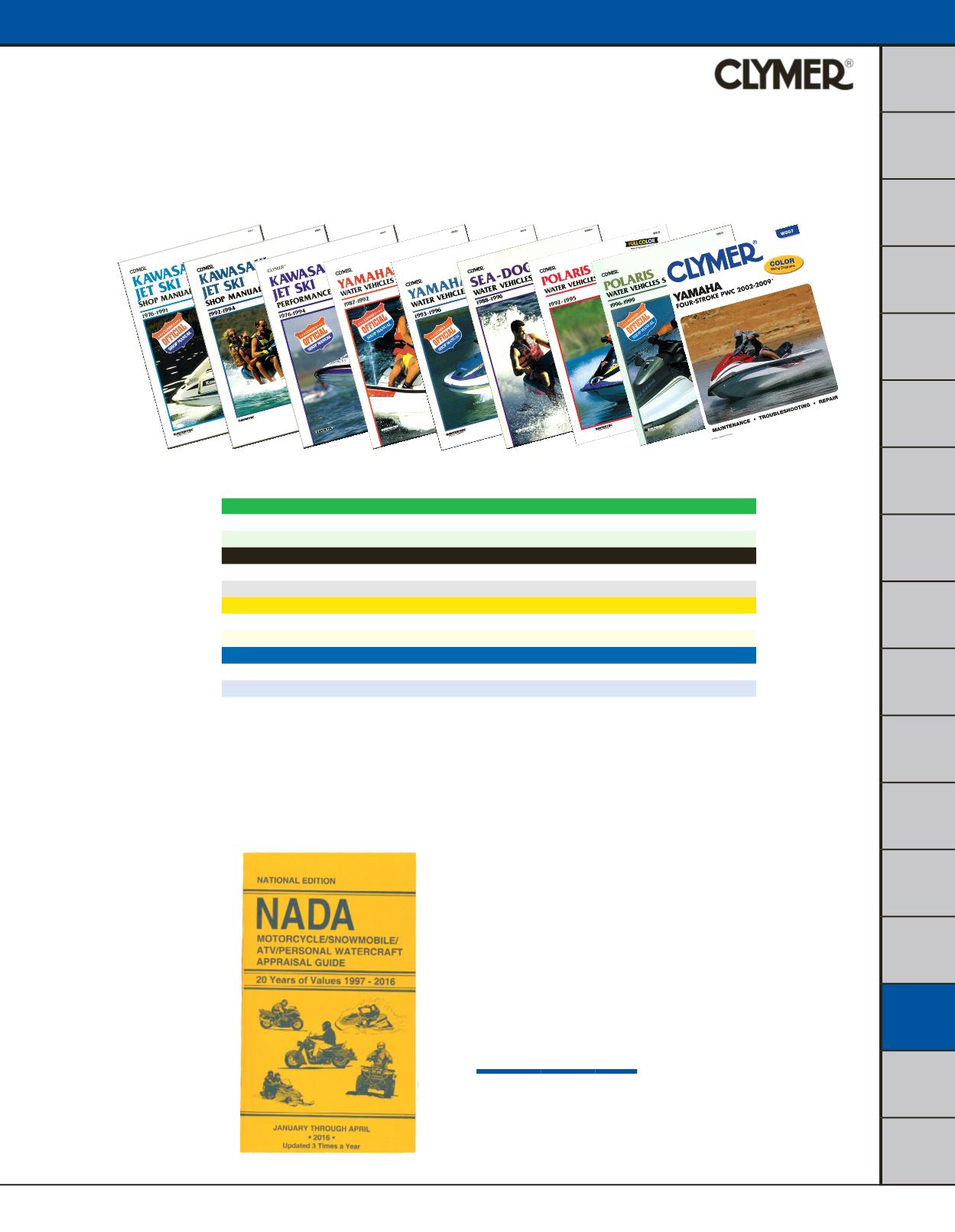 x
X X
X
X
RIDER
ACCESSORIES
EYEWEAR
APPAREL
WATERCRAFT
ACCESSORIES
CARTS /
TRAILER PARTS
BODY / HULL
STEERING /
CONTROLS
PUMP /
DRIVELINE
IMPELLERS
CARBS /
INTAKE
ENGINE /
PISTONS
EXHAUST
ELECTRICAL
CHEMICALS
TOOLS
PROMOTIONAL
INDEX
359
WATERCRAFT MANUALS
• Written for the professional mechanic and the first time do-it-yourselfer
• Detailed drawings and clear photographs give you all the information you need to do the job right
• Step-by-step instructions guide you through jobs ranging from simple maintenance to complete engine,
drive train and steering overhaul
N.A.D.A
PERSONAL WATERCRAFT
MOTORCYCLE / SNOWMOBILE / ATV
APPRAISAL GUIDE
New editions are available for purchase (Jan. - May - Sept.)
If determining current values for used personal watercraft,
motorcycles, ATV's or snowmobiles is part of your business,
then you need the best appraisal guide available. Whether
you're buying or selling, N.A.D.A. has the information you
want. It's complete, up-to-date, and easy to use. Defnitely
the right choice.
Years
WPS# List
1995-Current
27-1098 $40.95
Applications
Description
WPS#
List
KAWASAKI
All models '76-91
Shop manual
27-W801 $36.95
All models '92-94
Shop manual
27-W802 36.95
POLARIS
All models '92-95
Shop manual
27-W819 $36.95
All models '96-99
Shop manual
27-W820 36.95
SEA-DOO
All models '88-96
Shop manual
27-W809 $36.95
All models '97-01
Shop manual
27-W810 36.95
YAMAHA
All models '87-92
Shop manual
27-W805 $36.95
All models '93-96
Shop manual
27-W806 36.95
4-Stroke models '02-09 (does not cover 1800cc models)
Shop manual with color wiring diagrams
27-W807 36.95
TOOLS