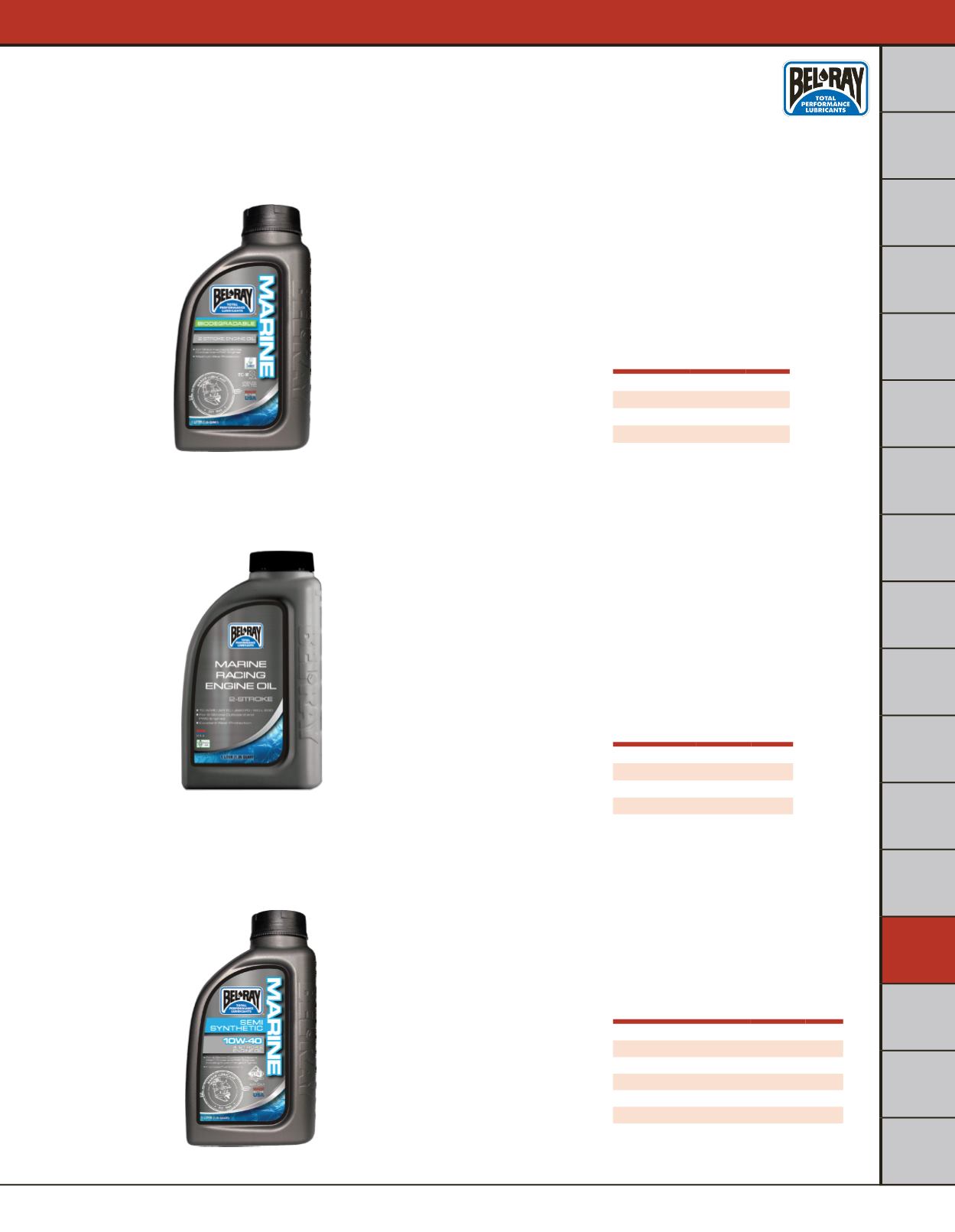 x
X X
X
X
RIDER
ACCESSORIES
EYEWEAR
APPAREL
WATERCRAFT
ACCESSORIES
CARTS /
TRAILER PARTS
BODY / HULL
STEERING /
CONTROLS
PUMP /
DRIVELINE
IMPELLERS
CARBS /
INTAKE
ENGINE /
PISTONS
EXHAUST
ELECTRICAL
CHEMICALS
TOOLS
PROMOTIONAL
INDEX
297
• Clean-burning petroleum-based
formula for injector/ autolube or pre-
mix applications
• Unparalleled technology provides
greater performance than synthetic
formulas
• Wear protection extends engine life
• Provides superior performance
at high temperatures and idling
speeds
• For 2-Stroke PWC and outboard
engines
• Ashless formula
• Meets and exceeds NMMA TC-W3
®
ratings
Recommended for use where API
TC, JASO FD, and ISO E-L-EGD
requirements are specified
All the top factories, designers, racers, enginebuilders, teammanagers, tuners ....in fact,
nearly every successful individual in motorcycle racing knows that Bel-Ray lubricants
deliver unsurpassed protection. They've proven it to themselves. SO SHOULD YOU!!!
MARINE BIODEGRADABLE 2-STROKE OIL
Marine Biodegradable 2-Stroke Engine Oil is formulated for maximum perfor-
mance and protection in the most extreme marine conditions.
• Biodegradable, clean-burning,
synthetic ester for injector/ autolube,
or pre-mix applications
• Full synthetic, solvent-free, ashless
formula with 65% renewable carbon
content
• Wear protection extends engine life
• Provides maximum performance at
high temperatures and idling speeds
• For 2-Stroke PWC and outboard
engines
• TC-W3
®
/ EU Ecolabel registered
Description WPS# List
1 lt
840-3327 $16.95
4 lt
840-3326 52.95
55 gal
840-3329
Oil Drum Pump
27-0190 67.95
MARINE RACING 2-STROKE OIL
Formulated for performance and protection in the most extreme marine conditions
Description
Oil
Weight
WPS# List
1 lt
10W-30
840-3300 $9.95
4 lt
10W-30
840-3301 34.95
55 gal
10W-30
840-3302
1 lt
10W-40
840-3310 9.95
4 lt
10W-40
840-3311 36.95
55 gal
10W-40
840-3312
Oil Drum Pump
27-0190 67.95
MARINE 4-STROKE SEMI-SYNTHETIC OIL
Bel-Ray
®
Marine 4-Stroke Semi-Synthetic engine oil is formulated for superior
performance and protection in the most extreme marine conditions
• Synthetic blend infused with Extreme
Pressure anti-wear and anti-rust/
corrosion additives
• Lowers engine temperatures and
increases horsepower
• Extended change intervals
• For 4-Stroke PWC, outboard,
inboard, and stern drive engines
Description WPS# List
1 lt
840-3320 $26.95
4 lt
840-3321 101.95
55 gal
840-3322
Oil Drum Pump
27-0190 67.95
CHEMICALS