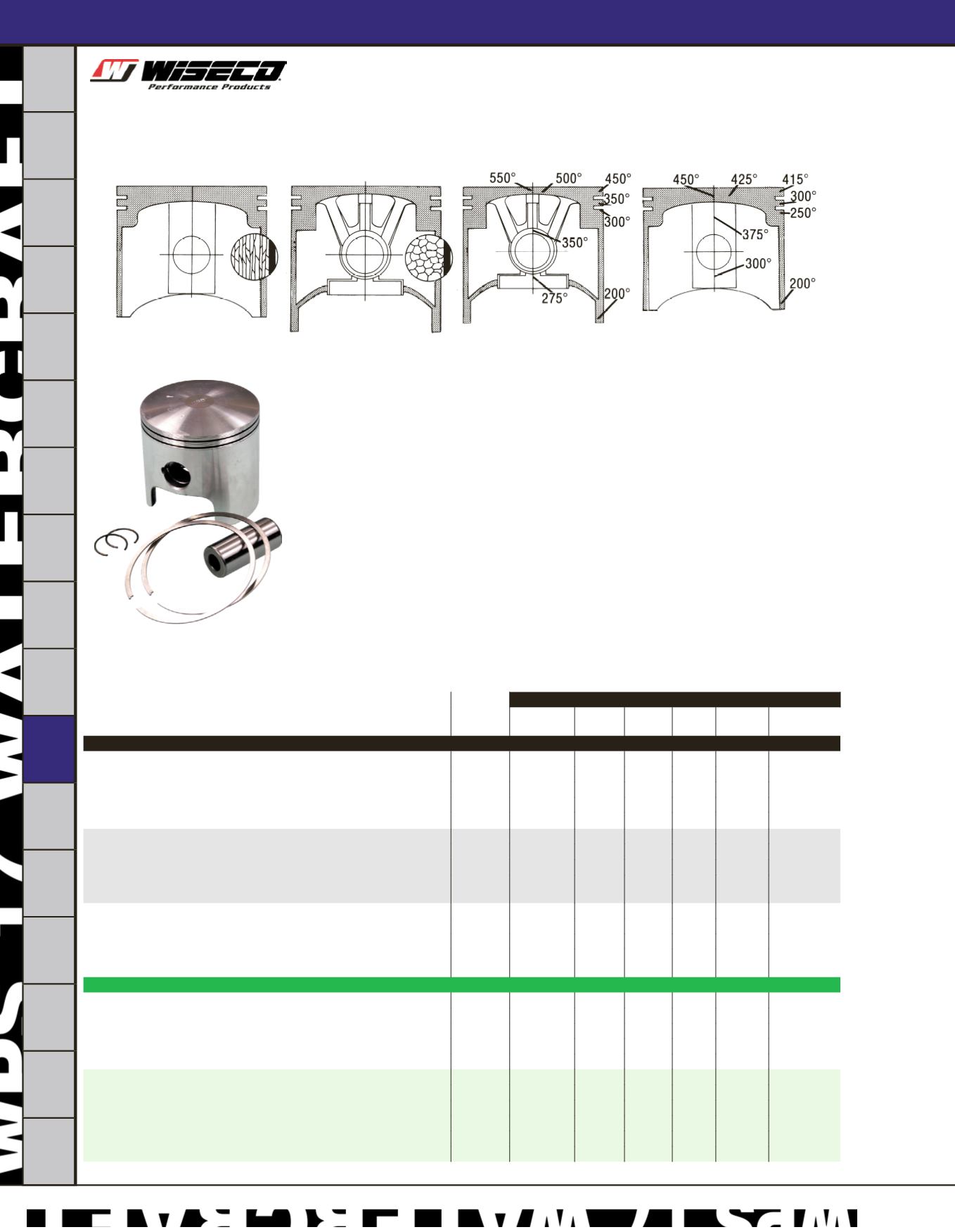 RIDER
ACCESSORIES
EYEWEAR
APPAREL
WATERCRAFT
ACCESSORIES
CARTS /
TRAILER PARTS
BODY / HULL
STEERING /
CONTROLS
PUMP /
DRIVELINE
IMPELLERS
CARBS /
INTAKE
ENGINE /
PISTONS
EXHAUST
ELECTRICAL
CHEMICALS
TOOLS
PROMOTIONAL
INDEX
x
X X
X
X
226
PERSONAL WATERCRAFT
PISTONS
and
KITS
Continued on the next page
COMPLETE KITS COME WITH PRECISION MATCHED PISTONS, RINGS, CIRCLIPS, WRIST PINS, AND A TOP END GASKET KIT.
ALL WISECO REPLACEMENT PISTONS COME WITH PISTON, RINGS & CIRCLIP
1) FORGED
All Wiseco Pistons are
forged
from high silicon, low expansion aluminum which offers superior
strength, reduced weight, improved heat transfer, and longer life.
2) ADVANCED MANUFACTURING TECHNIQUES
Diamond turned finish from one of the many CNC computer controlled turning centers guarantees
you a perfect finish with no size variation. Wiseco pistons can be installed in any of today's cylinder
bore compositions (cast iron, chrome, nikasil and boron composite) with confidence.
3) OVERSIZE OPTIONS
Wiseco's wide range of oversize pistons increase the life of cast iron lined cylinders.With the availability
of replacement cylinder sleeves, chrome, nikasil and boron composite cylinders can be resleeved to
accept Wiseco's oversizes.
4) COMPUTERIZED
Wiseco's state-of-the-art computerized manufacturing facility is dedicated to supplying both the
high-perfomance racer and recreational enthusiast with the finest forged piston available.
5) EASY AVAILABILITY
Five WPS warehouses offer you one of the largest Wiseco inventories in the west. Our telephone
sales staff can verify availability at the time of your order. Pistons that we don't have in stock are
rushed in air freight and are available for shipment to you within two to three working days.
REPLACEMENT PARTS
Application
Displ.
CC Bore Size
Stroke
(mm)
Complete
Kit
Piston Ring set
Circlip
Wrist
Pin
Top End
Bearing
Top End
Gasket Kit
ARCTIC CAT
Tigershark; Daytona;
639cc 76mm/.012*
71
WK1084
632PS 2992TD CW-20 S-461 B1024
687-66000
Monte Carlo/Deluxe;
652cc 76.5mm/.031* 71
632P2 3012TD CW-20 S-461 B1024
Montego;TT640R;TS640L
661cc 77mm/.051*
71
WK1086
632P4 3032TD CW-20 S-461 B1024
Twin Cylinder
*Cylinders must be bored, oversized pistons only
Tigershark;
896cc 76.5mm/STD 65
WK1093 2349PS 3012TD CW-20 S-512 B1024
687-66401
Monte Carlo;
998cc 80.5mm/.160 65
2349P16 3169TD CW-20 S-512 B1024
Triple Cylinder, Nikasil Bore
Cylinder sleeving required for oversizes. Order (3)
FL5281SL for 76.5mm
Tigershark; Daytona;
1000cc 81mm/STD
65
WK1216 2394PS 3189KD CW-22 S-539
687-66401
Monte Carlo.
1100cc 85mm/.160
65
WK1217 718P16 3347KD CW-22 S-539
Triple Cylinder, Nikasil Bore
Cylinder sleeving required for oversizes. Order (3)
3087FA sleeves for 85mm
KAWASAKI
Jet Ski JS300,
295cc 76mm/STD
64.90
WK1026
549PS 2992TD CW-18 S-513 B1022
687-65000
JS300SX,
299cc 76.5mm/.020 64.90
WK1027
549P2 3012TD CW-18 S-513 B1022
Single Cylinder
303cc 77mm/.040
64.90
549P4 3032TD CW-18 S-513 B1022
307cc 77.5mm/.060 64.90
WK1029
549P6 3051TD CW-18 S-513 B1022
311cc 78mm/.080
64.90
WK1030
549P8 3071TD CW-18 S-513 B1022
Jet Ski JS440,
436cc 68mm/STD
60
2677CD CW-16 S-259 B1021
'82-91
JS440SX, '76-92
439cc 68.25mm/.010 60
2687CD CW-16 S-259 B1021
687-65300
Twin Cylinder
442cc 68.5mm/.020 60
WK1002 2084P2 2697CD CW-16 S-259 B1021
449cc 69mm/.040
60
WK1003 2084P4 2717CD CW-16 S-259 B1021
455cc 69.5mm/.060 60
WK1004
2736CD CW-16 S-259 B1021
462cc 70mm/.080
60
2756CD CW-16 S-259 B1021
ENGINE / PISTONS