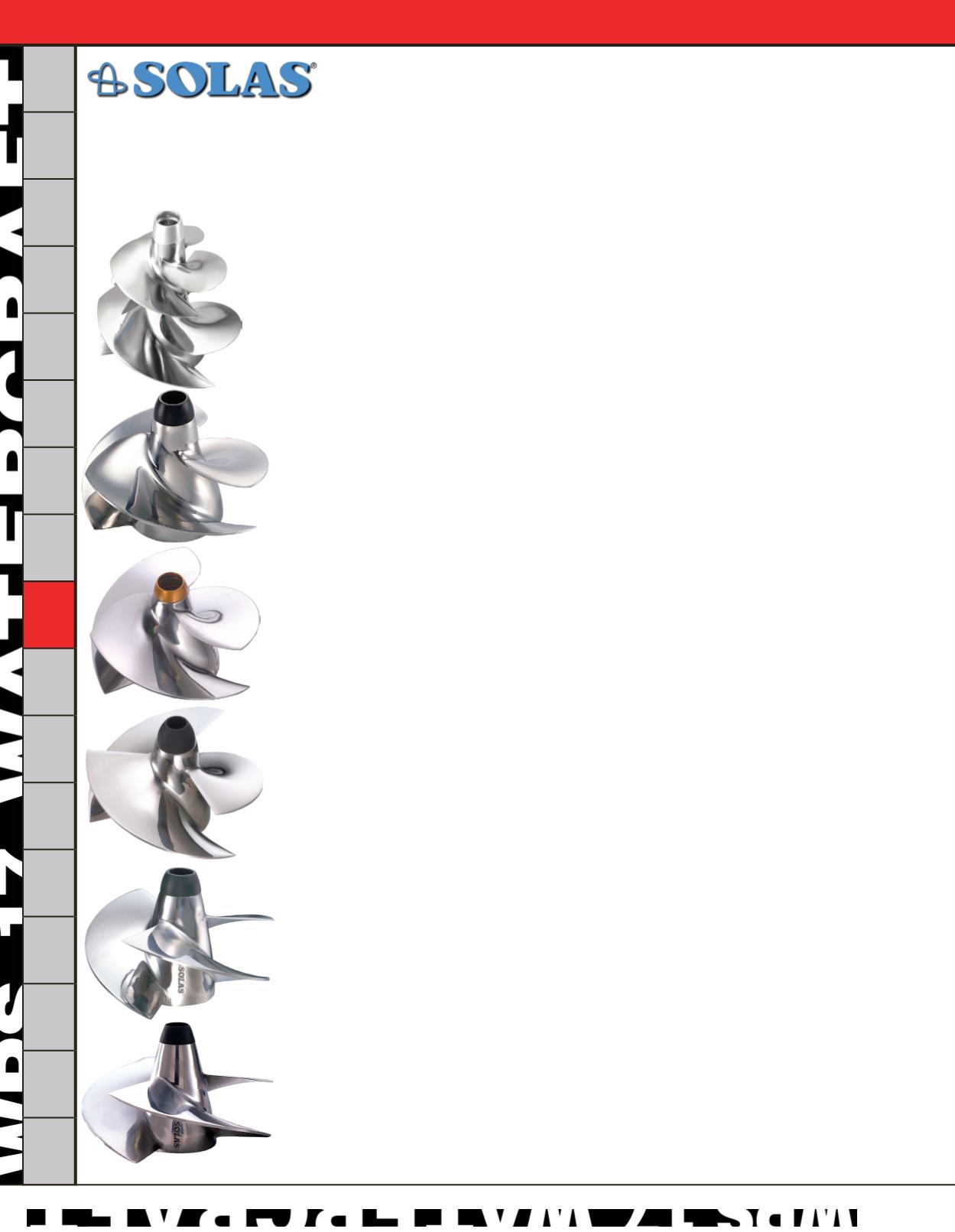 RIDER
ACCESSORIES
EYEWEAR
APPAREL
WATERCRAFT
ACCESSORIES
CARTS /
TRAILER PARTS
BODY / HULL
STEERING /
CONTROLS
PUMP /
DRIVELINE
IMPELLERS
CARBS /
INTAKE
ENGINE /
PISTONS
EXHAUST
ELECTRICAL
CHEMICALS
TOOLS
PROMOTIONAL
INDEX
x
X X
X
X
164
A. TWIN IMPELLER
Solas's latest in 4-stroke technology. The twin prop impeller for Yamaha and Sea-Doo
models gives you the ultimate performance. With added acceleration and gains in
top end performance, your pwc will perform in most conditions. Twin Prop impeller for
Sea-Doo models recommended for competition use.
B. DYNAFLY IMPELLER
Solas' newest technology. Dynafly impellers are designed to give high compression
ratio pumps a stronger acceleration with less cavitation. The Solas line of these
impellers are currently available for 4-stroke models with 155mm pump diameter.
C. CONCORD IMPELLER
In 1998, Solas introduced the new Concord series of impellers featuring a large blade
area and a unique geometric blade design. This series of impellers create remarkable
thrust and acceleration with excellent top end performance. As 4-stroke technology
becomes the standard of the industry, Concord impellers truly enhance the engine
characteristics from pulling water skiers to high speed cruising.
D. X-SERIES IMPELLER
This model includes the X, XO, XI, XII series. It is designed with the "Best of Both
Worlds" frame of mind. In most applications it is suggested you will gain low end
acceleration, a powerful midrange, and an impressive top end speed. The X-Prop is
very popular in competition and with recreational riders alike. The blades are placed
around a pear shaped hub, which directs the water efficiently and therefore faster. A
more aggressive impeller design, the blades are straight cut which provides a better
brake through the water. This series of impellers will give you the best of both worlds
when looking for both speed and acceleration.
E. SUPER CAMBER S-I-J-K-H
The Super Camber S-I-J-K-H series is a more streamlined design than the A-B-C
series, in reference to the hub and rubber seal. This design is very effective at
reducing cavitation in more of the mid-level craft available. In most applications it is
suggested for, this style impeller provides excellent top speed while retaining plenty
of acceleration performance.
F. SUPER CAMBER A-B-C-D-E
The Super Camber A-B-C-D-E series is Solas' original design impeller mainly used on
entry level watercraft. The Super Camber Blade design, with a progressive pitch from
the leading edge to the trailing edge, catches the fluid characteristics and increases
the thrust of the impeller. This is a great all-around performance impeller for the
suggested applications.
SOLAS, the technology leader in the impeller design, creates lots of outstanding advantages
built into its products. All SOLAS impellers are made of an ultra high strength, corrosion
resistant stainless steel, and are cast in a one-piece mold without bending the edges of the
blades to achieve the perfect pitch.
TIPS FOR IMPELLER SELECTION:
With a wide variety of impellers, there are many choices to choose from and many
different factors to consider. The following chart may help you pick the right impeller
for your needs.
1. Engine RPM is too high: Increase impeller pitch
2. Engine RPM is too low: Decrease impeller pitch
3. High altitude application: Decrease impeller pitch
4. Cold weather application: Increase impeller pitch
5. Top speed and performance under all conditions: Increase impeller
pitch to reach the recommended RPM at full throttle
A
B
C
D
E
F
IMPELLERS