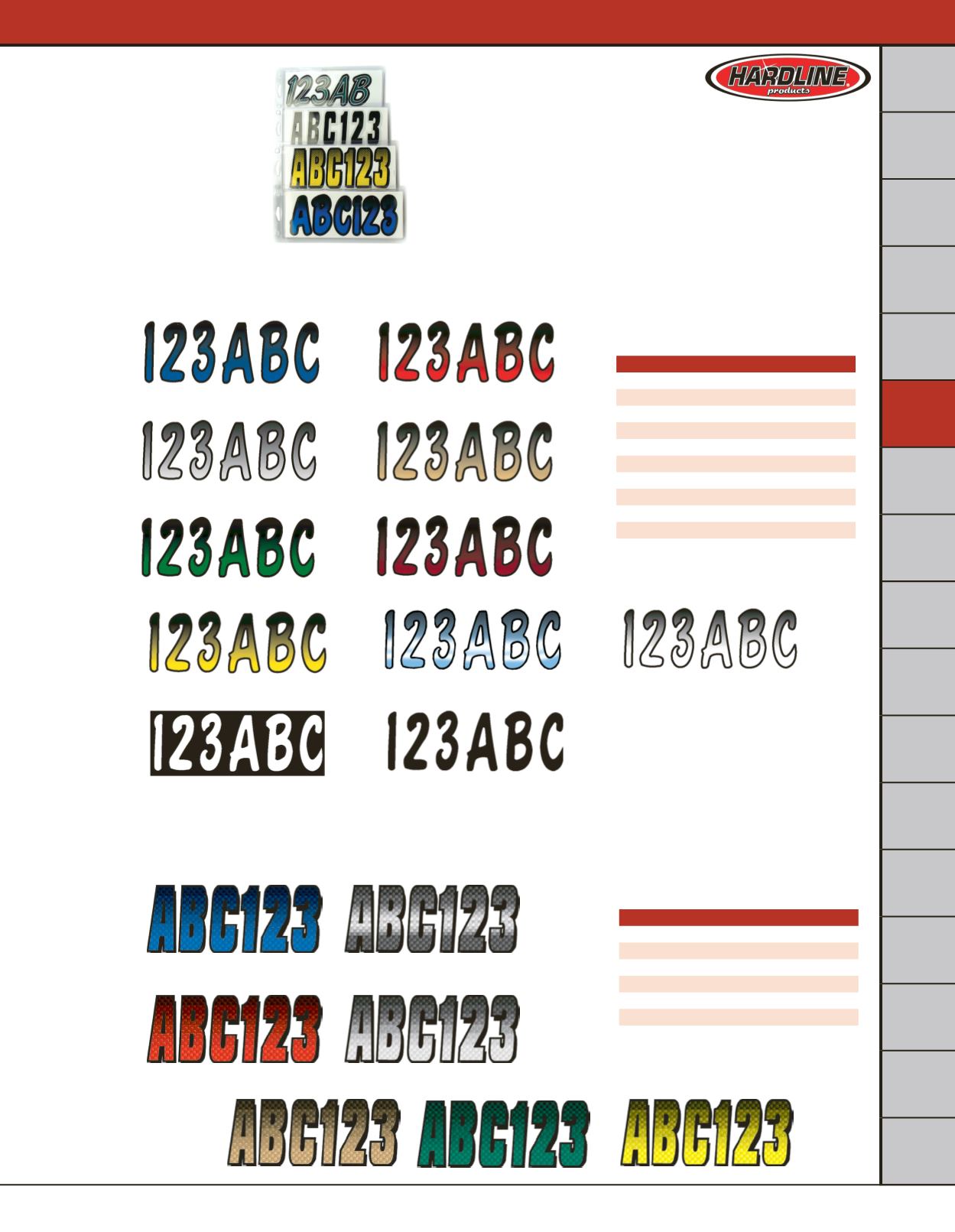 x
X X
X
X
RIDER
ACCESSORIES
EYEWEAR
APPAREL
WATERCRAFT
ACCESSORIES
CARTS /
TRAILER PARTS
BODY / HULL
STEERING /
CONTROLS
PUMP /
DRIVELINE
IMPELLERS
CARBS /
INTAKE
ENGINE /
PISTONS
EXHAUST
ELECTRICAL
CHEMICALS
TOOLS
PROMOTIONAL
INDEX
109
Series 300
Carbon Fiber look number kits with top to bottom color gradations.
REGISTRATION KITS
• Complete sets of registration letters &
numbers for PWC and boats.
• All our registration kits include 4 sets of A-Z, 0-9.
• Total of 146 decals
• UV coated, fade , fuel & scratch resistant
• 3 inch legal size
Series 200
Outline color shades into body color for that custom airbrushed look.
Color
WPS#
List
SERIES 200
A Blue/Black
11-6200 $18.95
B Red/Black
11-6201
18.95
C Silver/Black
11-6203
18.95
D Beige/Black
11-6204
18.95
E Forest Green/ Black
11-6205
18.95
F
Burgundy/Black
11-6206
18.95
G Yellow/Black
11-6207
18.95
H Chrome/Black
11-6209
22.95
I
White/Black
11-6210
18.95
J
White
11-6215
9.95
K Black
11-6216
9.95
Color
WPS#
List
SERIES 300
L Blue/Black
11-6230 $18.95
M Chrome/Black
11-6231
22.95
N Red/Black
11-6232
18.95
O Silver/Black
11-6234
18.95
P Beige/Black
11-6235
18.95
Q Forest Green/Black
11-6236
18.95
R Yellow/Black
11-6237
18.95
J
K
P
Q
R
L
M
N
O
A
B
C
D
E
F
G
H
I
BODY / HULL