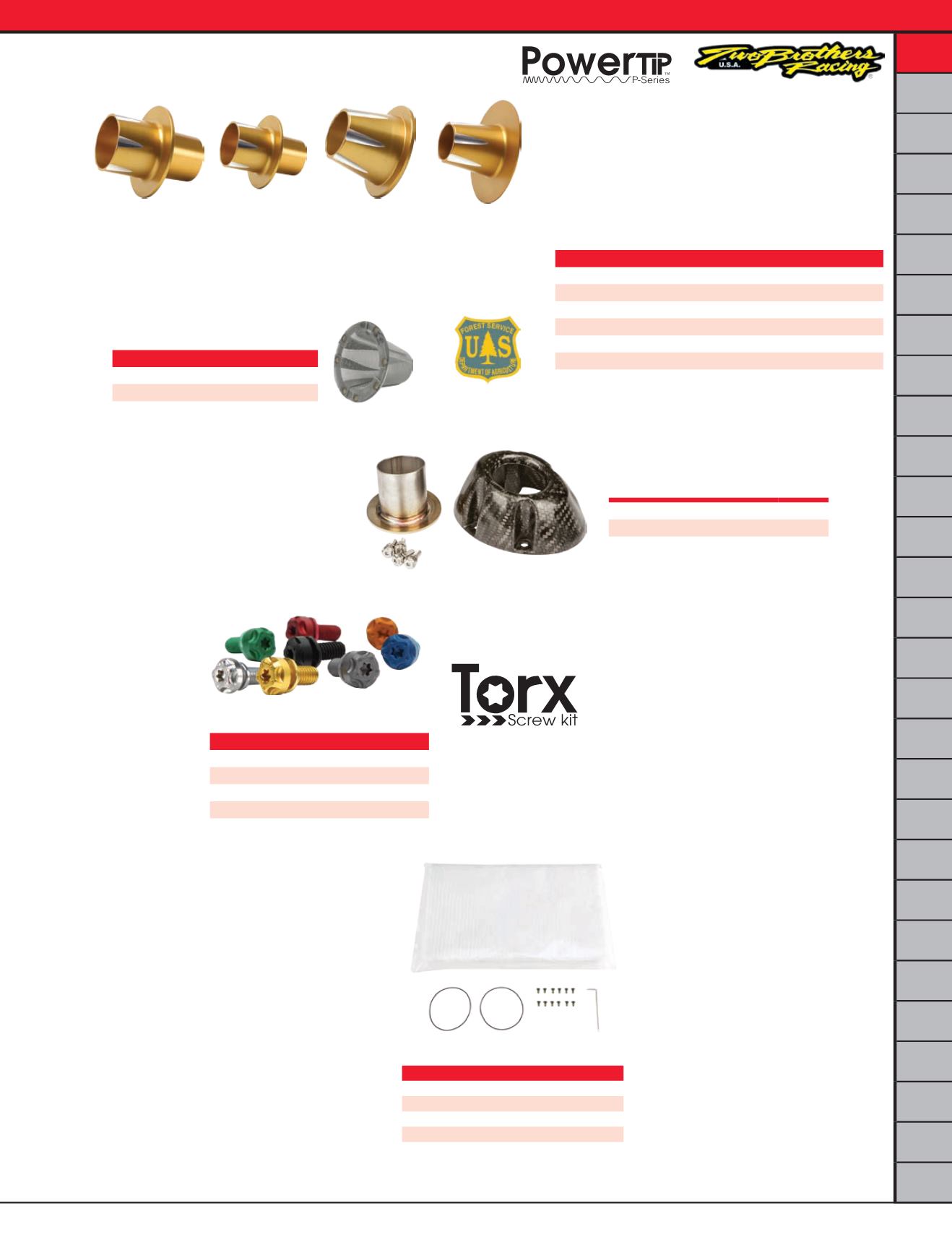 EXHAUST
TIRES
TUBES /
TIRE ACC.
BODY / FRAME
ACCESSORIES
LUGGAGE /
SEATS
COVERS /
SECURITY
WINDSHIELDS
HANDLEBARS /
CONTROLS
LEVERS /
CABLES
FUEL SYSTEMS
AIR FILTERS
OIL FILTERS
ELECTRICAL
LIGHTING /
GAUGES
BATTERIES /
CHARGERS
ENGINE /
CLUTCHES
SUSPENSION /
BEARINGS
CHAINS / BELTS
SPROCKETS
BRAKING
COMPONENTS
CHINESE
VEHICLE PARTS
CHEMICALS
GAS CANS
TOOLS /
HARDWARE
TRANSPORT /
TRAILER
PROMOTIONAL
REFERENCE
INDEX
x
X X
X
X
11
Detail your Performance Exhaust with TBR's custom color bolt kits.
Any of our M-series exhaust canisters can be customized with this
anodized bolt upgrade. Chiseled out of pure 7075 T-6 Aluminum,
our bolt kits come in custom colors to match your style. Installation
tool and awesomeness included.
Two Brothers Racing's unique
muffler packing is a crucial
performance part. When fresh, it
allows your top-level exhaust system
to deliver power efficiently while
producing the best custom sound
from your machine. New packing
also ensures your custom exhaust
system lasts for years. Every TBR
muffler is hand-packed with our
high-quality damping material at our
factory, and you can have the same,
new-system results every time you
service your muffler. Our complete
Repack Kits include everything
you need to restore your Street,
MX, or ATV muffler to factory-fresh
performance levels. We recommend
replacing the packing after every 10
hours of use.
Many municipalities and tracks have begun to
implement new, tougher regulations that limit the
sound output of street bikes, off-road cycles and
ATVs. In the interest of health & safety and of
maintaining good relationships between riders and
the non-riding community, Two Brothers Racing has
developed a series of highly effective sound reducing
tips which can help everyone to get along.
P1
Powertip
™
ROAD/ATV/MX
4-5 dB Reduction
M2 / M5 / M7/ SIR
U.S. Forestry Service
approved spark arrestor
Accessory
WPS# List
TBR TORX SCREW KITS
Bolt Kit BLACK
93-0001 $19.95
Bolt Kit RED
93-0002 19.95
Bolt Kit BLUE
93-0003 19.95
Bolt Kit GOLD
93-0005 19.95
Bolt Kit Stainless Steel
93-0008 19.95
Accessory
WPS#
List
TBR POWERTIPS
Powertip P1 MX/ATV/Road (-3 to 4db)
93-0024 $29.95
Powertip P1-X MX/ATV/Road Silver (-7 to 8db)
93-0025 34.95
Powertip P1-X MX/ATV/Road Black (-7 to 8db)
93-0025BK 39.95
Powertip P1-X MX/ATV/Road Gold (-7 to 8db)
93-0025G 39.95
Powertip Pi-XG
93-0025G 39.95
Powertip P2 Mini
93-0021 20.95
Powertip P4 MX/ATV
93-0023 29.95
Accessory
WPS# List
TBR REPACK KITS
Road Packing Only
93-0010 $21.95
Road S/Steel Wool
93-0014 17.95
14", 15", 17" MX/ATV/UTV
93-0011 21.95
S1R/Tarmac
93-0017
21.95
USFS SPARK ARRESTORS
M7 USFS Spark Arrestor
93-0015 $31.95
M6 USFS Spark Arrestor
93-0016 20.95
Description
WPS#
List
Carbon cap / P1 (race)
93-0026 $99.95
Carbon cap / P1X (quiet)
93-0027 119.95
RACING END CAP KIT
P3
Powertip
™
ATV/MX
6-8 dB Reduction
M2 / M5 / M7
P2
Powertip
™
MINI
2-3 dB Reduction
M6
P1-X
Powertip
™
ROAD/ATV/MX
7-8 dB Reduction
M2 / M5 / M7/ SIR
EXHAUST