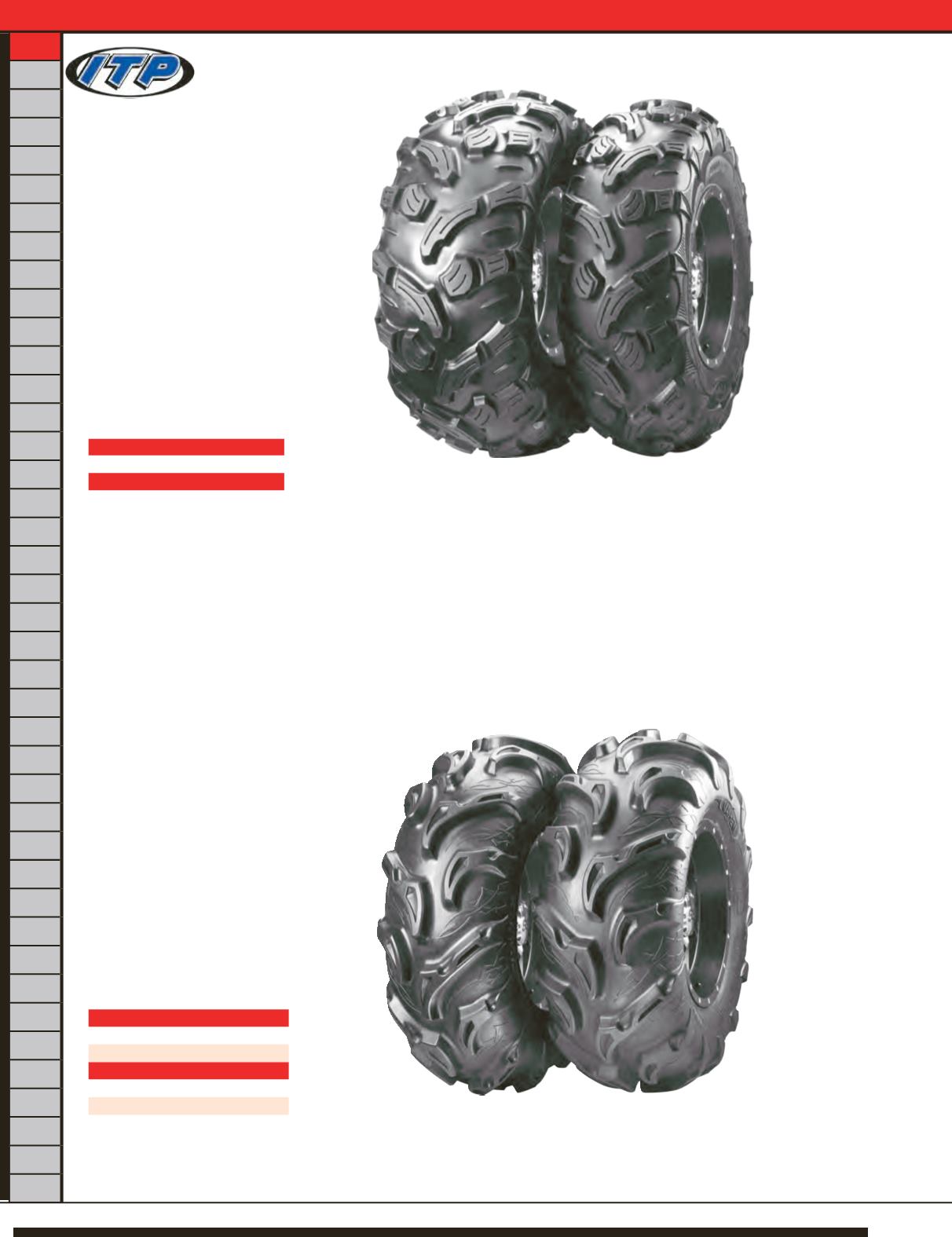 x
X X
X
X
10
Size
WPS#
List
FRONT
25x8-12
59-60586
$105.95
26x9-12
59-60588
126.95
REAR
25x10-12
59-60587
$124.95
26x11-12
59-60590
139.95
• Features a unique, deep-lug tread
design that mocks the nastiest
mudholes but still plays nice on harder
trail surfaces
• Trail comfort and handling are further
enhanced by the Mayhem's lightweight
carcass construction
• Exceptional acceleration and braking
characteristics as well as balanced
cornering qualities make the Mayhem a
capable, confident all-around performer
• Extended wear rubber compound and
durable 6-ply rating
MAYHEM
900 XCT
Size
WPS#
List
FRONT
27x9-12
59-60572 $151.95
REAR
27X11-12
59-60573 $184.95
The all-new ITP 900XCT is engineered
and manufactured in the U.S.A. to ac-
commodate the unique demands of
side-by-side UTVs. It features a rugged
6-ply-rated radial carcass and a unique,
directional tread design that promotes
predictable, well-balanced handling
characteristics. Its radial construction
provides plush ride qualities, which are
further enhanced by a tread pattern
that supplies an ideal level of grip while
remaining quiet and smooth on a variety
of terrain surfaces.
TIRES
TIRES
WHEELS
WHEELKITS
TIREACC.
WINCH
PLOW
TOWING / FARM
UTVCAB /ACC.
AUDIO
WINDSHIELDS
ATVBODY
UTVBODY
STORAGE/
TRANSPORT
EXHAUST
BARS /GRIPS
LEVERS
CABLES
ATVCONTROLS
FUEL /AIR
SYSTEMS
AIR FILTERS
OIL FILTERS
LIGHTING
ELECTRICAL
SPARKPLUGS
BATTERIES
CHARGERS
ENGINE
SUSPENSION
DRIVE
CHAIN
SPROCKETS
BRAKES
CHINESE
VEHICLEPARTS
CHEMICALS
TOOLS
LOCKS
TRAILERS
RAMPS /STRAPS
PROMOTIONAL
REFERENCE
INDEX