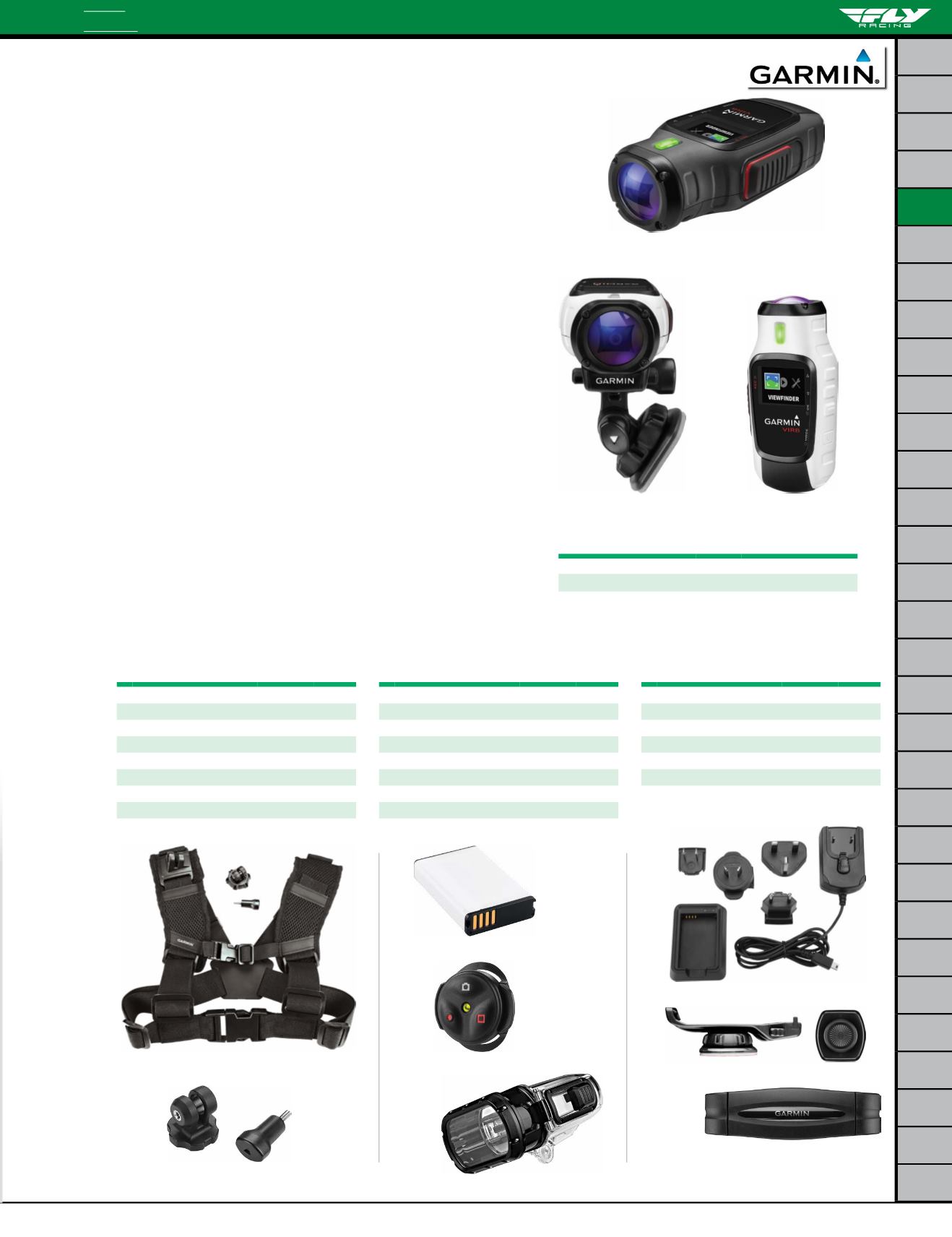 RACEWEAR
GLOVES
FOOTWEAR
HELMETS
HELMET
ACCESSORIES
EYEWEAR
PROTECTIVE
WEAR
CASUAL
WEAR
GEARBAGS
HYDRATION
FRAMES
FORKS
HEADSETS
&STEMS
HANDLEBARS
GRIPS
SHIFTING
BRAKING
TIRES&TUBES
WHEELS&RIMS
HUBS/CHAINS&
PARTS
CHAINRINGS&
PARTS
CRANKSETS&
PEDALS
BOTTOM
BRACKETS
SEATS/POSTS&
CLAMPS
PLATES&
NUMBERS
SECURITY
CHEMICALS
TOOLS
PROMOTIONAL
ACCESSORIES
INDEX
x
X X
X
x
75
VIRB™ ELITE ACTION CAMERA
• HD Video Modes-16MP CMOS sensor/image processor for multiple
HD video modes: 1080p@30fps, 960p@48fps, 720p@30/60fps,
848x480@120fps
• Still Image Capture: 16MP, 12MP, 8MP; Photo Burst and Time Lapse
• Chroma Display-High resolution, color allows for visual control of the
camera, preview and playback of videos, and easy control and adjust-
ment of camera settings (1.4"display size; 205x148 pixels)
• Rechargeable and removable 2000mAh Lithium-Ion battery (up to 3
hours battery life at 1080p)
• Strong, durable, waterproof (1m/30min or 50m with optional dive
case)*, compact and aerodynamic design
• Digital Image Stabilization and Lens Distortion Correction
• WIDEVü LENS-Different shooting modes (Wide/Medium/Narrow)
• Connectivity ANT +™ connectivity for remote control function with
other compatible Garmin products
• Easy accessible slider switch to control recording
• Storage Requires microSD™ card (up to 64 GB) for data storage;
1hr@1080p = 8.75GB (card not included; recommend class 10 or
higher microSD)
• Output Micro HDMI output for video playback and optional mini-USB
adapter
• VIRB and VIRB Elite uses ANT + to enable you to use compatible
Garmin devices like fenix™, Oregon
®
and Edge
®
as remote controls.
Or use the optional accessory remote (page 3) to control VIRB or
VIRB Elite. Also, VIRB Elite integrates Wi-Fi for remote control with a
smart phone or compatible devices.
*
VIRB Elite only
: GPS, accelerometer, altimeter, and Wi-Fi connectivity for
preview and control with a smart phone (free mobile app for iPhone
®
and
Android™), your computer or with compatible devices.
Description
Color
WPS#
List
VIRB™ Elite Action Camera White
989-1302 $279.99
VIRB™ Elite Action Camera Grey
989-1303 279.99
ACCESSORIES
Accessories
WPS #
List
Adjustable mounting arm kit
989-1310 $19.99
Suction cup mount
989-1311 24.99
Cradle
989-1312 17.99
CRVD/Flat base kit
989-1313 19.99
A Shoulder harness mount
989-1314 39.99
Small tube mount
989-1315 19.99
B Tripod mount
989-1316 6.99
Vented helmet mount
989-1317 14.99
Accessories
WPS #
List
Wrist strap mount
989-1318 24.99
Rollbar mount
989-1319 24.99
C LI Battery pack
989-1320 29.99
D Remote control
989-1321 49.99
E Dive Case
989-1322 39.99
Anti-glare film
989-1323 7.99
Audio-video cable
989-1324 29.99
External Mic adapter
989-1325 14.99
Accessories
WPS #
List
USB Power adapter
989-1326 24.99
F LI Battery charger
989-1327 24.99
Mini USB cable
989-1328 14.99
Vehicle power cable
989-1329 24.99
G Virb low profile mount
989-1330
27.99
H Heart rate monitor
989-1331
60.00
VIRB™ Action
VIRB™ ELITE Action
A
B
C
D
E
F
G
H
HELMET ACCESSORIES
Phone: 1-800-999-3388 / 1-877-359-2946
INDEX>
>