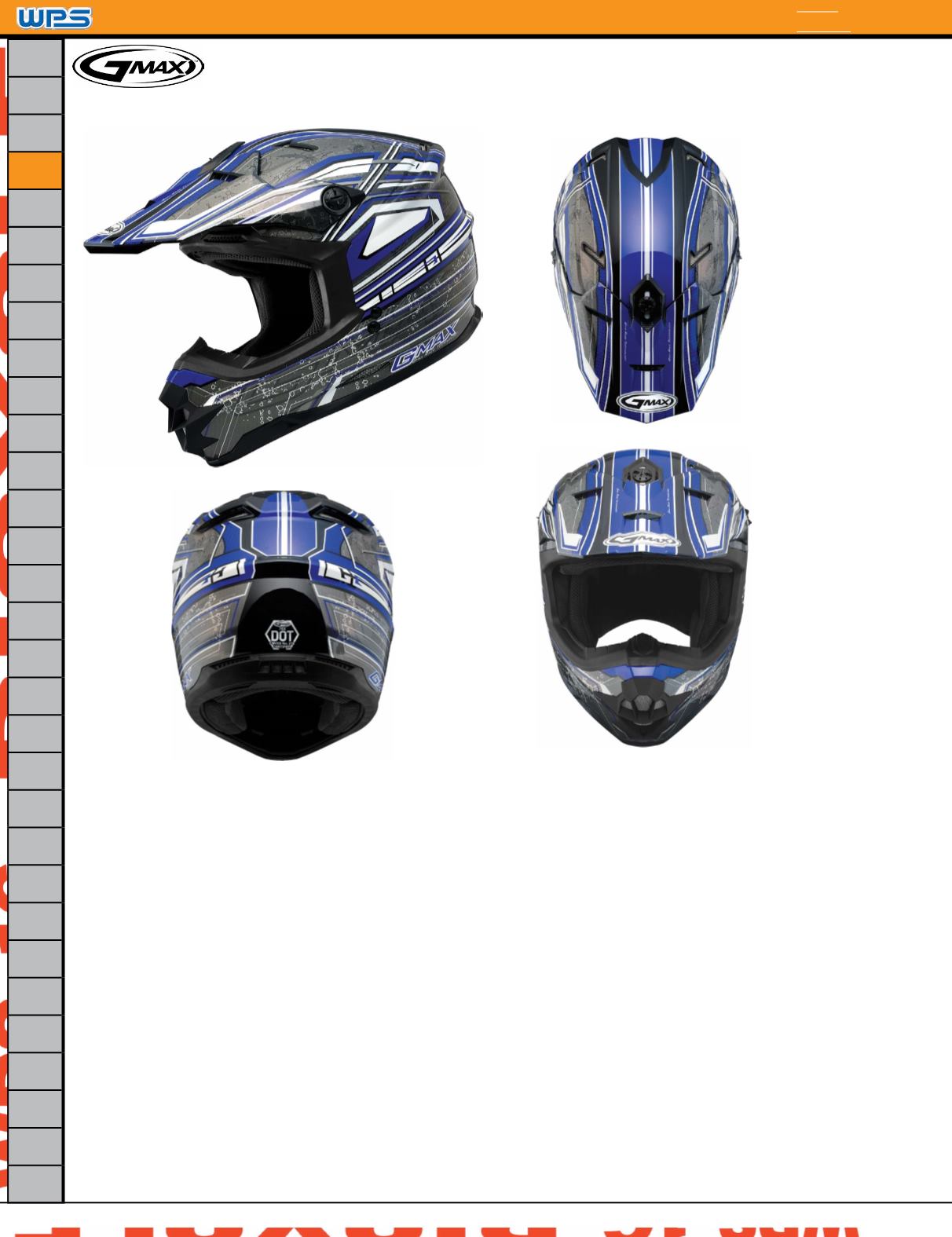 RACEWEAR
GLOVES
FOOTWEAR
HELMETS
HELMET
ACCESSORIES
EYEWEAR
PROTECTIVE
WEAR
CASUAL
WEAR
GEARBAGS
HYDRATION
FRAMES
FORKS
HEADSETS
&STEMS
HANDLEBARS
GRIPS
SHIFTING
BRAKING
TIRES&TUBES
WHEELS&RIMS
HUBS/CHAINS&
PARTS
CHAINRINGS&
PARTS
CRANKSETS&
PEDALS
BOTTOM
BRACKETS
SEATS/POSTS&
CLAMPS
PLATES&
NUMBERS
SECURITY
CHEMICALS
TOOLS
PROMOTIONAL
ACCESSORIES
INDEX
x
X X
X
X
62
GM76X ADULT OFFROAD HELMET
D.O.T APPROVED
NEW SHELL DESIGN:
• Modern Styling
• Large eyeport that accepts large goggles
• Roomier jaw area for increased comfort
• Eyeport trim has integrated "Roost Deflector""
• Larger bottom opening that allows for increased comfort
when putting on and removing the helmet
• Two shell sizes with three styro sizes for comfort fitting
DOT APPROVED:
• Lightweight thermo-plastic poly alloy shell
VENTING - INDUSTRY LEADING 17 VENTS:
Maximum air
flow is achieved thru shell/Styro and comfort liner vents
NEW LATERAL STYRO INSERTS:
• These additional support inserts are located between the
cheek pads and the shell
• Increased comfort and outside sound reduction
PLUSH REMOVABLE WASHABLE INTERIOR:
• Removable washable cheek pads. Different sizes
available for purchase to obtain a custom fit.
• Integrated speaker pockets in cheek pads will except
most communication devices.
REMOVABLE CHEEK PADS:
• New design for comfort and reduction of outside noise
• Allows for custom fitting with optional sized cheek
pads
• Washable
NEWLY DESIGNED MOUTH PIECE/VENT:
• High flow venting
• Allows for quick and easy removal from the front of the
helmet
• Removable and washable foam dust filter
HELMETS
FAX: 24 hours a day 1-800-326-3813
INDEX>>