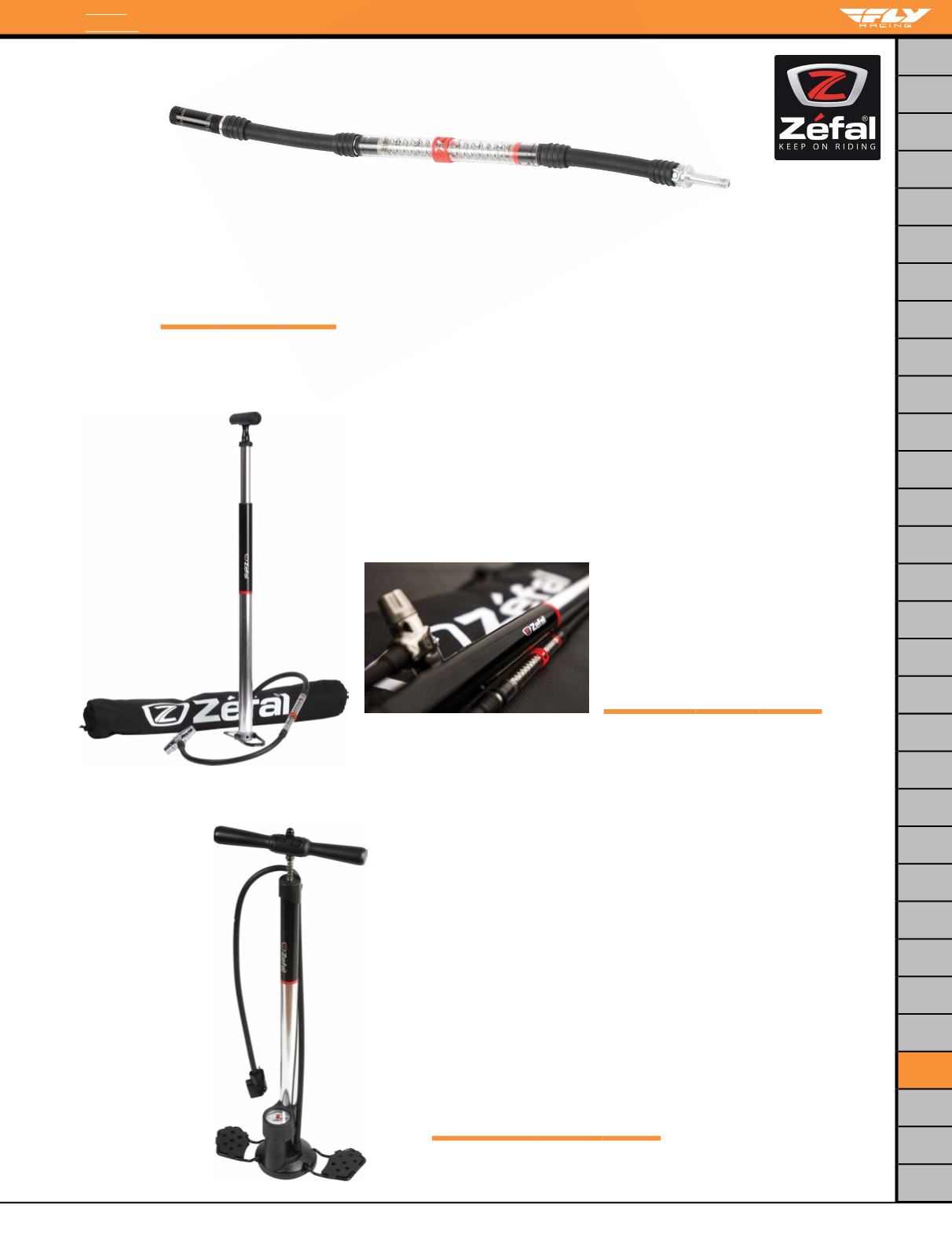 RACEWEAR
GLOVES
FOOTWEAR
HELMETS
HELMET
ACCESSORIES
EYEWEAR
PROTECTIVE
WEAR
CASUAL
WEAR
GEARBAGS
HYDRATION
FRAMES
FORKS
HEADSETS
&STEMS
HANDLEBARS
GRIPS
SHIFTING
BRAKING
TIRES&TUBES
WHEELS&RIMS
HUBS/CHAINS&
PARTS
CHAINRINGS&
PARTS
CRANKSETS&
PEDALS
BOTTOM
BRACKETS
SEATS/POSTS&
CLAMPS
PLATES&
NUMBERS
SECURITY
CHEMICALS
TOOLS
PROMOTIONAL
ACCESSORIES
INDEX
x
X
X
X
X
393
• Pressure: 230psi
• Connection: Z-Switch
• Weight: 3,1kg
• Length: 710mm / 28"
• Hose Length: 1100mm / 43"
• Construction: Alloy Barrel / Case Iron Base / Painted Wood Handle
Z-HOSE
Need to know your tire pressure while inflating? This connection with
inline gauge ensures precise pressure while using any pump avail-
able. It attaches directly with a screw on connection. Featuring a Z-turn
System which is a screw on intuitive connection compatible with both
Presta and Schrader valves, a 2 in 1 screw on flexible connection +
inline pressure gauge, and a flexible hose connection for easier access
to the valve.
PROFIL TRAVEL FLOOR PUMP
The Profil Travel is a compact floor pump. With its small size and carry-
ing bag, it's ideal for keeping in your car or suitcase. It's a very strong
and efficient pump easily used before any ride or race. Featuring the
Z-Twin System which is a screw on double head connection, Ergonomic
Handle for comfort and excellent grip, an inline pressure gauge, double
base, and a carrying bag included.
HUSKY FLOOR PUMP
Perfect representation of Zefal know-how, the Husky is the combi-
nation of expertise and innovation. Use by professional teams, the
pump is also recommended for workshops and heavy users. Featur-
ing the Z-switch System which make for an easy change from Presta
and Schrader valves, the Husky can reach a High Pressure in fewer
strokes, and a Foldable Base for easy storage.
Descrition Black
List
Z-hose
57-0700 $15.95
Descrition Black/Silver
List
Travel Floor Pump
57-0669
$53.95
Descrition
Black/Silver
List
Husky HD Floor Pump
57-0704
$79.95
• Connection: Z-Turn
• Weight: 35 grams
• Hose Length: 300mm / 12"
• Construction: Reinforced Rubber
• Pressure: 145psi
• Connection: Z-Twin
• Weight: 330 grams
• Length: 500mm / 19"
• Hose Length: 610mm / 19"
• Construction: Alloy Barrel & Base / Dual
Compound Handle
TOOLS
Phone: 1-800-999-3388 / 1-877-359-2946
INDEX>>
<<TOC