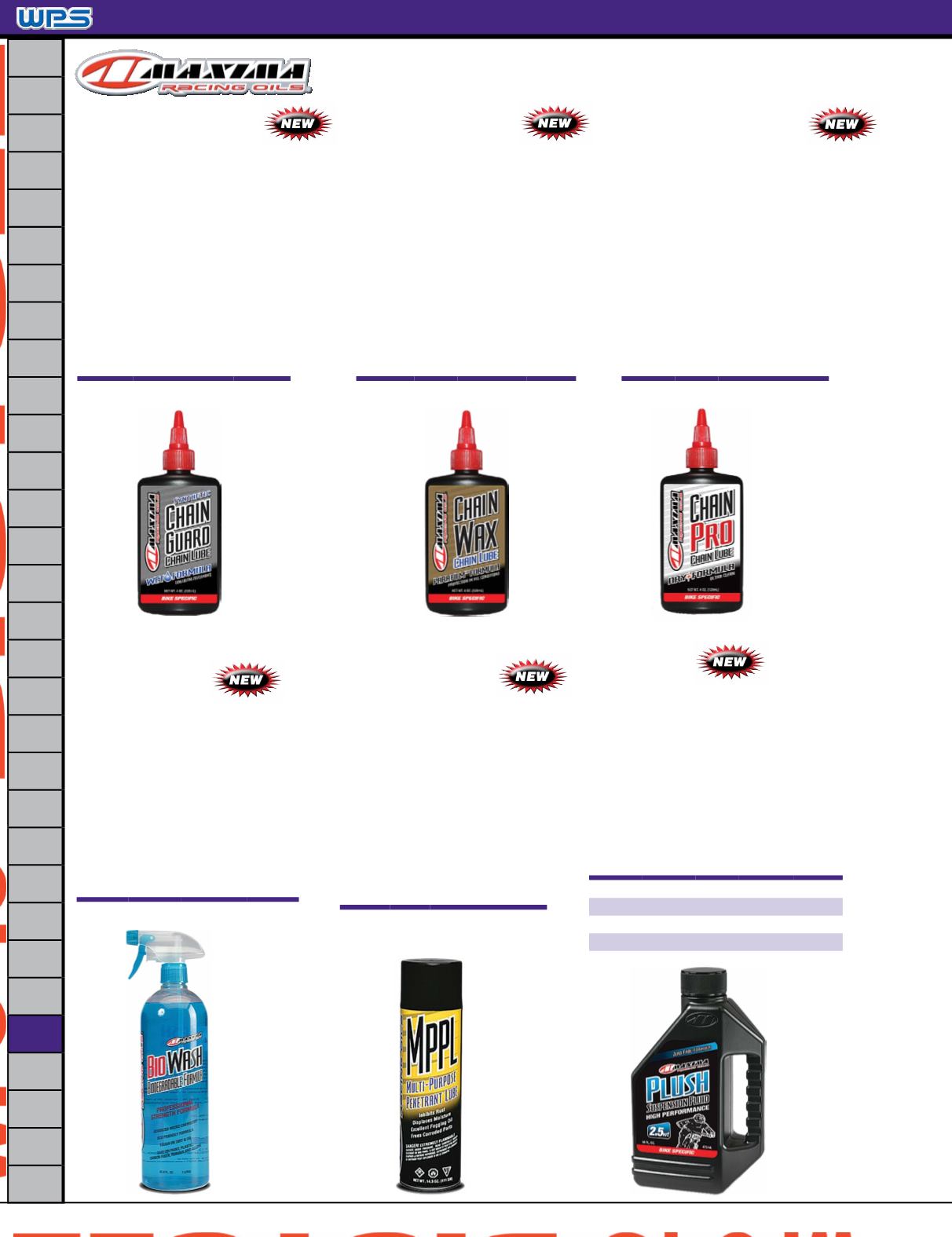 RACEWEAR
GLOVES
FOOTWEAR
HELMETS
HELMET
ACCESSORIES
EYEWEAR
PROTECTIVE
WEAR
CASUAL
WEAR
GEARBAGS
HYDRATION
FRAMES
FORKS
HEADSETS
&STEMS
HANDLEBARS
GRIPS
SHIFTING
BRAKING
TIRES&TUBES
WHEELS&RIMS
HUBS/CHAINS&
PARTS
CHAINRINGS&
PARTS
CRANKSETS&
PEDALS
BOTTOM
BRACKETS
SEATS/POSTS&
CLAMPS
PLATES&
NUMBERS
SECURITY
CHEMICALS
TOOLS
PROMOTIONAL
ACCESSORIES
INDEX
x
X X
X
X
382
SYNTHETIC
CHAIN GUARD
Exclusive 100% synthetic bike
chain lube. Special surface active
formula reduces rolling resis-
tance of drivetrain and improves
shifting performance. Deep chain
penetration ensures quiet opera-
tion, protects drivetrain under
load and extends chain life by
shielding it from the elements –
dirt, grime & water. Waterproof.
Ideal for use on both short and
long rides.
CHAIN WAX
Parafilm bike chain lube goes on wet
to penetrate rollers and side plates,
then sets up to a soft, pliable wax.
Chain is encased in a protective layer
and shielded from the harsh elements
of dirt, grime & water. Special low melt
point wax replenishes drivetrain by
drip-feeding clean lube from the inside
layers outward, significantly reduc-
ing abrasive wear and eliminating
corrosion. Smooth, quiet, trouble-free
operation in all conditions. Waterproof.
Long lasting protection for all cyclists.
CHAIN PRO DRY
Ultra-clean formula bike chain
lube designed for use in dry
conditions. Surface active chem-
istry promotes smooth shifting
under load, quiets chain noise
and significantly improves life of
driveline. Fast penetration and
setup promotes a clean, trouble-
free operating environment in
dry, dusty conditions. Waterproof.
Ideal for everyday use. Experi-
ence the difference.
BIOWASH
Maxima BIO Wash is a unique,
biodegradable all-purpose cleaner.
Fast-acting cleaning agents lift
away dirt while scrubbing grime
and oil based deposits. Tough on
dirt, yet BIO Wash is gentle enough
to use on delicate surfaces includ-
ing paint, plastic, chrome, anodiz-
ing, rubber, carbon fiber and almost
anything you throw at it.
MPPL LUBE
Maxima Multi Purpose Pen-
etrant Lube is a superior, all
purpose penetrating lube that
displaces water and provides
excellent rust and corrosion
protection. It is useful wher-
ever a penetrating lubricant is
required. Maxima MPPL forms
a protective film on metal and
will not harm plastic or painted
surfaces.
PLUSH
SUSPENSION FLUID
MAXIMA PLUSH fluid is an advanced
suspension fluid for high performance
MTB suspension systems. PLUSH fluid is
designed for use in both forks and shocks.
Surface active technology eliminates stiction,
reduces friction and considerably lowers the
force needed for easy breakaway in the ini-
tial stroke of travel, providing smooth action
throughout the entire range of travel.
WPS # Size Case Qty List
27-5045
4 oz
12
$9.95
WPS # Size Case Qty
List
27-5046
4 oz 12
$9.95
WPS # Size Case Qty List
27-5047
4oz
12
$9.95
WPS # Size
Case Qty
List
78-9975
32 oz
12
$8.95
WPS # Size Case Qty
List
27-5053
4 oz 12
$6.95
WPS # Weight
Size Case Qty List
27-5048
2.5 WT 16 oz 12
$12.95
27-5049
5 WT 16 oz 12
12.95
27-5050
7.5 WT 16 oz 12
12.95
27-5051
10 WT 16 oz 12
12.95
CHEMICALS
FAX: 24 hours a day 1-800-326-3813