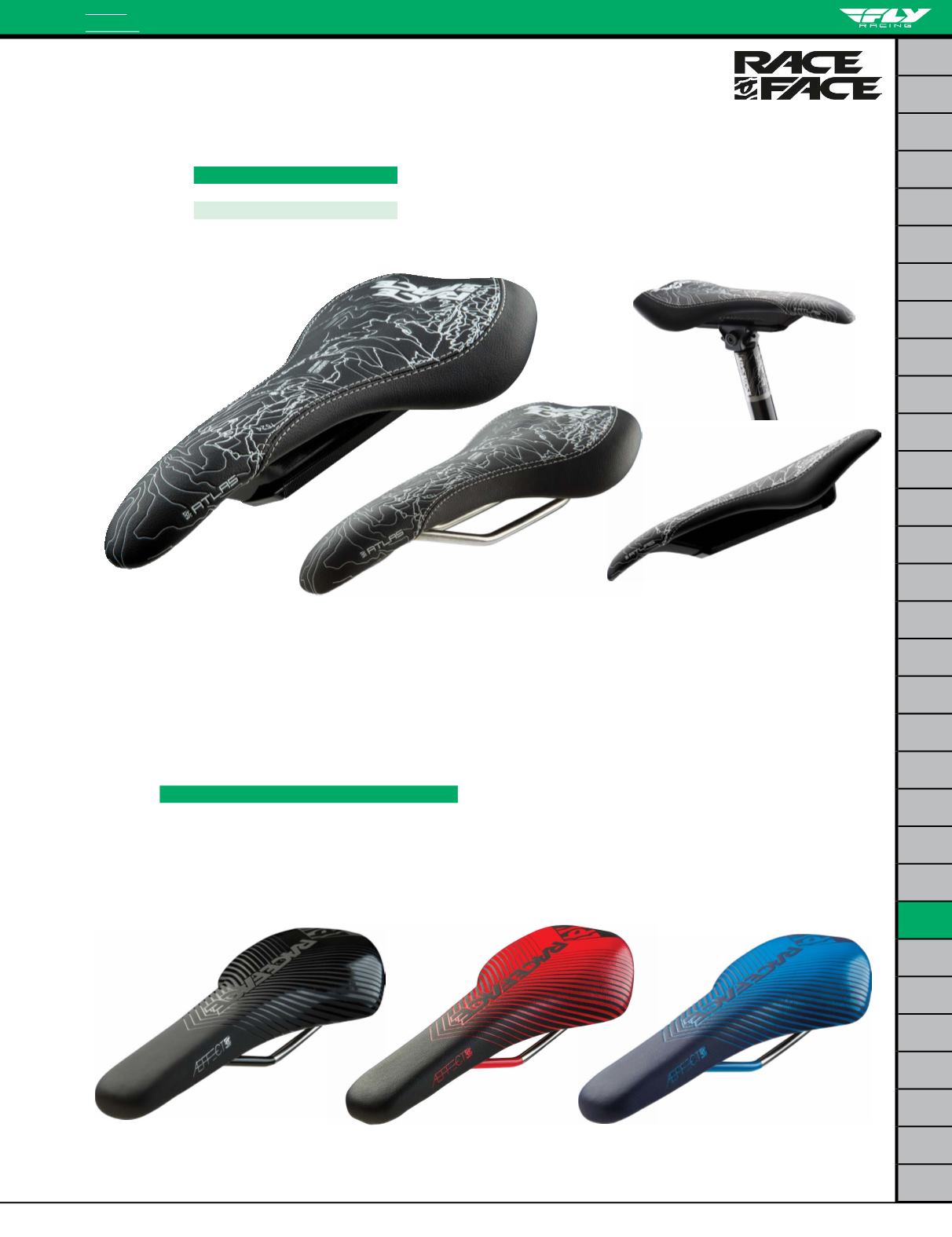 RACEWEAR
GLOVES
FOOTWEAR
HELMETS
HELMET
ACCESSORIES
EYEWEAR
PROTECTIVE
WEAR
CASUAL
WEAR
GEARBAGS
HYDRATION
FRAMES
FORKS
HEADSETS
&STEMS
HANDLEBARS
GRIPS
SHIFTING
BRAKING
TIRES&TUBES
WHEELS&RIMS
HUBS/CHAINS&
PARTS
CHAINRINGS&
PARTS
CRANKSETS&
PEDALS
BOTTOM
BRACKETS
SEATS/POSTS&
CLAMPS
PLATES&
NUMBERS
SECURITY
CHEMICALS
TOOLS
PROMOTIONAL
ACCESSORIES
INDEX
x
X
X
X
X
353
ATLAS SADDLES
Size
WPS#
List
ATLAS SADDLES
I-Beam
92-4200K $99.95
Railed
92-4201K 99.95
The all new Atlas I-Fly saddle. Light-weight, ultra sleek, minimalist styling
ensures it's easy to get off the back when things get steep, but still offers
the support needed to get you through an all day epic.
An unsurpassed strength to weight ratio, the I-Fly saddle offers World
Cup race proven performance - because if you're not fast, you're last!
AEFFECT SADDLES
Descrition Black
Red
Blue
List
AEFFECT SADDLES
Railed
92-4202K 92-4202R 92-4202B $99.95
A lightweight, railed, do anything saddle, Suitable for XC,
AM, DH. This dynamic andversatile saddle uses superlight
foam and ti-alloy rails to keep the weight down. Low profile
shape allows for snag-free maneuvering on the saddle,
while also using a blunt saddle nose to maximize its usable
climbing area for when things get steep.The Æffect saddle
will let you take on the longest epic rides, bomb down your
local dh track and everything in between.
SEATS / POSTS & CLAMPS
Phone: 1-800-999-3388 / 1-877-359-2946
INDEX>>
<<TOC