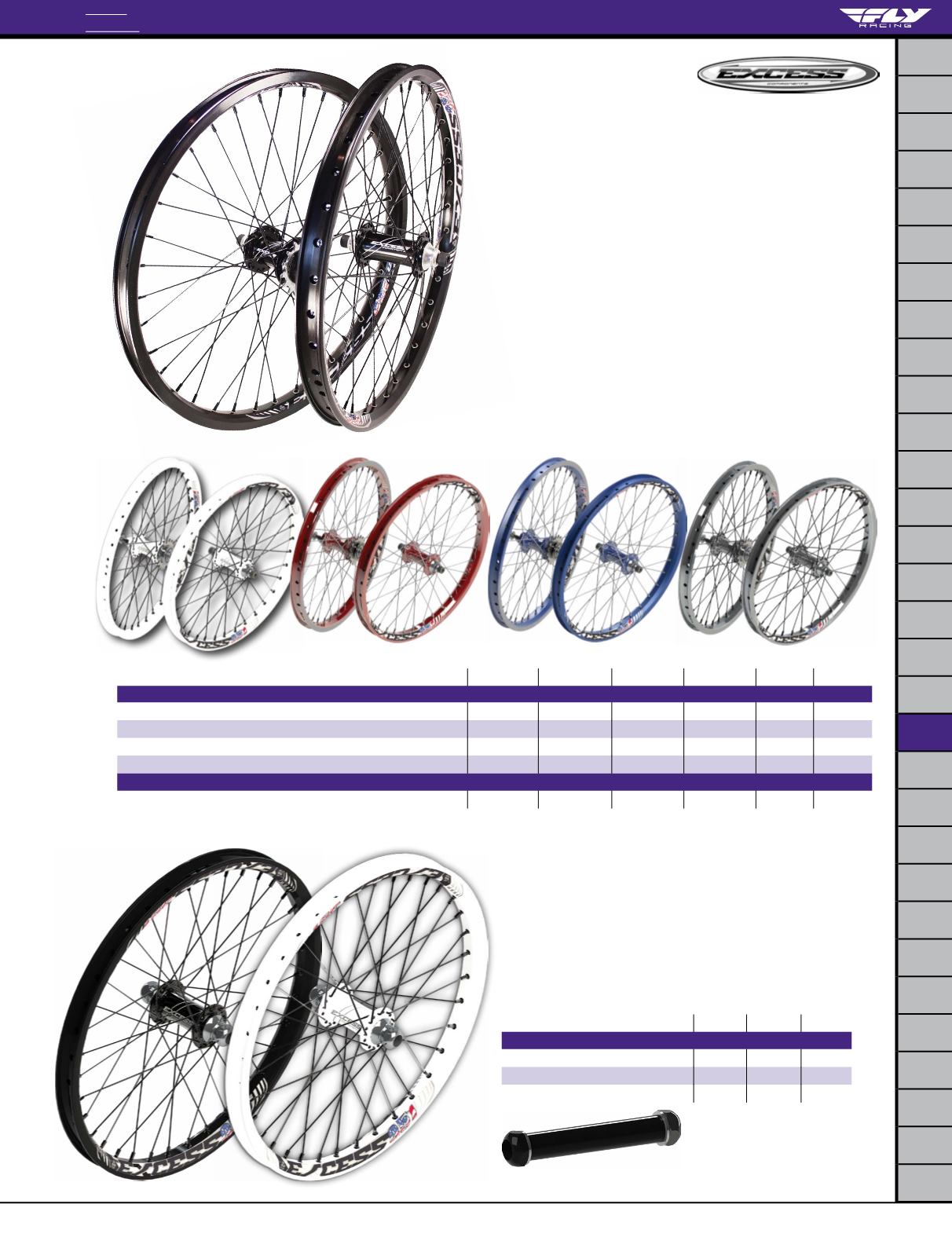 RACEWEAR
GLOVES
FOOTWEAR
HELMETS
HELMET
ACCESSORIES
EYEWEAR
PROTECTIVE
WEAR
CASUAL
WEAR
GEARBAGS
HYDRATION
FRAMES
FORKS
HEADSETS
&STEMS
HANDLEBARS
GRIPS
SHIFTING
BRAKING
TIRES&TUBES
WHEELS&RIMS
HUBS/CHAINS&
PARTS
CHAINRINGS&
PARTS
CRANKSETS&
PEDALS
BOTTOM
BRACKETS
SEATS/POSTS&
CLAMPS
PLATES&
NUMBERS
SECURITY
CHEMICALS
TOOLS
PROMOTIONAL
ACCESSORIES
INDEX
x
X
X
X
x
289
351 PRO WHEELS
Description
Size
Spoke Front
Rear
Weight
Black
White
Red
Blue
Polished List
20" EXCESSWHEEL SETS
Mini
20 X 1 1/8 24/24 3X 3X 1375 Grams
91-718K 91-718W 91-718R 91-718B 91-718S $329.95
Expert
20 x 1 3/8 28/28 3X 3X 1490 Grams
91-719K 91-719W 91-719R 91-719B 91-719S 329.95
Expert 1.5
20 x 1.50 32/32 3X 3X 1605 grams
91-720K 91-720W 91-720R 91-720B 91-720S 329.95
Pro
20 x 1.75 36/36 3X 3X 1755 grams
91-721K 91-721W 91-721R 91-721B 91-721S 329.95
24" EXCESSWHEEL SETS
Pro 24
24 x 1.75 36/36 3X 3X 2090 grams
91-722K 91-722W 91-722R 91-722B 91-722S $349.95
Size
Spoke Front
Black White
List
20MM EXCESS FRONT WHEELS
20 x 1.75
36/36 3X
91-730K 91-730W $169.95
24 x 1.75
36/36 3X
91-731K 91-731W 169.95
Excess 20mm Alloy Axle
91-7320
24.95
20 MM EXCESS FRONT WHEELS
Excess 20mm front wheels offer a stiffer front end when
combined with a 20mm through axle fork. Less flex, especially
in the gate and turns, makes getting to the top of the podium
that much easier. 20mm axle included with front Excess
Wheels.
Lightweight, reliable, fast engaging cassette hub, and
a Custom look help make the Excess 351 Pro Series
wheels sets stand out from the crowd and offer you the
finest complete wheel set available in BMX today. From
the 1 1/8th to the 1.75 rim sizes, each wheel size offered
in the Pro Series line is ready to take you to the top of
the podium with a custom wheel set look without the
custom wheel set price!
• Custom 351 Rims made By Sun Rims Exclusively for
Excess Wheels
• 14G Stainless Steel Spokes with Alloy Nipples
• 4 Pawls and 96 Points of Engagement
• Wheel includes 16-tooth cog
• Mini and Expert use an alloy cassette driver
• Expert 1.5 and Pro use a cro-mo cassette driver
WHEELS & RIMS
Phone: 1-800-999-3388 / 1-877-359-2946
INDEX>>
<<TOC