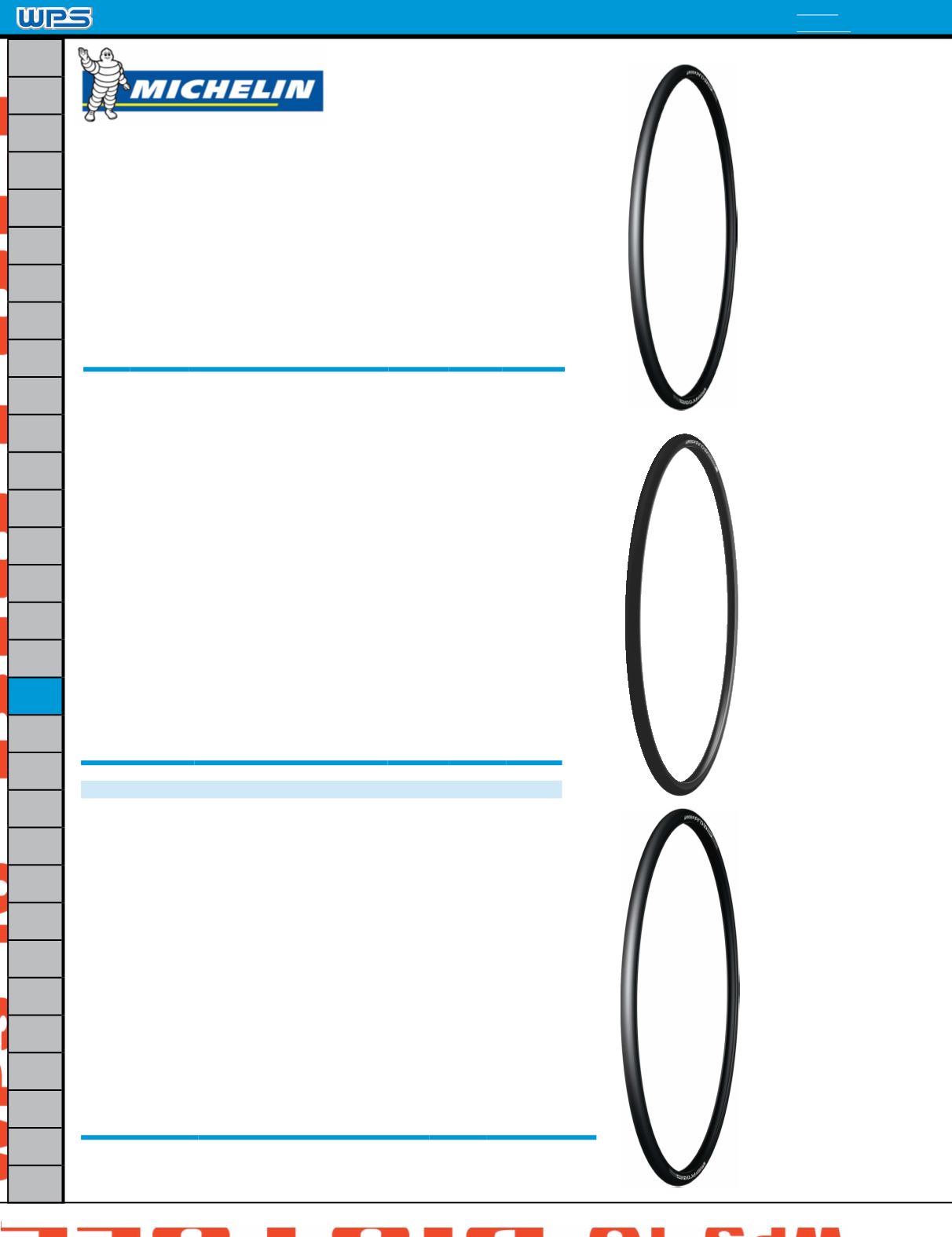 RACEWEAR
GLOVES
FOOTWEAR
HELMETS
HELMET
ACCESSORIES
EYEWEAR
PROTECTIVE
WEAR
CASUAL
WEAR
GEARBAGS
HYDRATION
FRAMES
FORKS
HEADSETS
&STEMS
HANDLEBARS
GRIPS
SHIFTING
BRAKING
TIRES&TUBES
WHEELS&RIMS
HUBS/CHAINS&
PARTS
CHAINRINGS&
PARTS
CRANKSETS&
PEDALS
BOTTOM
BRACKETS
SEATS/POSTS&
CLAMPS
PLATES&
NUMBERS
SECURITY
CHEMICALS
TOOLS
PROMOTIONAL
ACCESSORIES
INDEX
x
X X
X
x
282
Tubes available on pages 284-285
Size
Bead
Performance
Weight
WPS#
List
700c23c Folding TS 150TPI, Bi-Compound, Puncture Protection 180 grams
87-1400 $74.95
Size
Bead
Performance
Weight
WPS#
List
700c23c Folding TS 110 TPI, Bi-Compound, Punture Protector 225 grams
87-1402 $60.95
700c25c Folding TS 110 TPI, Bi-Compound, Punture Protector 245 grams
87-1401
60.95
Size
Bead
Performance
Weight
WPS#
List
700c25c Folding TS 110 TPI, Dual Compound Tread, Punture Protector 215 grams
87-1403 $69.95
PRO 4 COMP
• Grip, handling and endurance of the highest level
• A very low level of rolling resistance through a 30% reduction in
casing weight (150 tpi instead of 110 tpi). This greatly limits the
distortion of the casing on the road and thus restricts energy losses
• Michelin Bi-Compound is a totally new mixture of two different rubber
compounds in the same tire! In the center of the tread, the rubber
is more rigid for less straight line wear. On the sides, the rubber is
softer and gives greater grip when cornering
• Lightweight at only 180g
PRO 4 ENDURANCE
• Long life and reinforced protection:
• The longest service life in the PRO4 range
• Reinforced protection against cuts and punctures.
• 15% improvement in wet grip compared with Krylion
• Michelin Bi-Compound is a totally new mixture of two different rubber
compounds in the same tire!In the center of the tread, the rubber
is more rigid for less straight line wear. On the sides, the rubber is
softer and gives greater grip when cornering.
• The combination of the 110 TPI casing with the reinforcement from
bead to bead ensure extreme resistance to perforations and cuts.
PRO 4 SERVICE COURSE
• The new MICHELIN Pro4 Service Course gives a 16% improvement in
cornering speed on wet roads
• A new benchmark in longevity and greater anti-cut protection
• A new profile of the tire, sharper, which optimizes the handiness and the
area of contact on the ground.
• Michelin Bi-Compound is a totally new mixture of two different rubber
compounds in the same tire! In the center of the tread, the rubber is more
rigid for less straight line
wear.On
the sides, the rubber is softer and gives
greater grip when cornering
TIRES & TUBES
FAX: 24 hours a day 1-800-326-3813
INDEX>>
<<TOC