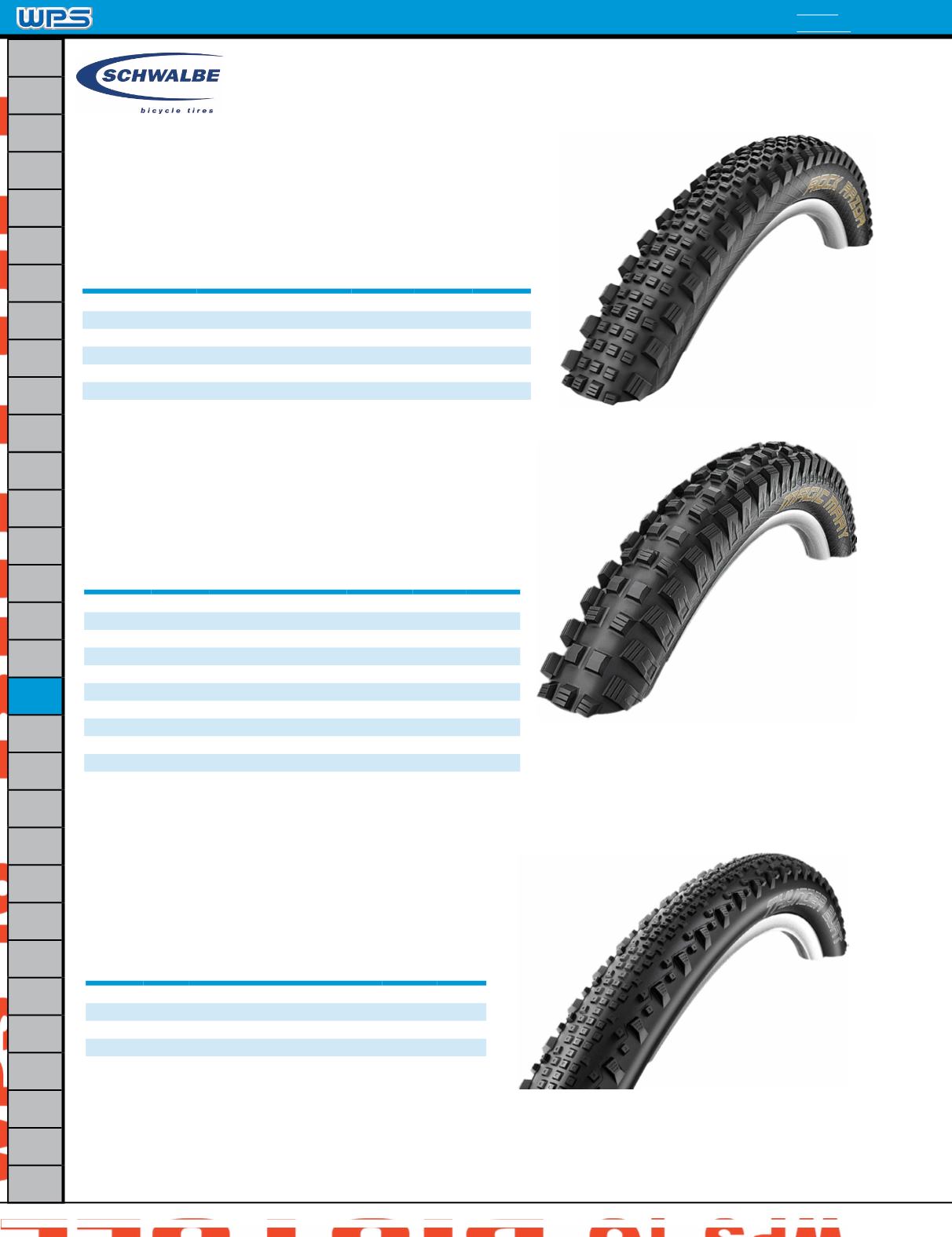 RACEWEAR
GLOVES
FOOTWEAR
HELMETS
HELMET
ACCESSORIES
EYEWEAR
PROTECTIVE
WEAR
CASUAL
WEAR
GEARBAGS
HYDRATION
FRAMES
FORKS
HEADSETS
&STEMS
HANDLEBARS
GRIPS
SHIFTING
BRAKING
TIRES&TUBES
WHEELS&RIMS
HUBS/CHAINS&
PARTS
CHAINRINGS&
PARTS
CRANKSETS&
PEDALS
BOTTOM
BRACKETS
SEATS/POSTS&
CLAMPS
PLATES&
NUMBERS
SECURITY
CHEMICALS
TOOLS
PROMOTIONAL
ACCESSORIES
INDEX
x
X X
X
x
270
Tubes available on pages 284-285
ROCK RAZOR
The fastest gravity tire. For the first time, we brought a "real"
semi-slick to the Gravity and Enduro scenes. It's a very
interesting option especially on the rear wheel and for very
fast, dry trails. These is no better tire for low rolling resistance
than Rock Razor.
MAGIC MARY
Even in its prototype stage, it collected World Cup and World
Championship wins. The new Super Gravity technology makes
it lighter, yet it is still extremely sidewall-stable and snake-bite
resistant. At the same time, the flexible tread offers much better
handling characteristics. The new profile is even more versatile and
feels at home on any kind of Downhill trail.
THUNDER BURT
Lightning fast with Thunder Burt. The tire development goal was to
combine the best of Racing Ralph and Furious Fred. At less than 400
g, the weight is almost exactly in the middle. With its many small lugs
Thunder Burt is close on the heels of Racing Ralph regarding grip
and in terms of rolling resistance he is even better than Furious Fred.
Size
Bead
Compound
Weight
WPS#
26x2.35"
Folding Trail Star,SuperG, TL Ready
925 grams
87-1195 $96.95
26x2.35"
Folding PaceStar, TL Ready
665 grams
87-1196
91.95
27.5x2.35 Folding TrailStar, SuperG, TL-Ready
965 grams
87-1197
96.95
27.5x2.35 Folding PaceStar, TL-Ready
695 grams
87-1198
92.95
29x2.35 Folding TrailStar, SuperG, TL-Ready
740 grams
87-1193
92.95
29x2.35 Folding PaceStar, TL-Ready
1025 grams
87-1194
96.95
Size
Bead
Compound
Weight
WPS#
List
26x2.35"
Folding TSC, SuperG, TL Ready
1045 grams
87-1220 $96.95
26x2.35"
Folding VSC, SuperG, TL Ready
1045 grams
87-1221 96.95
26x2.35"
Wire Bead VSC, Downhill
1190 grams
87-1222 89.95
26x2.35"
Wire Bead DC, Perf Downhill
980 grams
87-1223 32.95
26x2.35"
Folding TSC, SnakeSkin, TL Ready 795 grams
87-1224 91.95
27.5x2.35"
Folding TSC, SuperG, TL Ready
1100 grams
87-1225 96.95
27.5x2.35"
Folding VSC, SuperG, TL Ready
1100 grams
87-1226 96.95
27.5x2.35"
Wire Bead VSC, Downhill
1250 grams
87-1227 91.95
27.5x2.35"
Folding TSC, SnakeSkin, TL Ready 835 grams
87-1228 92.95
29x2.35"
Folding TSC, SnakeSkin, TL Ready 885 grams
87-1251 92.95
29x2.35"
Folding TSC, SuperGravity, TL Ready 1165 grams
87-1252 98.95
Size
Bead
Compound
Weight
WPS#
List
26x2.10 Folding PaceStar, TL Ready
395 grams
87-1200 $86.95
26x2.10 Folding PSC, TL Ready, RaceGuard 440 grams
87-1201 95.95
27.5x2.10 Folding PaceStar, TL Ready
415 grams
87-1204 90.95
29x2.10 Folding PaceStar, TL Ready
435 grams
87-1202 90.95
29x2.10 Folding PSC, TL Ready, RaceGuard 490 grams
87-1203 95.95
TIRES & TUBES
FAX: 24 hours a day 1-800-326-3813
INDEX>>
<<TOC