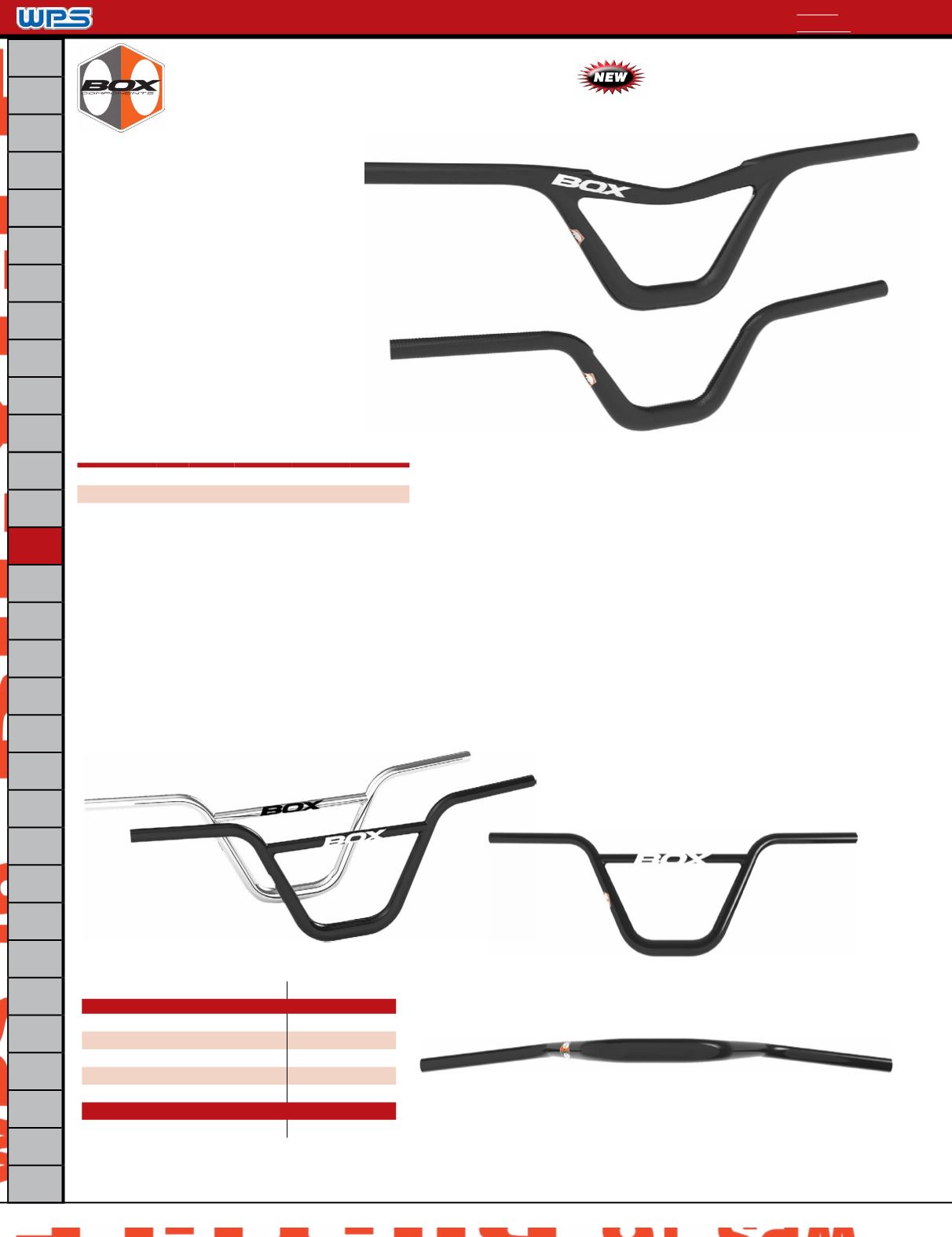 RACEWEAR
GLOVES
FOOTWEAR
HELMETS
HELMET
ACCESSORIES
EYEWEAR
PROTECTIVE
WEAR
CASUAL
WEAR
GEARBAGS
HYDRATION
FRAMES
FORKS
HEADSETS
&STEMS
HANDLEBARS
GRIPS
SHIFTING
BRAKING
TIRES&TUBES
WHEELS&RIMS
HUBS/CHAINS&
PARTS
CHAINRINGS&
PARTS
CRANKSETS&
PEDALS
BOTTOM
BRACKETS
SEATS/POSTS&
CLAMPS
PLATES&
NUMBERS
SECURITY
CHEMICALS
TOOLS
PROMOTIONAL
ACCESSORIES
INDEX
x
X X
X
x
228
Size Material
Black
List
Chrome List
BOX 31.8MM MAXIMUS BARS
5.5"
Cro-mo
18-900K $99.95 18-900C $119.95
6.5"
Cro-mo
18-911K 99.95
7.5"
Cro-mo
18-912K 99.95
8"
Cro-mo
18-908K 99.95 18-908C $119.95
8.5"
Cro-mo
18-909K 99.95 18-909C 119.95
BOX 31.8MM "RUSTY NESVIG" MAXIMUS BARS
8"
Cro-mo
18-908R $99.95
* Maximus Bars have 31.8mm clamp area and are
compatible with Box Delta Stem
Maximus handlebars are the first, modern, 31.8mm oversize bars designed specifically for BMX racing. The added
stiffness significantly improves bike handling while putting more upper body power into your pedal stroke. And that
means getting out of the gate and down the first straight faster and accelerating quicker out of the turns.
Custom made from the highest quality 4130 chromoly, the bars feature a proprietary 13-butted taper from 22.2 Ø at
the grip area to 31.8 Ø across the lower bends. All the Maximus bars have 7 degrees of back-sweep and 2 degrees of
up-sweep.
Rusty Bars, feature a flat 3-degree back sweep, as used by their namesake, Rusty Nesvig. They are 28.25 inches wide
and come with 3 degrees of back-sweep and 2 degrees of up-sweep
MAXIMUS 31.8
mm
BARS
28.6 "X" CARBON BAR
Drawing on what we learned from the
oversize Maximus bars, we developed
the X carbon 28.6—the world's first
ultra-lightweight, oversize, mini, carbon
fiber BMX bars. The new X-Bars feature
the same shape as the original X-Bars,
but with a larger 28.6mm diameter bar
clamp area for increased stiffness.
Available in 4.5-inch Junior and 6-inch
Expert rises, X-Bars are intended for
BMX racing only and have a weight limit
of 100 pounds. Must be used with a
28.6mm-diameter clamp stem.
Meets or exceeds ENBMX Category 2
standards.
Description Rise Material
Weight
Black
List
Junior 28.6mm 4.5" Carbon 205grams
18-923K
$118.95
Expert 28.6mm 6"
Carbon 325grams
18-924K
128.95
See page 220 for 28.6 BMX stems
HANDLEBARS
FAX: 24 hours a day 1-800-326-3813
INDEX>>
<<TOC