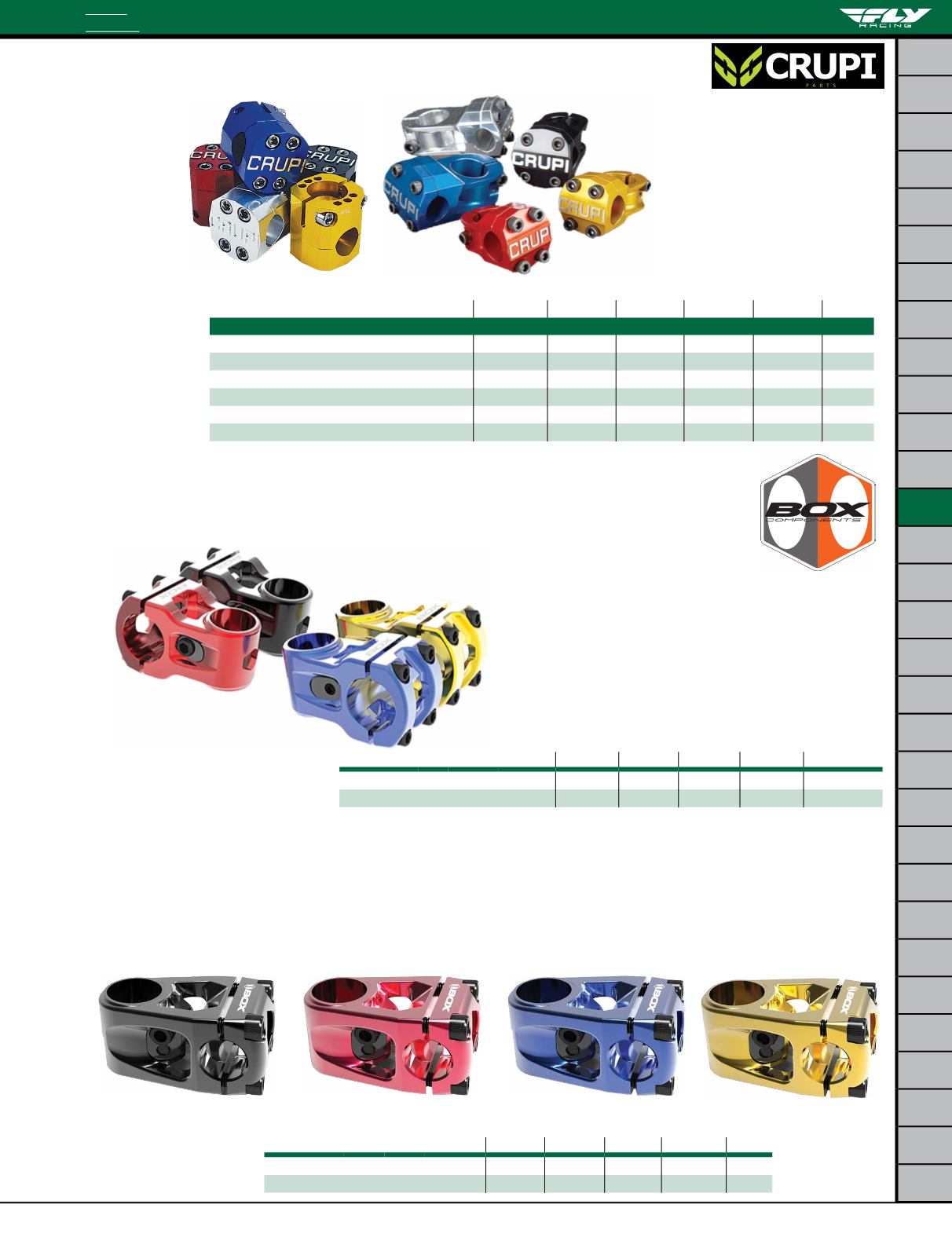 RACEWEAR
GLOVES
FOOTWEAR
HELMETS
HELMET
ACCESSORIES
EYEWEAR
PROTECTIVE
WEAR
CASUAL
WEAR
GEARBAGS
HYDRATION
FRAMES
FORKS
HEADSETS
&STEMS
HANDLEBARS
GRIPS
SHIFTING
BRAKING
TIRES&TUBES
WHEELS&RIMS
HUBS/CHAINS&
PARTS
CHAINRINGS&
PARTS
CRANKSETS&
PEDALS
BOTTOM
BRACKETS
SEATS/POSTS&
CLAMPS
PLATES&
NUMBERS
SECURITY
CHEMICALS
TOOLS
PROMOTIONAL
ACCESSORIES
INDEX
x
X
X
X
X
215
Description Fork Length Weight
Black
Red
Blue
Gold
List
Hollow Stem 1 1/8" 48mm 213 grams
91-4080K 91-4080R 91-4080B 91-4080G $68.95
Hollow Stem 1 1/8" 53mm 218 grams
91-4081K 91-4081R 91-4081B 91-4081G 68.95
BOX HOLLOW STEM
Hollow stems are CNC-machined from the highest quality 6061-T6 aluminum. They feature a
skeletal design that keeps the weight extremely low, while maintaining a high level of strength.
The most unique feature of the stems is the mid-bolt wedge mounting system. By removing the
rear pinch bolts and moving the mounting bolts to the middle of the stem, we reduced the weight
and overall bulk, as well as eliminated a significant hazard to the rider's knees.
I-BEAM STEM
Description
Fork Length Weight
Black
Red
Blue
Polished
Gold
List
CRUPI I-BEAM STEMS
0mm
1"
0mm 136 grams
91-4054K 91-4054R 91-4054B 91-4054S 91-4054G $64.95
Micro
1"
27mm 121 grams
91-4055K 91-4055R 91-4055B 91-4055S 91-4055G 64.95
Mini
1"
35mm 142 grams
91-4056K 91-4056R 91-4056B 91-4056S 91-4056G 64.95
Expert
1-1/8" 45mm 226 grams
91-4057K 91-4057R 91-4057B 91-4057S 91-4057G 64.95
Pro XL
1-1/8" 52mm 257 grams
91-4058K 91-4058R 91-4058B 91-4058S 91-4058G 64.95
ProXXL
1-1/8" 60mm 273 grams
91-4059K 91-4059R 91-4059B 91-4059S 91-4059G 64.95
Crupi I-Beam stems are CNC
machined and a spin off of
our very popular groove stem
from the mid 90's but with
many revisions making it a
very workable stem! And it is
lighter than ever!!
HOLLOW MINI STEMS
Mini Hollow stems are cold forged from the highest quali-
ty 6061-T6 aluminum. They also feature an open skeletal
design and single mid-bolt wedge mounting system,
making them among the lightest weight mini stems on
the market. A 40-millimeter extension stem weighs just
132 grams grams/4.6 ounces. The Mini Hollow stems
have a single-bolt wedge clamp, meaning there is no
rear-facing pinch bolts to injure the rider's knees.
Description Fork Length Weight
Black
Red
Blue
Gold
List
Hollow Stem 1"
40mm 132 grams
91-4068K 91-4068R 91-4068B 91-4068G
$68.95
Hollow Stem 1"
45mm 145 grams
91-4069K 91-4069R 91-4069B 91-4069G
68.95
HEADSETS & STEMS
Phone: 1-800-999-3388 / 1-877-359-2946
INDEX>>
<<TOC