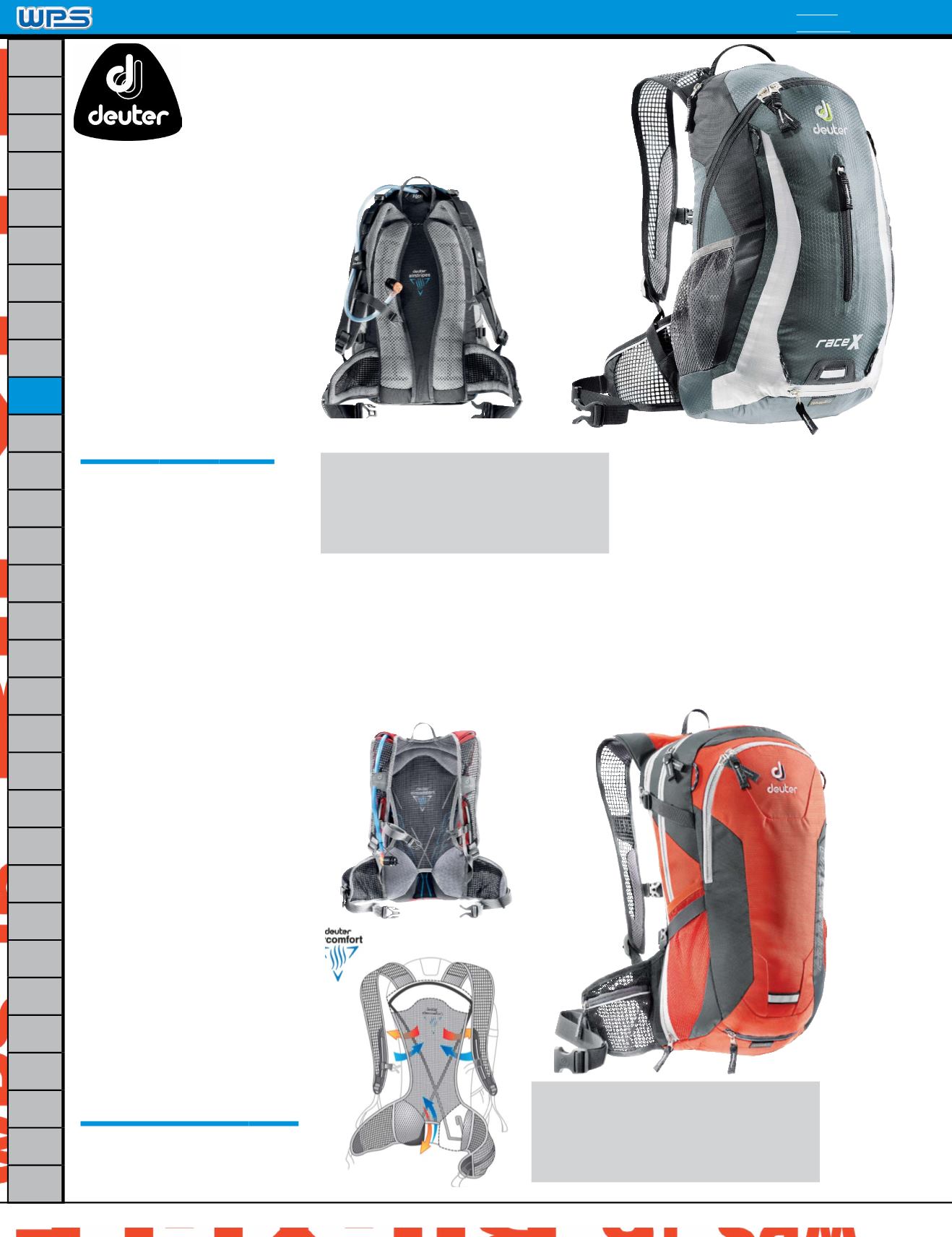 RACEWEAR
GLOVES
FOOTWEAR
HELMETS
HELMET
ACCESSORIES
EYEWEAR
PROTECTIVE
WEAR
CASUAL
WEAR
GEARBAGS
HYDRATION
FRAMES
FORKS
HEADSETS
&STEMS
HANDLEBARS
GRIPS
SHIFTING
BRAKING
TIRES&TUBES
WHEELS&RIMS
HUBS/CHAINS&
PARTS
CHAINRINGS&
PARTS
CRANKSETS&
PEDALS
BOTTOM
BRACKETS
SEATS/POSTS&
CLAMPS
PLATES&
NUMBERS
SECURITY
CHEMICALS
TOOLS
PROMOTIONAL
ACCESSORIES
INDEX
x
X X
X
X
182
Description WPS#
List
Race X
62-4912 $89.95
• Airstripes back ventilation
anatomically formed mesh shoulder
straps with an easy to adjust
chest strap
• Hip belt with mesh wings
• Small zipped pocket at the
top front pocket
• 3M reflectors at the front,
sides and back
• Valuables pocket inside
• Loop for safety light
• Rain cover
• Mesh side pockets
These quick Race packs for bikers are athletic and
sleek. With a simple, clean design made from technical
Hexlite material, they are the perfect lightweight part-
ner for those who only want to take the bare minimum.
RACE X
RACE X
Volume ›
730 cubic inches
Weight ›
1 lbs. 4 oz.
Dimensions ›
17 x9.8 x7.1"
Materials ›
Dueter Microrip-Nylon/ HexLite 210
We present our popular all-rounders also in a maximum back ventilation version: the
Aircomfort FlexLite System features an elastic spring steel frame and an effective,
three sided ventilation system – high carrying comfort, low weight! The Compact AIR
unites all advantages of our classic, such as the expansion feature, internal tool pocket
and the separate compartment for the drinking bladder, with fantastic breathability.
Plus it looks fantastic in its textile design.
COMPACT AIR EXP 10
Description
WPS#
List
Compact EXP AIR 10
62-4913 $129.95
• Mesh shoulder straps, mesh hip fins
with two zipped mesh pockets and
Aircomfort FlexLite back system for
three-sided ventilation
• Hydration system compatible with
separate bladder compartment
secured by autolock zip, Velcro
sealed drinking tube opening and
tube line
• Reinforced back panel to avoid
pressure points
• Internal organizer and tool mesh
pockets
• Safety light and tube loop
• 3M reflectors on hip wings
• Zipped front pocket
• Side compression straps also suited
to storing protective pads
• Stow-away helmet flap and rain
cover
COMPACT AIR EXP 10
Volume ›
610 cubic inches /10 litre
Weight ›
2 lbs. 3 oz.
Dimensions ›
17 x10 x7.1"
Materials ›
Dueter Microrip-Nylon
HYDRATION
FAX: 24 hours a day 1-800-326-3813
INDEX>>
<<TOC