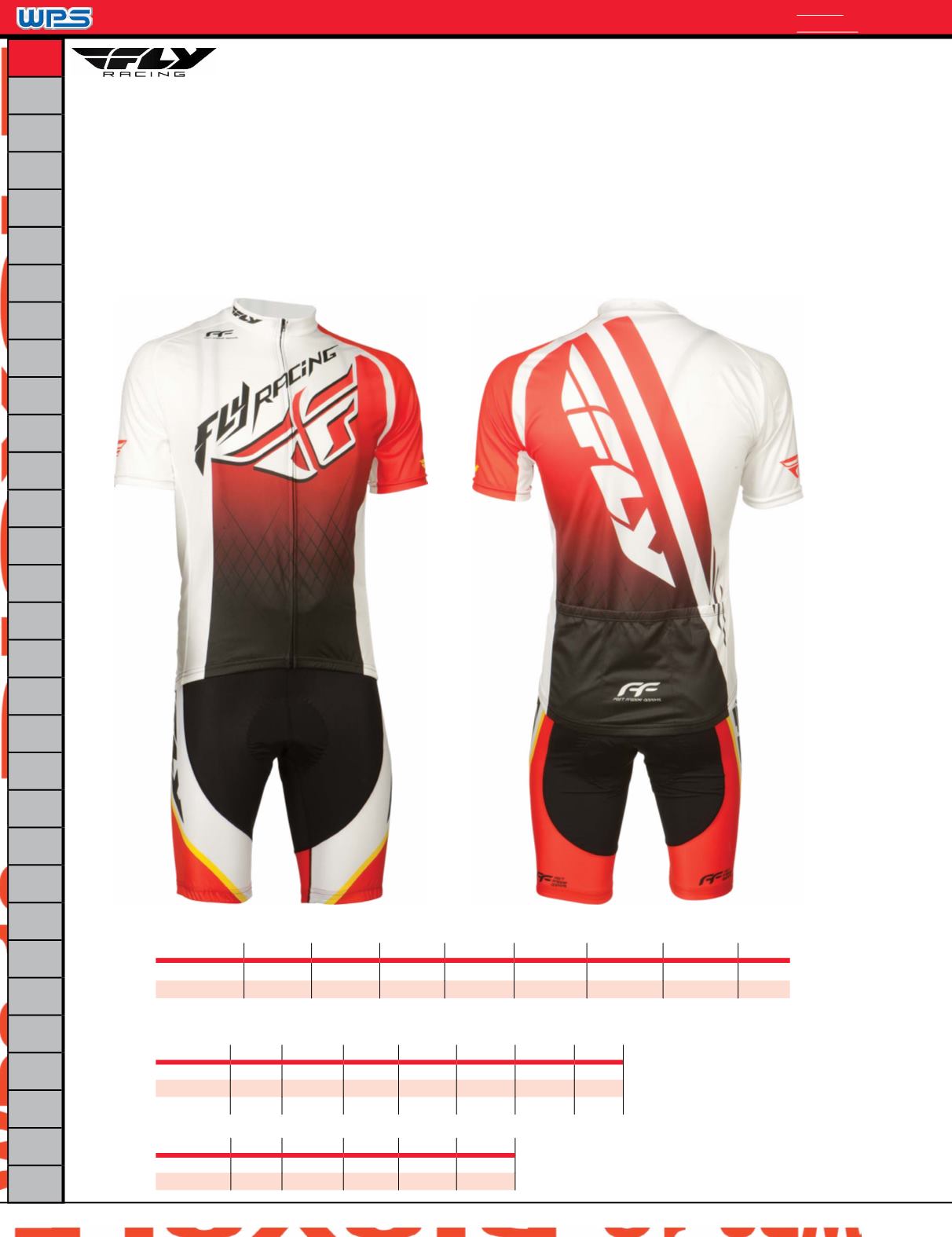 RACEWEAR
GLOVES
FOOTWEAR
HELMETS
HELMET
ACCESSORIES
EYEWEAR
PROTECTIVE
WEAR
CASUAL
WEAR
GEAR BAGS
HYDRATION
FRAMES
FORKS
HEADSETS
& STEMS
HANDLEBARS
GRIPS
SHIFTING
BRAKING
TIRES &TUBES
WHEELS & RIMS
HUBS/ CHAINS
& PARTS
CHAIN RINGS &
PARTS
CRANK SETS &
PEDALS
BOTTOM
BRACKETS
SEATS/ POSTS
& CLAMPS
PLATES &
NUMBERS
SECURITY
CHEMICALS
TOOLS
PROMOTIONAL
ACCESSORIES
INDEX
x
X X
X
x
14
CYCLING KIT
BY FAST FREDDIE APPAREL
Description
Small
Medium Large
XL
2XL
3XL
4XL
List
Club Jersey
352-0536S 352-0536M 352-0536L 352-0536X 352-05362X 352-05363X 352-05364X $99.95
Club Bib Shorts
353-1501S 353-1501M 353-1501L 353-1501X 353-15012X
139.95
Mens
S
M
L
XL
2XL
3XL
4XL
Chest
38-39.5 39.5-41 41-42.5 42.5-45
45-47
47-50
50-53
Typical Weight
140-155 155-175 175-190 190-210 210-225 225-250 250+
Height
55-510
57-64
59-64
510-66 510-66 5'11"-6'2"
6"3"+
Mens
S
M
L
XL
2XL
Waist
30-32 31.5-33
33-35
35-37
37-39
Hips
38-39.5 39.5-41 41-42.5 42.5-45
45-47
This wicking polyester jersey has a
comfortable fit for the casual rider. It features
three easy to access back pockets, a hidden
full length zipper in the front, and elastic
along the base on the men's version.
FLY CLUB FIT CYCLING JERSEY FLY CLUB BIB SHORTS
This is a 7 panel bottom made from a wicking polyester /
spandex blend that features a skin tight fit with silicon grippers at
the base of the leg. This bib may be the most comfortable bottom
you've ever worn. Please note, our sizes run about 1/2 size
smaller than many other bibs – please contact us if you have
sizing questions.
SIZING
RACEWEAR
FAX: 24 hours a day 1-800-326-3813
INDEX>>
<<TOC