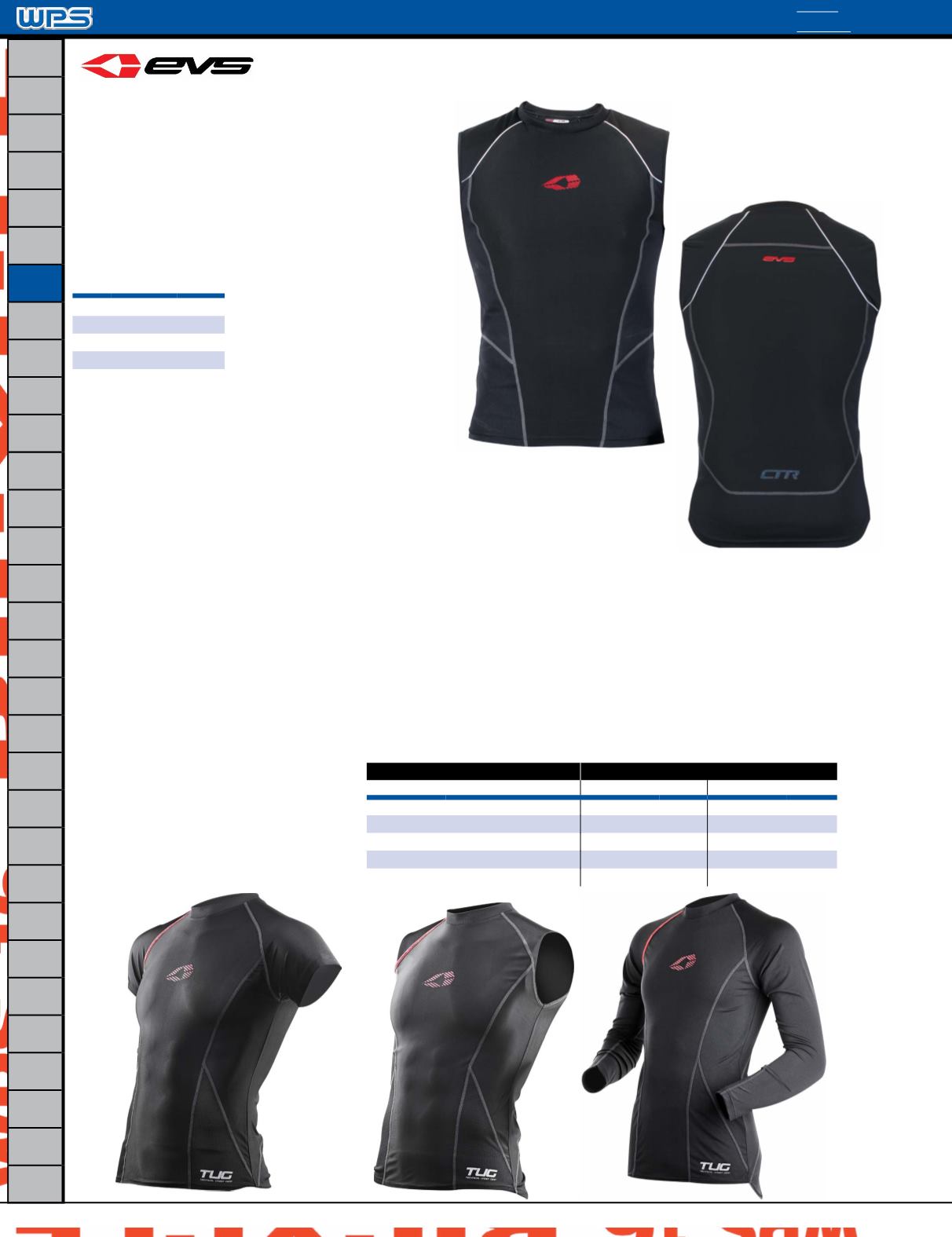 RACEWEAR
GLOVES
FOOTWEAR
HELMETS
HELMET
ACCESSORIES
EYEWEAR
PROTECTIVE
WEAR
CASUAL
WEAR
GEARBAGS
HYDRATION
FRAMES
FORKS
HEADSETS
&STEMS
HANDLEBARS
GRIPS
SHIFTING
BRAKING
TIRES&TUBES
WHEELS&RIMS
HUBS/CHAINS&
PARTS
CHAINRINGS&
PARTS
CRANKSETS&
PEDALS
BOTTOM
BRACKETS
SEATS/POSTS&
CLAMPS
PLATES&
NUMBERS
SECURITY
CHEMICALS
TOOLS
PROMOTIONAL
ACCESSORIES
INDEX
x
X X
X
x
132
TUG TECHNICAL UNDER GEAR
1.
TUG short sleeve
2
. TUG sleeveless
3.
TUG long sleeve
• Breathable / Wicking fabrics
• Muscle compression (proven to add to athletic performance)
• Comfort / ergonomic cut
• 2 Models: Cold weather and warm weather
• The cold weather model is to be warm for maximum
compression and retention of muscle warmth, while the
warm weather is focused on ventilation
• Eliminates chest protector rubbing
CORE TEMPERATURE REGULATOR VEST
Keeping your inner temperature as low as possible
during extreme fitness is always challenging. The
EVS Core Temperature Regulator (CTR) uses thin
strategically placed layers of "Super Absorbent
Polymer" that once saturated with water retain and
slowly disperse to keep you cool for a longer period of
time. Once the CTR jersey is soaked, spin dry by hand
and then put article on. You will find that the strategic
will keep your core temperature down longer, allowing
you to maximize your session.
Size
Black
List
S
663-4216 $45.00
M
663-4217 45.00
L
663-4218 45.00
X
663-4219 45.00
XX
663-4220 45.00
Front
Back
WARMWEATHER
Size
Sleevless
List
Short Sleeve List
Long sleeve List
Small
663-4221S $35.00 663-4222S $39.00 663-4223S $45.00
Medium
663-4221M 35.00 663-4222M 39.00 663-4223M 45.00
Large
663-4221L
35.00 663-4222L
39.00 663-4223L
45.00
X-large
663-4221X
35.00 663-4222X 39.00 663-4223X 45.00
XX-large
663-42212X 35.00 663-42222X 39.00 663-42232X 45.00
PROTECTIVE WEAR
FAX: 24 hours a day 1-800-326-3813
INDEX>>